This post has absolutely nothing to do with software or IT. I'm just posting it here so that I don't have to set up a separate blog for it 🙂
In June 2023, I fast-packed the Tour du Mont Blanc (TMB) route through France, Italy, and Switzerland. In this series of posts I'll share a bit about my preparation, getting there, my experiences, and, of course, some eye-watering pictures 🙂.
I've split this into separate parts to make it easier to navigate:
What is TMB?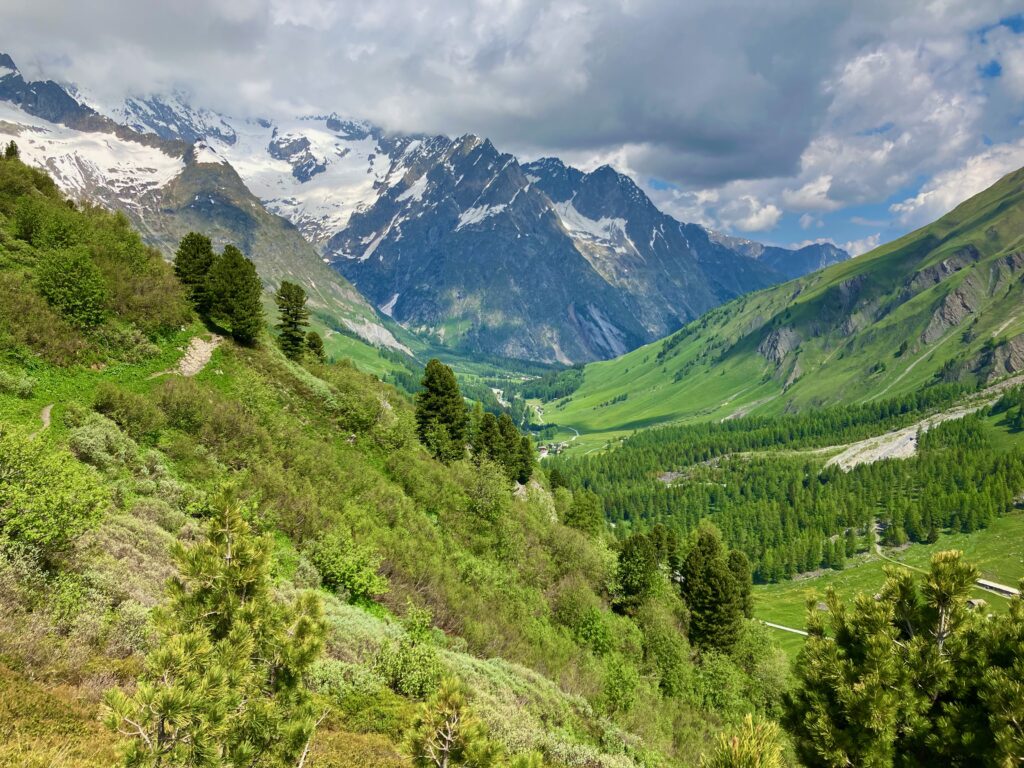 Tour du Mont Blanc, or TMB for short, is a popular and very beautiful hiking route that leads around the Mont Blanc massif in the Alps, crossing through three countries: France, Italy, and Switzerland. It will have you climb a total of 10000 meters over the course of its roughly 170km route.
The route
The route officially starts by the tourism office on Place de la Mairie
in Les Houches and runs counter-clockwise around the massif. However most people will start in Chamonix as it has more accommodation options; it is just under 10km from Chamonix to Les Houches along the UTMB route (the TMB route itself runs above Chamonix and doesn't pass through the city).
Nothing stops you from picking a different starting point, or going clockwise instead of counter-clockwise, however, and many people do do this.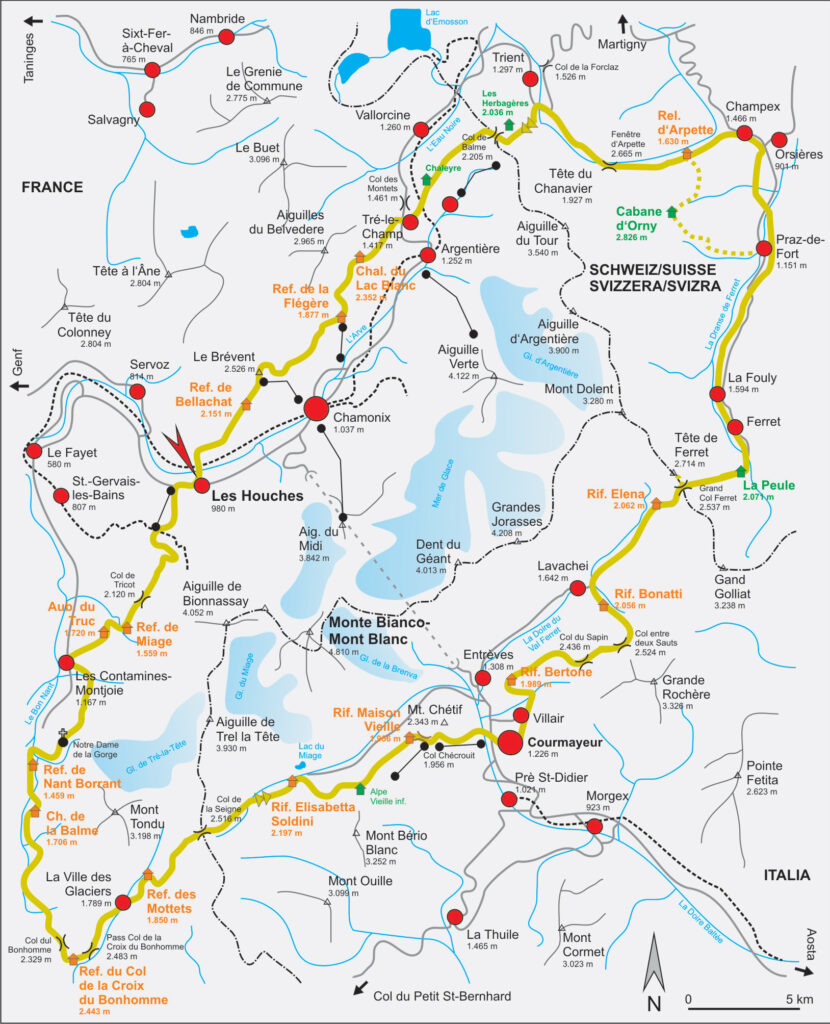 The route carries you over high saddles (called cols in French) from valley to valley. In the valleys, you'll pass through (mostly small) towns. In the mountains, it will often be just you and nature, and the occasional mountain hut.
UTMB vs TMB
The yearly Ultra Trail du Mont Blanc (UTMB) race (recently renamed to UTMB Mont-Blanc) follows roughly the same route as TMB, but does diverge from it in two significant places:
From Les Houches, the UTMB route heads west to Saint Gervais-Les Bains before heading south and rejoining the TMB route in Les Contamines.
From Trient in Switzerland, the UTMB route goes down into Vallorcine, then climbs back up to Chéserys where it runs along with the TMB route for a bit, before heading back down to Chamonix. The TMB route stays high and passes over Vallorcine via Col de Balme from Trient, and over Col du Brévant to Les Houches instead of running down to Chamonix.
The Col de Tricot alternative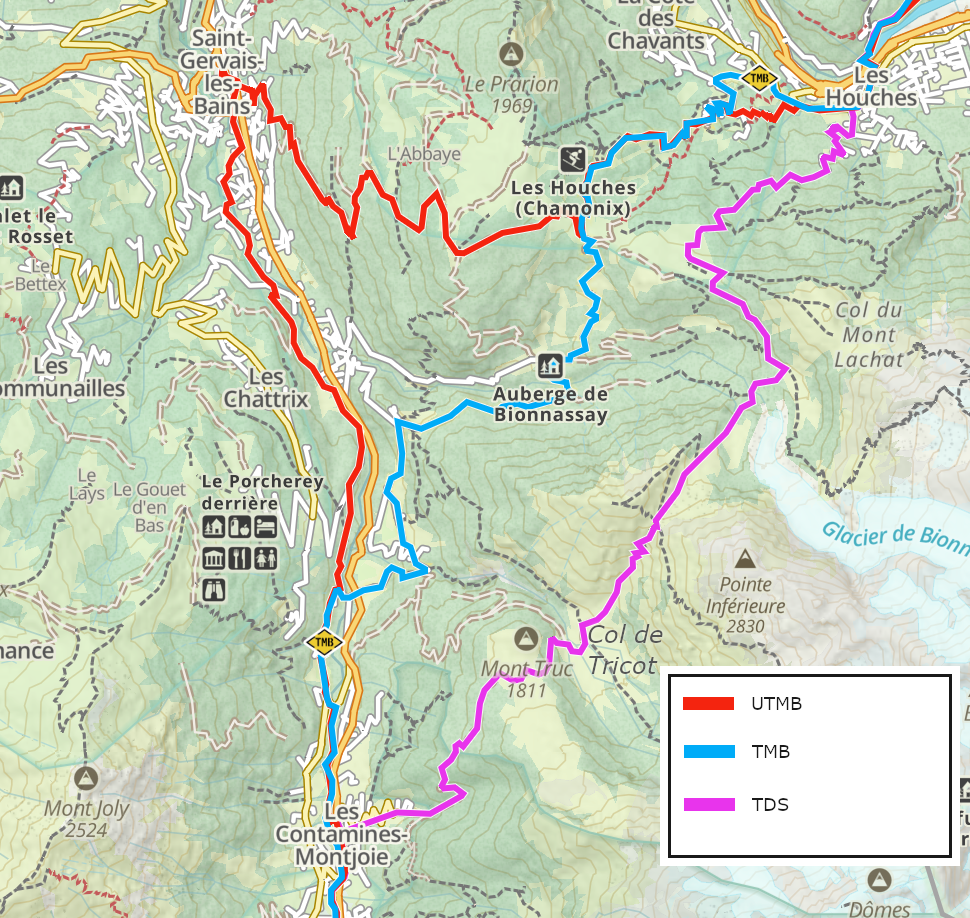 Rather than following the official TMB route, many people choose (weather permitting) to roughly follow the higher route of the Les Traces des Ducs de Savoie (TDS) race from Les Houches which takes you over Col de Tricot and down to Miage before rejoining the official TMB route in Les Contamines.
What I did
I started in Chamonix and went counter-clockwise. My plan was to follow the TDS route from Les Houches to take in the Col de Tricot views.
However, having climbed 200m from the turn-off in Les Houches to the start of the trail proper, I was met with a sign warning me of avalanches and that this trail was off-limits.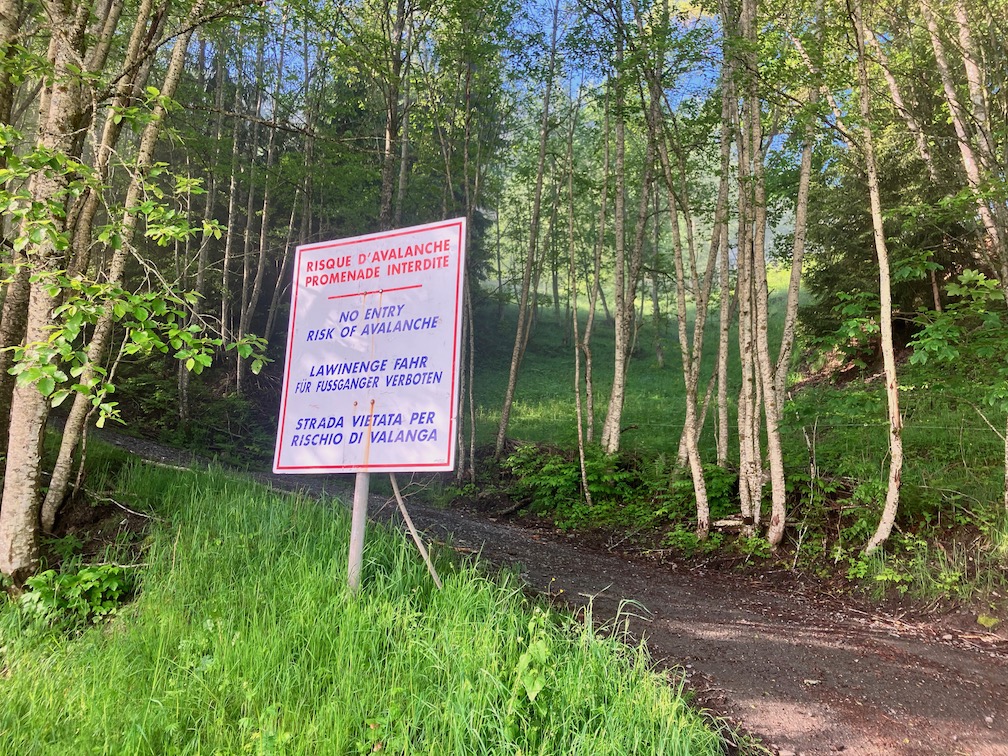 So I had to backtrack and follow the regular TMB route. However, from the town of Bionnassay I was able to follow a trail east that rejoined the TDS route just after the infamous suspension bridge over the Torrent de Bionnassay and well before Col de Tricot.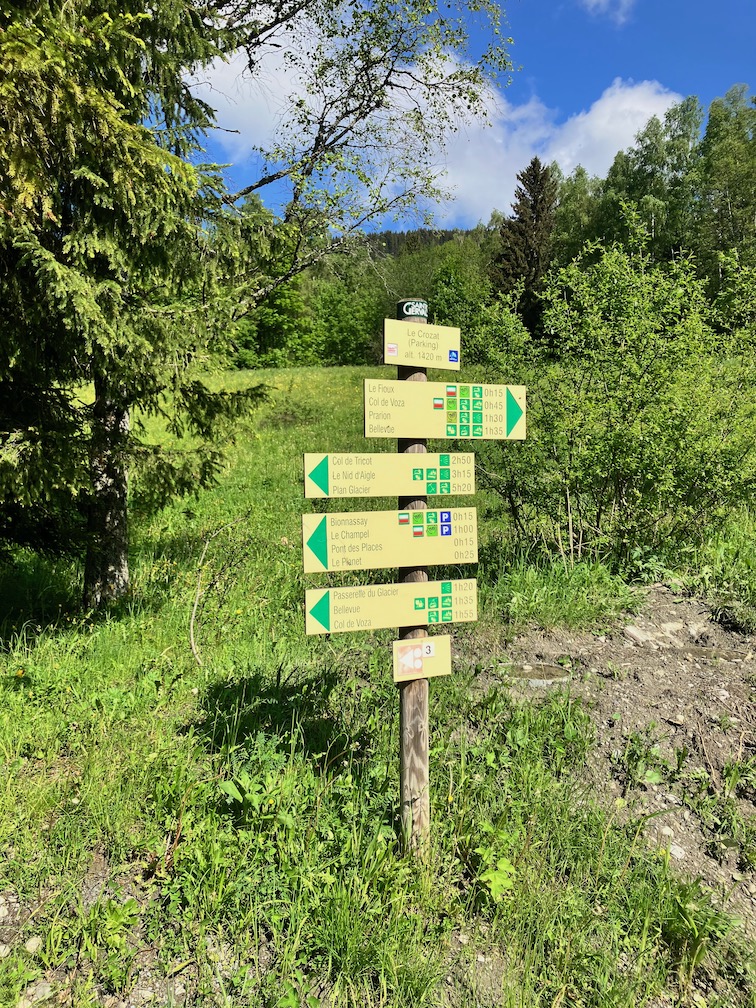 If you are doing the route in early June like I did, I would recommend just heading straight to Bionnassay via the marked TMB trail and following the signs to Col de Tricot from there. That way you save yourself a needless roundtrip up the hill and back to Les Houches while still being able to take in the views from Col de Tricot.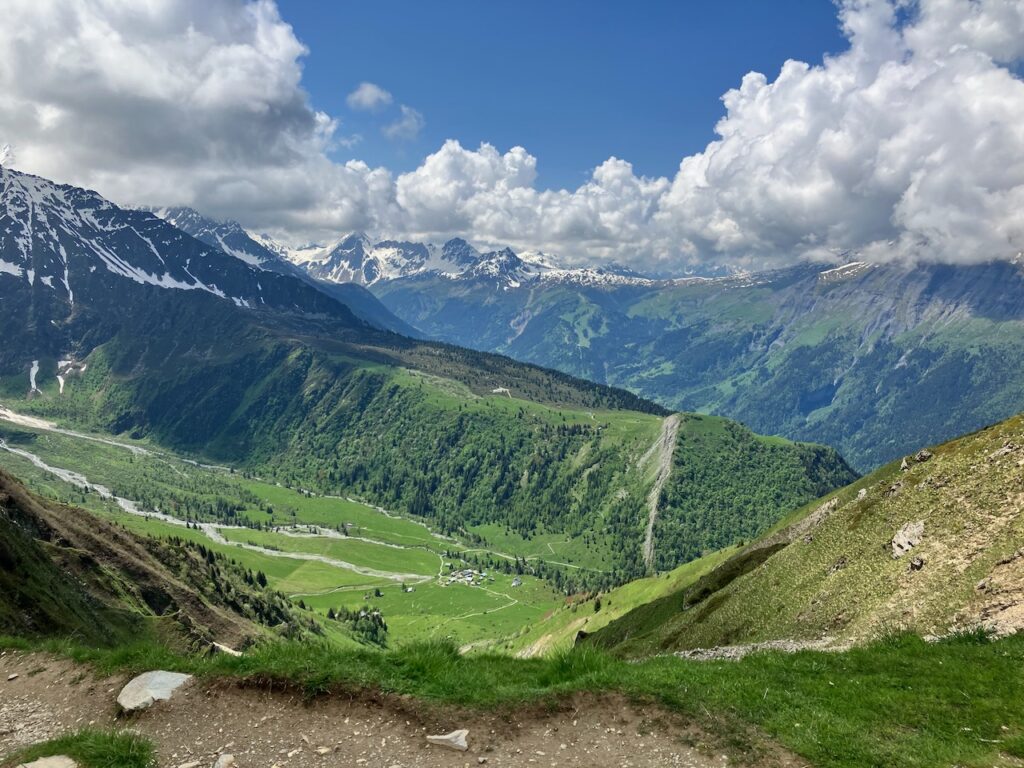 From Les Contamines, I pretty much followed the TMB trail throughout the following days, until my last day.
Before I started my trip, I was planning on descending down to Chamonix from La Flégère, leaving the TMB route – which continues on to Les Houches where it started – and following the UTMB route instead.
But then I decided I wanted to finish the whole "real" TMB route all the way to Les Houches, so I stayed in the mountains and continued on in the direction of Col du Brévent. However, the weather started getting worse and worse, with clouds obstructing any views I might have had.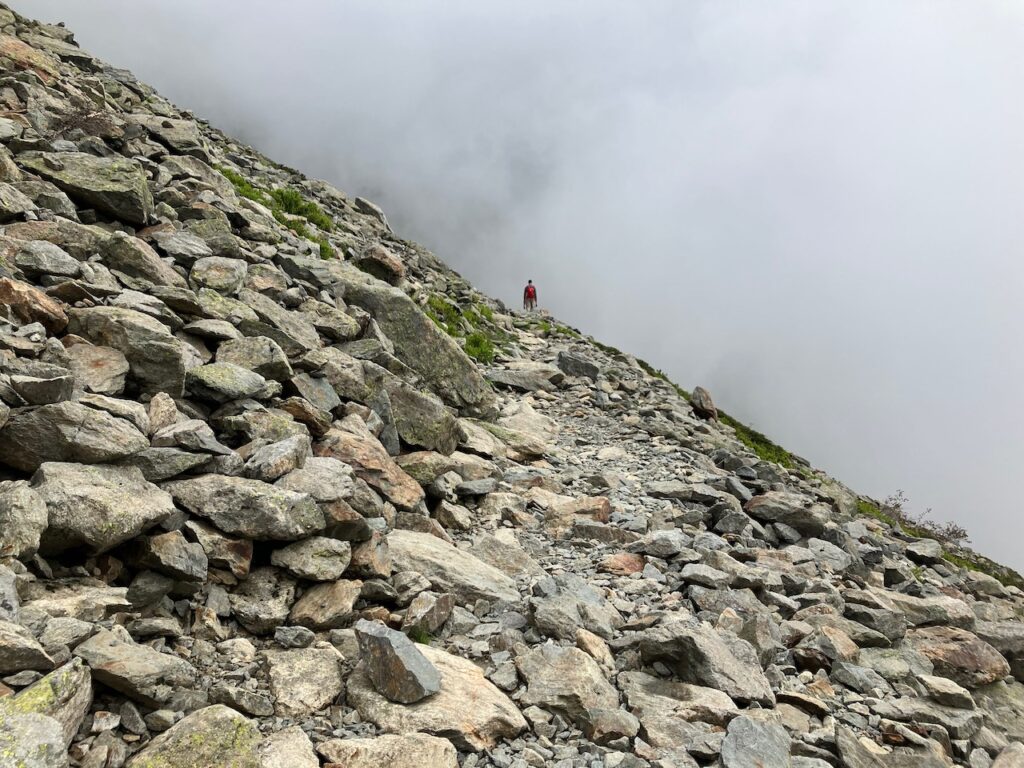 So then I decided it was pointless to continue to Col du Brévent and instead took a path down to Chamonix just southwest of where the UTMB route goes down the mountain.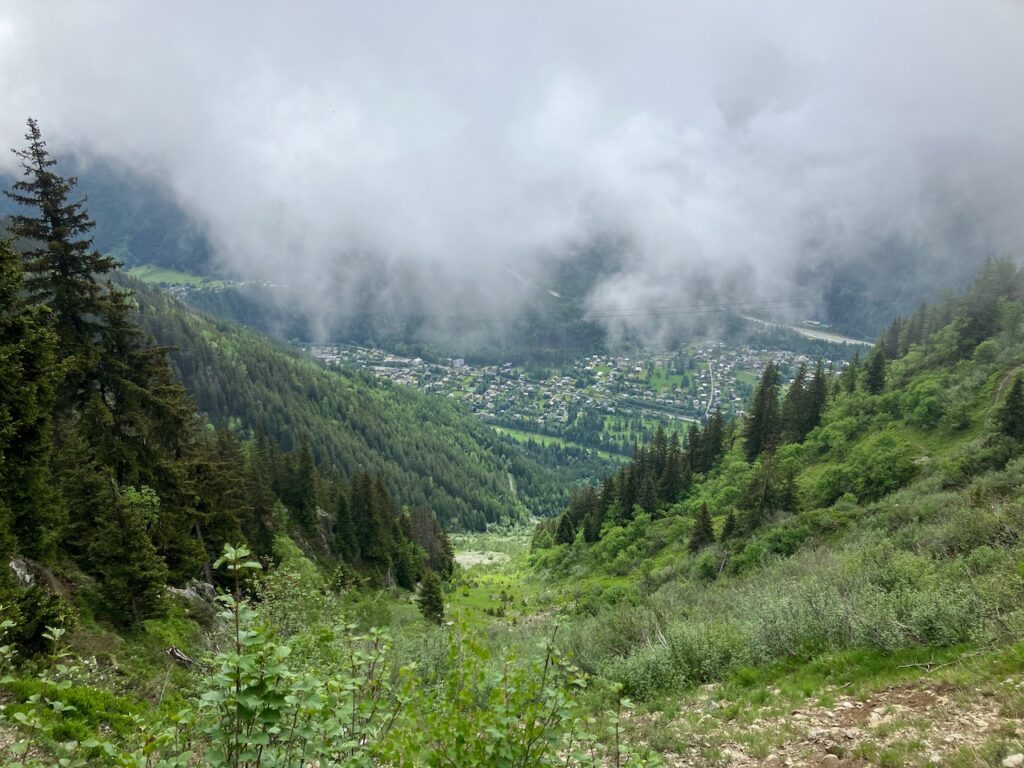 Refuges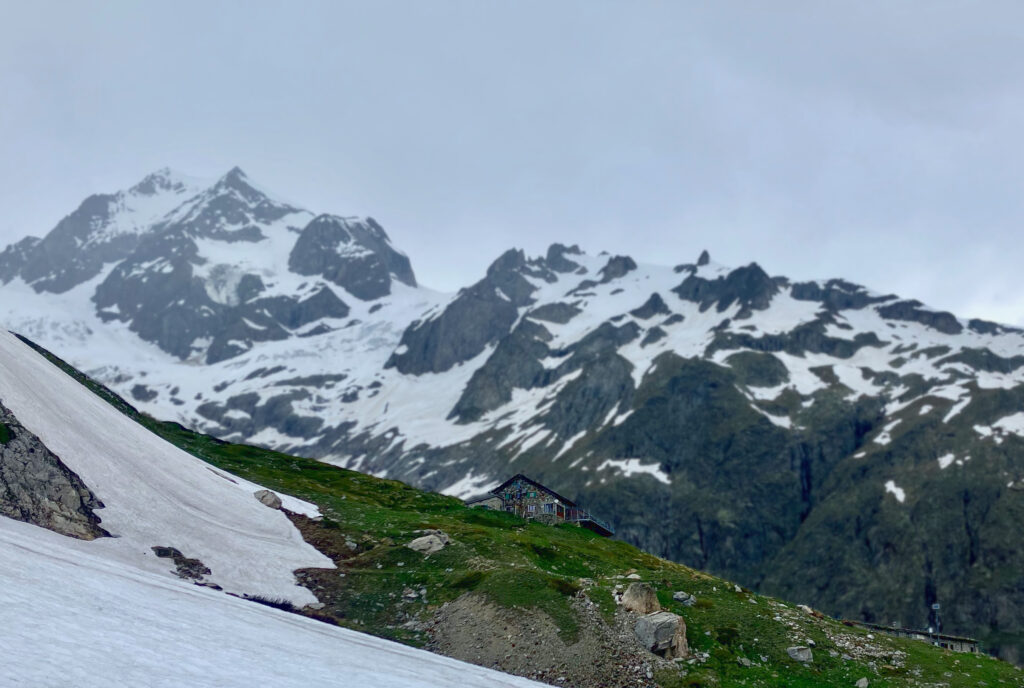 Although you can carry a tent and camping gear with you, camping and cooking your own meals, one of the things that sets TMB apart from some other multi-day hiking routes is how many facilities there are along the way, most notably the refuges: mountain huts that range from rustic to royal and provide food, a bed for the night, or just a nice stop for coffee and a croissant.
I highly recommend making this part of your TMB experience as it is a big part of what makes TMB special.
Fastpacking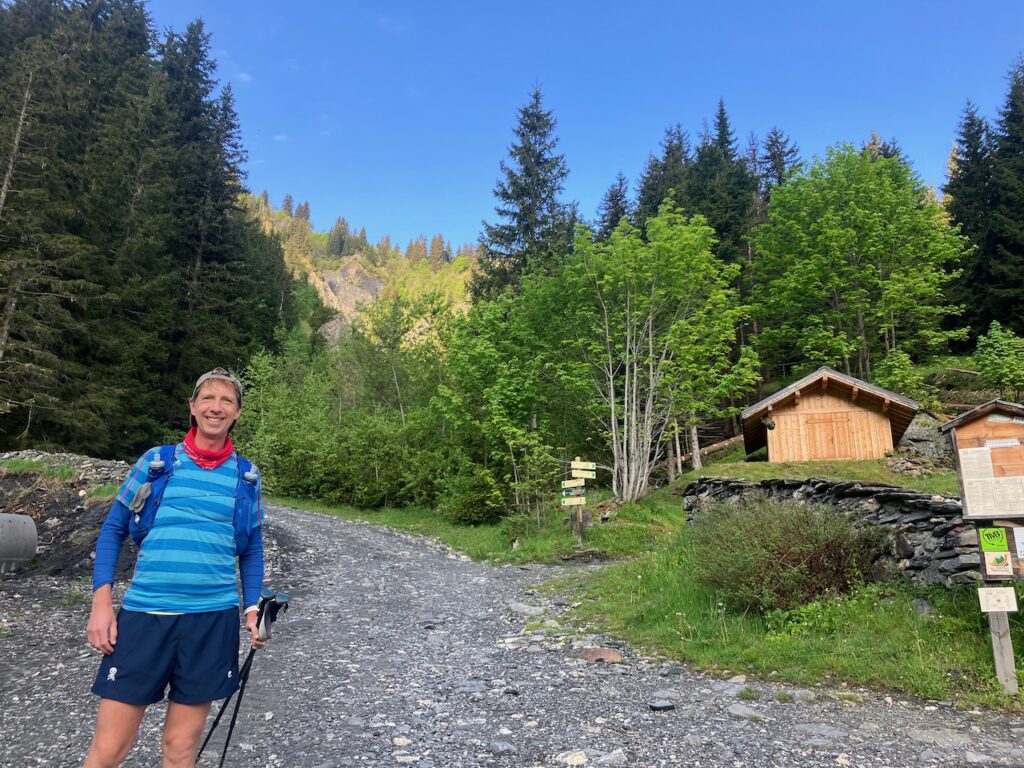 Many people hike the route and take anywhere from 8 to 15 days to do it, but if you're into trail running and you're happy to travel light – more about what this means later on –, you can "fastpack" it in 3-6 days, depending on your fitness and how relaxed you want to take it. By carrying just the bare essentials in a hydration vest or running pack and staying at refuges, you can be light and fast. This is what I did and I highly recommend it.
Independent travel vs. organised tour
If you're used to traveling independently and researching & organising flights, accommodation, public transport, etc. yourself, you should have no problem planning your TMB trip on your own and having a great time.
If you don't feel comfortable traveling on your own, or you just like the idea of having some company on the trail, there are various operators and organisations out there that offer packages. Google around to see what appeals to you and fits your budget. I can't really recommend any particular operator or organization as I don't have experience with them.
What I could recommend is Jeff Pelletier's Tour du Mont Blanc expedition via Vagabond Trails, simply because I've seen some of Jeff's videos on his YouTube channel about the various trail races he does, and he is a diligent, well-organised, and experienced trail runner. I'm convinced you will be in good hands with him.
---
Did you run TMB? Did you take a different route? Share your experiences in the comments below!