This post has absolutely nothing to do with software or IT. I'm just posting it here so that I don't have to set up a separate blog for it 🙂
In June 2023, I fast-packed the Tour du Mont Blanc (TMB) route through France, Italy, and Switzerland. In this series of posts I'll share a bit about my preparation, getting there, my experiences, and, of course, some eye-watering pictures 🙂.
I've split this into separate parts to make it easier to navigate:
Preparation
In this post, I'll try to help you get prepared for your TMB experience, including deciding when to go, how long to take, where to stay, and what to budget for.
I've dedicated a separate article to transportation.
Deciding when to go
There are three main factors to consider when deciding when to go:
Accessibility of the trail
Availability of accommodation in refuges
How busy the trail will be
These are really all interrelated and connected to the seasons in the Alps.
Winter: not recommended
The trail is effectively closed in winter (December to April), when a large part of the area turns into a winter sports destination. The trail will be hard to follow since it will be covered in snow. And even if you managed to follow the route by GPS, it would be tough going (because walking through snow is very tiring), and the only views you would get would be snow, snow, snow.
Refuges may be open during this time with skiers and snowboarders being their primary audience.
You would be one of the very few people attempting the TMB at this time of year.
Unless you're up for a really big challenge, going at this time is not recommended.
Shoulder season (April to June, September to December)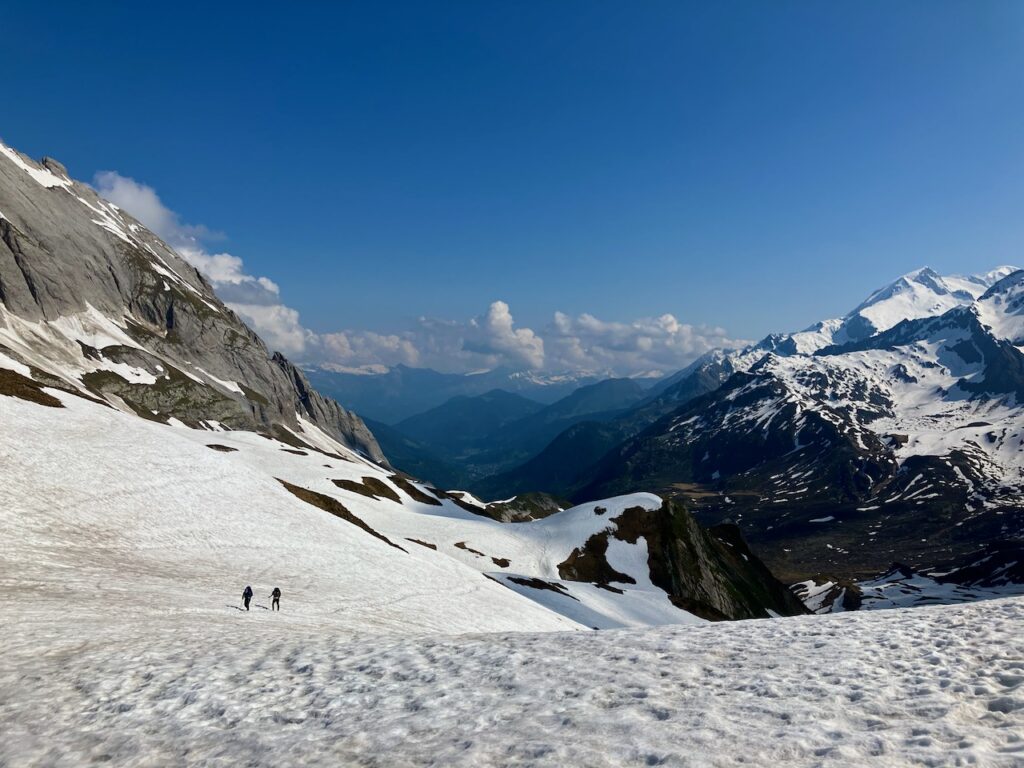 As the snow starts to melt in spring and the snow line starts moving up to its summer altitude of 2,800m-3,000m, the TMB trail will start to become more accessible. However, if you go in (early) June, most of the cols that you'll be crossing will still be covered in snow, and quite some parts of the ascents and descents as well. Take note of which hills are north-facing, as these will stay snow-covered the longest.
Refuges will generally close between the winter and summer seasons and start to open again in June, some early June, some only from the second or third week of June. Unless you're planning a year ahead, this may be your only option accommodation-wise as most refuges would be fully booked already for the summer season. You'll need to be a bit more self-sufficient than in summer as you won't be able to depend as much on coffee and lunch options on the trail: many of these will still be closed. Keep a stash of candy bars, and if you really can't go without coffee, get your fix in the morning at breakfast.
Crowds will be a lot less than in summer, which may be a good reason to go at this time of year, at least if you're looking for tranquility and don't want to get stuck in human traffic jams.
Summer: high season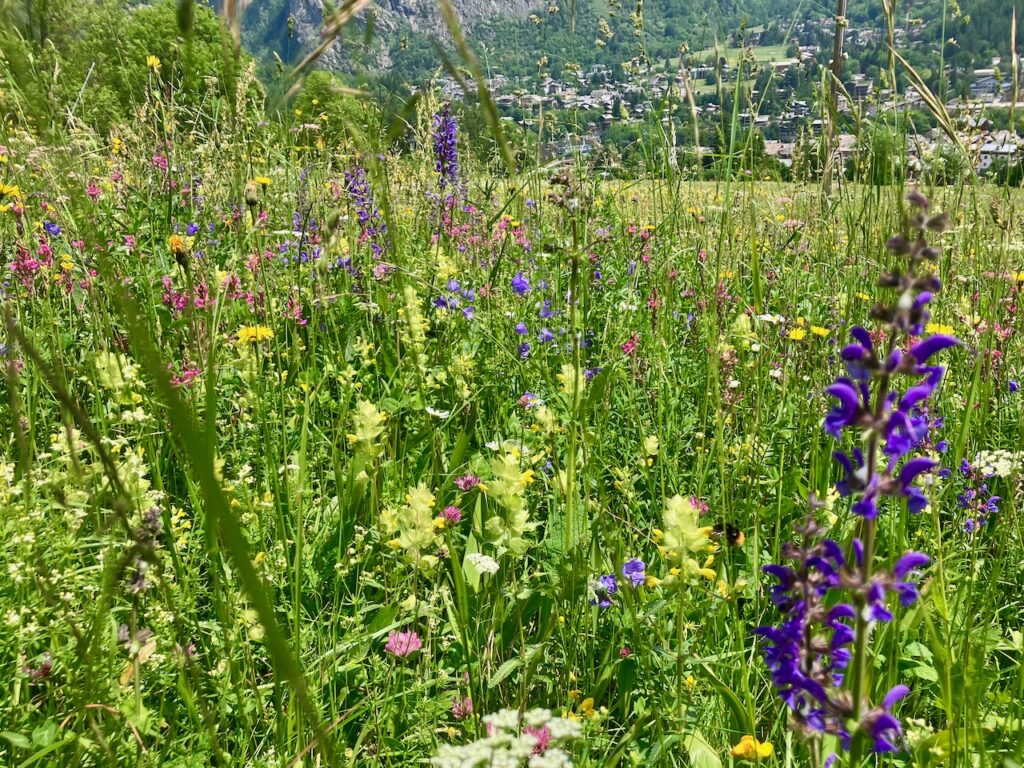 Summer is when most people chose to do TMB. The weather is likely to be good, there won't be snow on the route except for the odd patch of permanent snow or glacier.
Accommodations, especially the more popular refuges, will fill up quickly, and to have enough choice you'll want to start booking these up to a year in advance.
The route might be busy; this could hinder your progress a bit if you're wanting to go fast. However, if you're looking for lots of company or are afraid of being out on the mountains by yourself, this might be just what you want.
How many days?
I got my inspiration for fastpacking TMB from Jeff Pelletier, a Canadian trail runner who shares his training and races in incredibly well produced videos on his YouTube channel. He and his partner participated in UTMB in 2022 and they fastpacked TMB in 5 days/4 nights a few weeks before the race, which he documents in his YouTube video Running the Tour du Mont Blanc in 4 Nights, which I highly recommend watching.
While researching the trip to decide what would be best for me, I came across various fastpacking options, but the most done seemed to be 4 nights/5 days and 5 nights/6 days. At refuges on this trip I met a total of three people that were doing it in 3 days (2 nights), but this is definitely on the extreme end of the spectrum.
Considerations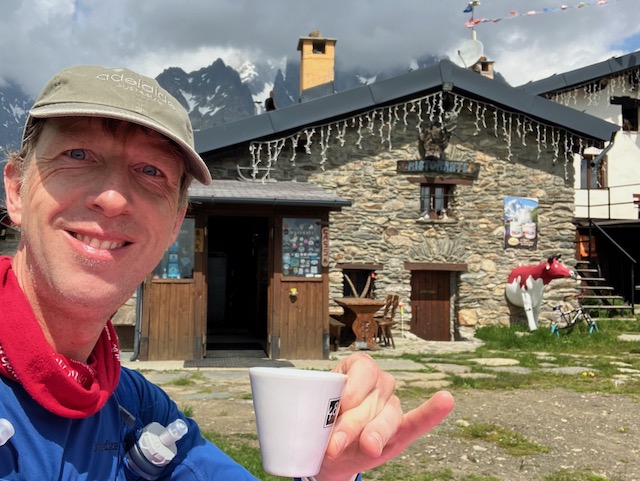 There are a few considerations here:
Your fitness and how fast and far you can run (considering the total elevation gain of 10,000m over the 170km length of the route)
How much time you want to take for coffee and lunch breaks, enjoying the views, taking pictures, and maybe even sleeping in or taking a half day or full rest day.
How much money you're willing to spend: each additional day adds another night at a refuge and money spent on lunch, snacks, etc. If you're coming from South Africa like I was, these are significant expenses since these things are expensive in this area to begin with, and the exchange rate makes it even worse.
The total distance is around 170km, so doing it in 5 days means you'll be running an average of 35km a day (some days will be close to 40km) and getting in an average of 2,000m elevation gain every day. With the kinds of elevation in the Alps, those 35km can easily take 8h for someone who normally runs 5 minute kilometers (or 8 minute miles) on the road. Add to that coffee and lunch breaks and you should count on being on the road for about 10 hours every day.
Also don't forget that fatigue will accumulate: your legs will not be as fresh on day 3 as they were on day 1.
What I did
I knew that I could probably do it in 4 nights/5 days, but in the end my thinking was:
This was a holiday for me, not a race, and I had nothing to prove. I wanted to enjoy the experience, being able to sit down for a cup of coffee or a lunch.
I'd rather build in some breathing room to account for unexpected events like injuries, getting lost, etc.
Getting to a refuge "early" (3pm or 4pm) on some days, if it came to that, would actually be nice: I'd be able to have a beer and read a book while enjoying the views from the comfort of a deck chair.
I had the money, and although I didn't want to spend it needlessly, giving myself an "extra" day seemed worth it.
So I decided to go for 5 nights/6 days. As you'll read later on, this was just right for me. Could I have done it in 4 nights/5 days? Probably, but I don't think I would have enjoyed it as much.
Accommodation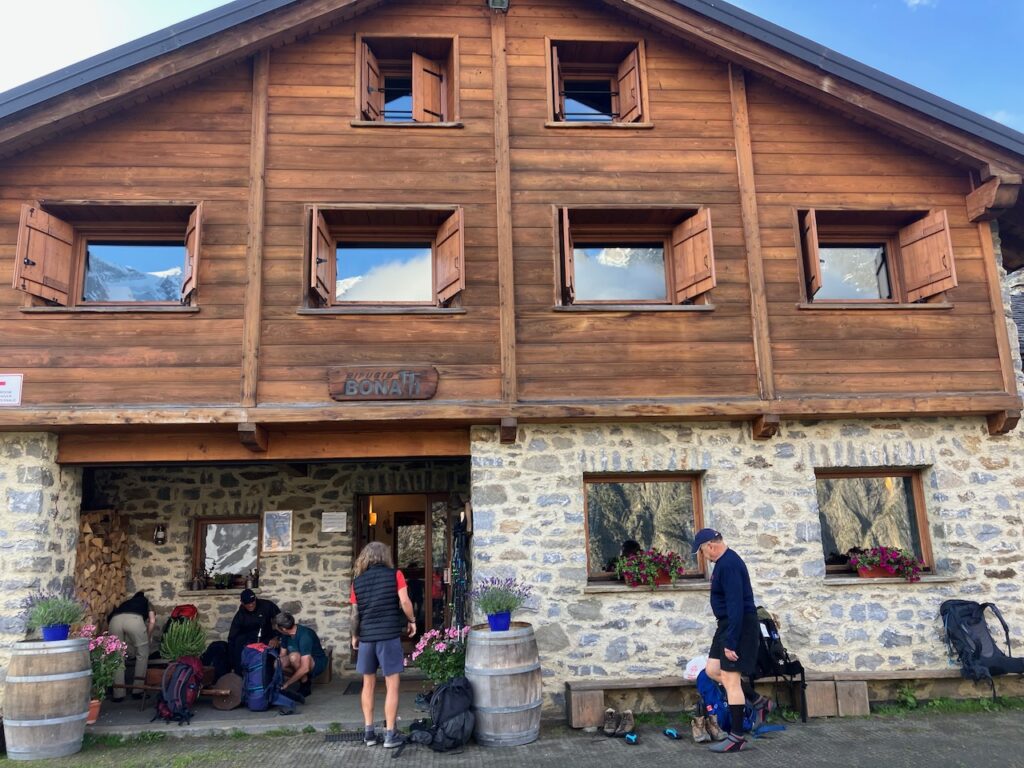 We've talked about refuges. Now, where do you find them, how do you book them, what do they cost, what can you expect and not expect?
Finding and booking a refuge
You can find nearly all accommodation options on the website www.montourdumontblanc.com, which is available in five languages: French, Italian, German, Spanish, and English.
Each refuge will show up-to-date availability and you can book straight from the website.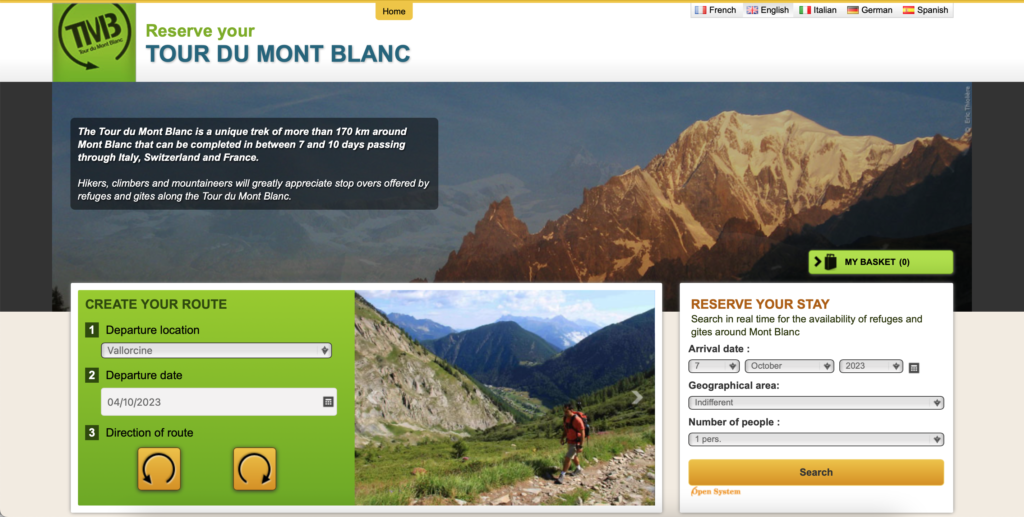 It is absolutely essential that you book these ahead! You do not want to get stuck in the mountains having to walk a few more hours than you planned (and possibly in the dark) to the next village because the refuge you were hoping to stay at has no more space.
What to expect
Food
In general the refuges offer half-pension, meaning dinner and breakfast.
Some will make you a packed lunch (so-called pic-nic) for an extra fee, but I preferred to sit down and have lunch at a restaurant when I passed through a village around lunchtime.
The food was great in every refuge I stayed.
Dinner is usually served at 18:30 or 19:00. You get three courses: soup, a main, and dessert. You can usually have seconds of the main course if you are still hungry. The meals are generally carb-heavy (potatoes!) but that's just what you need when you're running in the mountains for 8-10 hours every day!
Breakfast is generally available from around 6:30 and a self-service affair centered around bread. I think one or two refuges offered yoghurt and fruit. You would also get a glass of juice and a cup of coffee, tea, or hot chocolate.
Rooms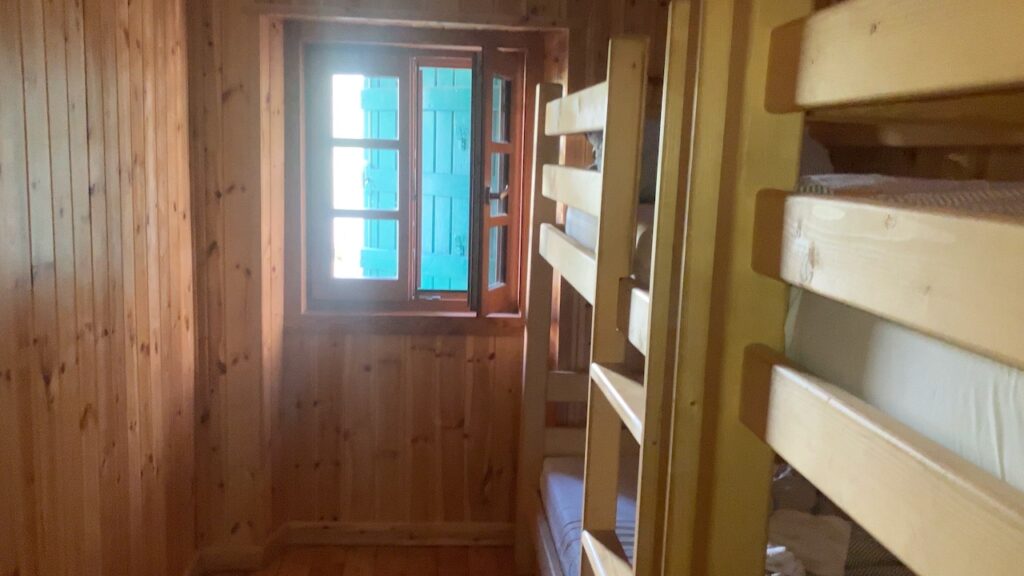 You will have the option between a bed in a dormitory (dortoir) which could sleep anywhere from 8 to 80 people, and a bed in smaller rooms.
Although the dormitory is always the cheapest option, if you're a light sleeper – or just prefer a little more privacy –, it can be worth spending a bit more for a smaller room.
I was lucky at Rifugio Elisabetta to be offered to upgrade from a dormitory to an otherwise empty room by paying the difference, so effectively I got the whole room to myself for the price of just a bed! If you're doing TMB in low season, it can't hurt to ask if this is possible.
Showers
Showers will generally be included in the price of your stay. Many refuges use a coin-operated system for showers to limit the use of warm water. At those refuges, you'll get a coin when you check in, which will give you a few minutes of warm shower time; when the timer runs out, the shower goes cold.
Sadly, the system doesn't always work so you might either get a shorter shower than you expected, or, if you're lucky, a longer one. Make sure you get the important stuff done at the beginning of your shower so you're not caught with shampoo in your hair and no more warm water.
You may be able to buy extra coins if you really want a longer shower.
Bedding and towels
Beds come with linen, but since Covid, refuges have started asking guests to use a sleeping bag liner or sac à viande (literally "meat bag") as it's called in French, for extra hygiene. Make sure you pack one!
Towels are hit and miss. I didn't have space in my hydration vest to pack one, so I travelled without. Most of the refuges rented out towels for a few euros (I think one actually lent it to me for free). The one or two that didn't officially were able to get me one when I asked for it.
If you have space for a small and light trekking towel, it could be worth packing one to save some money and to be sure you can dry yourself after a shower.
Etiquette
There will generally be a place by the entrance to leave your shoes, poles, and raincoat. Sometimes this is in a basement drying room which means you will (hopefully) find your shoes dry the next morning.
You will get slippers or Crocs to use indoors during your stay at the refuge. This keeps the floors clean.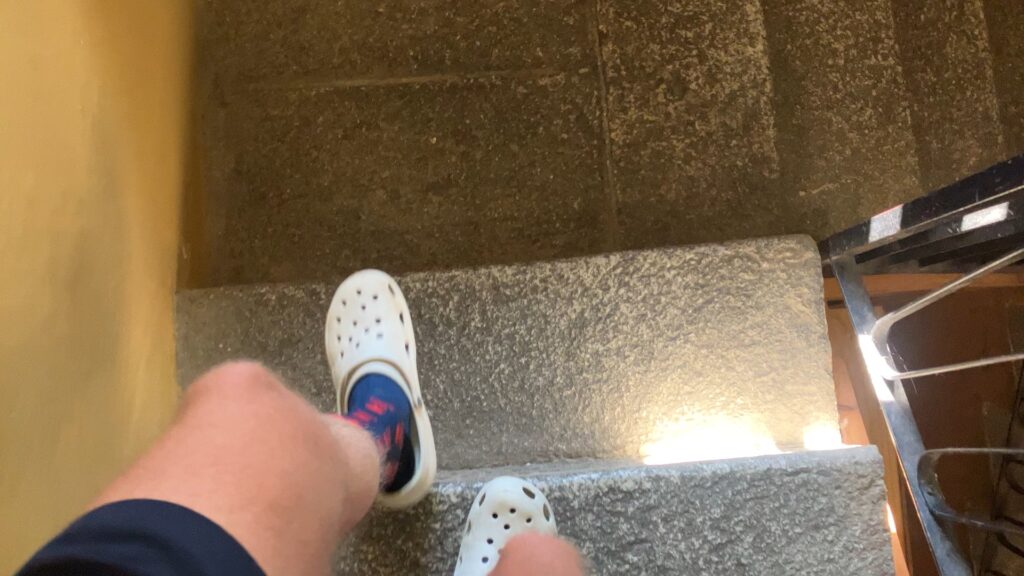 Cost
Expect to pay between €50 and €80 (ZAR 1000 and ZAR 1600) per night for a refuge, with refuges in Switzerland being the most expensive. While this might seem pricey, remember this includes two meals which you would be paying €30-€40 for at a restaurant.
When booking via www.montourdumontblanc.com, you will pay a deposit of around 45%, which you lose if you don't show. On arrival, you pay the remaining balance.
The two refuges that I booked directly didn't ask a deposit at all, I just paid the full amount on arrival. To keep this system working, please be courteous enough to contact the refuge and cancel your stay if you know you can't make it!
Tourist tax (taxe de séjour) was sometimes included, sometimes not, but is about €2 a night.
Many of these refuges are in remote places where phone/internet access is spotty at best. So make sure you bring enough cash with you to pay for the night (and any drinks/snacks you might want to have) since the refuge might not have a card machine, or it might not be working. Euros are generally accepted everywhere, even in Switzerland.
What I did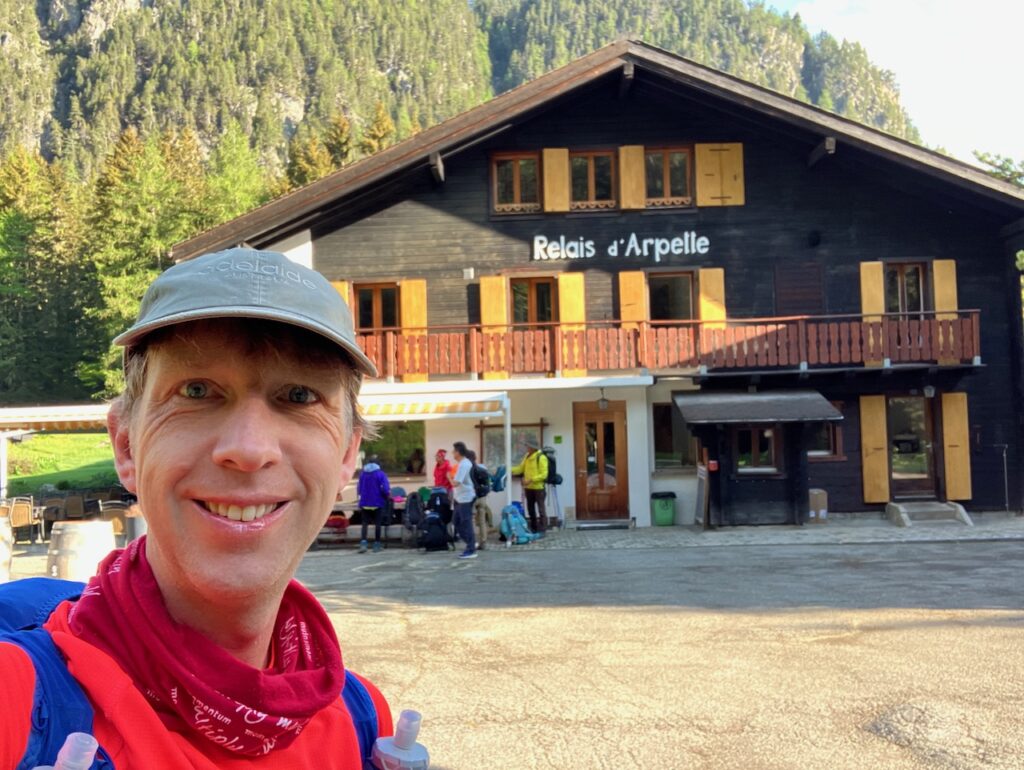 I booked the following 5 refuges:
Day 1: Refuge de Nant Borrant, Les Contamines – €52
Booked via www.montourdumontblanc.com
Day 2: Rifugio Elisabetta, Val Veny – €54 (upgraded from a dorm to a room by paying about €10 more)
Booked directly on www.rifugioelisabetta.com by using the contact form
Day 3: Rifugio Bonatti, Courmayeur – €65
Booked directly on www.rifugiobonatti.it
Day 4: Relais d'Arpette, Champex-Lac – CHF 78
Booked via www.montourdumontblanc.com
Day 5: Gite le Moulin, Tré-le-Champ – €46.70
Booked via www.montourdumontblanc.com
I was quite happy with all of them. The dormitory in Bonatti was massive and it was probably where I got the least amount of quality sleep. However, when I booked, no smaller rooms were available anymore. And it being this early in the season, Bonatti was my only option: Rifugio Elena, a bit closer to the Swiss border, hadn't opened yet and Bertoni, more back towards Courmayeur, was too close to where I would have spent the night before.
Training
You'll need a good level of fitness before attempting to fastpack TMB.
You'll want to train your endurance, because you'll most likely be running on tired legs at the end of each day, and it's good to have familiarized yourself with how that feels and to know you can push on.
The climbs and descents are serious: you'll sometimes be gaining (or losing) close to 1,000m in elevation over just a few kilometres. So train your legs to be able to handle this. If you have hills where you live, do as many of your training runs on them as you can. If you don't, compensate by making strength training a part of your weekly routine.
You'll be running at between 1400m and 2800m altitude, so the more acclimatised your body is to altitude, the better. If you live somewhere far above sea level like I do (Johannesburg has an elevation of around 1650m), you've got a huge step ahead of people coming from sea level.
Gear
Fastpacking means finding a balance between packing as little as possible but still being able to manage in the unpredictable mountain weather.
The list
This is what I brought:
A hydration vest: the Salomon Adv Skin 12L with two 0,5L soft flasks and a 2L bladder
Trail running shoes: the Salomon S/Lab Pulsar SG
Two pairs of running socks
Running shorts
Two short-sleeve running shirts
A long sleeve base layer, to wear below my running shirt on cold mornings
A merino wool shirt for extra warmth
Two pairs of underwear
A buff
A cap
A lightweight rain jacket with hood, the Salomon Bonatti Trail waterproof jacket
Gloves
A fleece jumper to wear in the evenings and in case the weather got suddenly cold on the mountain (which it luckily never did)
Thermal pants to wear in the evenings (and for emergencies)
Phone and watch, charging cable, and USB adapter
Small USB power bank
A small toiletry bag with toothbrush, toothpaste, shampoo, razor
A sleeping bag liner
An emergency kit with:

a solar blanket
bandage
band-aids (plasters)
antibiotic cream
ibuprofen pills
vaseline

Emergency food – a few energy bars in case you unexpectedly get stuck in a storm, for example
Trekking poles
The whole pack weighed about 4kg, most of which was from the water I was carrying.
Keeping it compact
The shirt and socks I wasn't using on the day went into a zip-lock bag so I could really compress them into the smallest possible space and keep them dry.
The merino wool shirt I didn't really need and I would probably leave it at home next time.
I wore a Garmin Forerunner 45S sports watch as that was the watch I had. However, the battery died at the end of the day on multiple occasions. Switching from multi-satellite to just GPS did seem to extend the battery life a bit on the last few days. However, I would recommend a watch with longer battery life and navigation functionality.
Trekking poles were indispensable, especially at the time of year I went when they also doubled as ski poles. I would not have gotten across the many traverses over steep, snow-covered slopes without them.
Things I wish I'd brought
Both things I didn't pack were sun-related:
Sunscreen, which I had to buy when I got to Les Contamines as I was already starting to get seriously sunburnt in my face by then. I highly recommend buying a small tube of SPF 50 with enough cream for the duration of your trip beforehand and packing that.
Sunglasses, especially because of the amount of snow I encountered and the long-term damaging effects it can have on your eyes. My cap blocked enough of the sunlight from above, but I had to walk sections of snow with my eyes closed just to protect them from the bright glare.
Water
You generally don't need to carry huge amounts of water – even though I carried a liter in my bladder on top of the 2 x 500ml in my soft flasks, just in case, I actually never needed it. The many mountain streams you come across have drinkable water. Many refuges and mountain huts will have a tap outside. As long as you fill up whenever you have a chance, you can probably make do with just 2 x 500ml soft flasks and save yourself some weight.
Sun protection
You will be walking long stretches through the mountains exposed to the sun. Bring sunscreen, and bring sunglasses, especially if you'll be going early on in the season when there will be snow.
Navigation
For navigation, I used the Gaia GPS app on my iPhone on which I had loaded the routes for TMB, UTMB, and TDS. Even the free version of Gaia GPS includes a detailed, offline map of the area onto which I could then load the routes.
This was indispensable: although the route is quite clearly signposted in a lot of places, it's quite easy to take a wrong turn in the valleys. Also, snow covered large parts of the route at higher altitudes and the GPS app really helped me stay on track on those sections.
Even with the phone on airplane mode and with low battery mode enabled, GPS would still work and I never had to worry about my phone running out of battery.
These are the GPX files I used:
Obviously if you have a fancier watch than I had at the time, you can load these onto your watch as well and let your watch guide you.
Culture and awareness
You'll be travelling through towns in three different countries, and while they people there are obviously used to tourists, there is a strong sense of culture, and it helps to be aware of it and respect it.
Language
If you take the effort to learn a bit of the language (mainly French, which is even spoken in the Italian section of the TMB, the Aosta valley), it can make a big difference. At the very least, a simple Bonjour! ("Good day!") and Merci! ("Thank you!") can at least demonstrate that you're making an effort and don't just expect everyone to accommodate you and speak English.
Opening hours
Shops close for lunch and only open late afternoon (3pm or 4pm). This means that if you're hoping to combine lunch with stocking up on snacks, you're probably out of luck. (The exception was the Épicerie in Les Chapieux which sells a small selection of cheeses, cold cuts, and candy bars, and was open during lunch time.)
If you pass through a town towards the end of the day and before heading to your refuge, consider stopping at the local grocery store (épicerie) for snacks; they will be a lot cheaper than at your refuge.
Greeting
Greet people you meet on the trail with a simple "Bonjour!" (in France and Switzerland) or "Ciao!" (in Italy). It keeps things friendly.
Respecting nature
I hope this would go without saying, but I know that here in South Africa where I live it, sadly, doesn't always. So for the benefit of everyone, regardless of origin:
Do not litter: take your trash with you and dispose of it properly when you get to your refuge. If you can carry a candy bar or a bag of chips, you can also carry its wrapper or bag. There are no excuses for littering. This includes tissues and toilet paper.
Do not play music on speakers: I would actually say "Don't play music on headphones either" so that you can just enjoy the sounds of nature and the silence, but this is perhaps more of a personal preference. But don't play music on your phone's speakers, and don't even think about bringing any kind of external (Bluetooth) speakers. Imposing your music on your fellow hikers and runners is rude and inconsiderate. Don't do it. If you can't tolerate silence, don't do TMB.
Safety
The whole area you'll be travelling through is very safe, and you are extremely unlikely to encounter violent crime or indeed any crime. Having said that, don't be reckless either. When you're at a restaurant and need to use the restroom, take your phone and wallet with you, don't leave them on your table. At refuges, keep your valuables on you. While your devices are charging you can leave them; I haven't heard of anyone's phone or watch getting stolen while charging at a refuge.
In cities, obey the traffic rules. You have the right of way when using a pedestrian (zebra) crossing, but always make sure that cars see you and stop for you before crossing. You don't want your TMB to end prematurely because you're in the hospital with a broken leg.
If you need a mountain rescue, the European emergency number is 112. In Switzerland, dial 144 or 112. If you can provide them a GPS reading from your watch or phone, this will help them locate you quicker.
Budgetting
Although the trail and the views are free, many other parts of TMB are not, so you'll need to plan to make sure you can afford it.
Here's a rough guide of what it would cost assuming you've already got a roundtrip to Geneva, are doing a 6-day TMB, and are staying in Chamonix two nights before and one night after, so a 9 day / 8 night trip total.
Type
Amount
Comments
Transportation
€114
Includes:
– train from Geneva airport to Geneva
– Léman Express from Geneva to Saint-Gervais-les-Bains-le-Fayet
– Mont Blanc Express from Saint-Gervais-les-Bains to Chamonix
Accomodation in Chamonix
(3 nights)
€150
Varies a lot depending on location and luxury, as well as how early you book
Food in Chamonix
(2 x breakfast, 2 x lunch, 3 x dinner)
€175
Your accommodation may include breakfast
Refuges (5 nights)
€275
Includes dinner and breakfast
Lunch (6 days)
€120
Coffee, drinks, snacks
€80
TOTAL
€914
Table: Budget based on a 6 day TMB
You can save some money by:
Opting for budget accommodation in Chamonix. I stayed in Le Chamoniard Volant, in 4-bed dorms, which costs €26.20 per bed per night.
While staying in Chamonix, buying food at grocery stores and cooking your own meals instead of eating out.
On TMB, buying bread and cheese when you pass a boulangerie or épicerie that's open, and eating that for lunch, either that day or the next. This may involve carrying it for a while, so you have to make sure you have the extra space in your pack.
Starting somewhere other than Chamonix, which is a really expensive place to stay and eat. A start/finish in Courmayeur, for example, could end up saving you money. Just account for the extra transportation cost in that case.
---
That's all my preparation tips! Did you do TMB and have something to add? Leave it in the comments below!