This post has absolutely nothing to do with software or IT. I'm just posting it here so that I don't have to set up a separate blog for it 🙂
In June 2023, I fast-packed the Tour du Mont Blanc (TMB) route through France, Italy, and Switzerland. In this series of posts I'll share a bit about my preparation, getting there, my experiences, and, of course, some eye-watering pictures 🙂.
I've split this into separate parts to make it easier to navigate:
My tour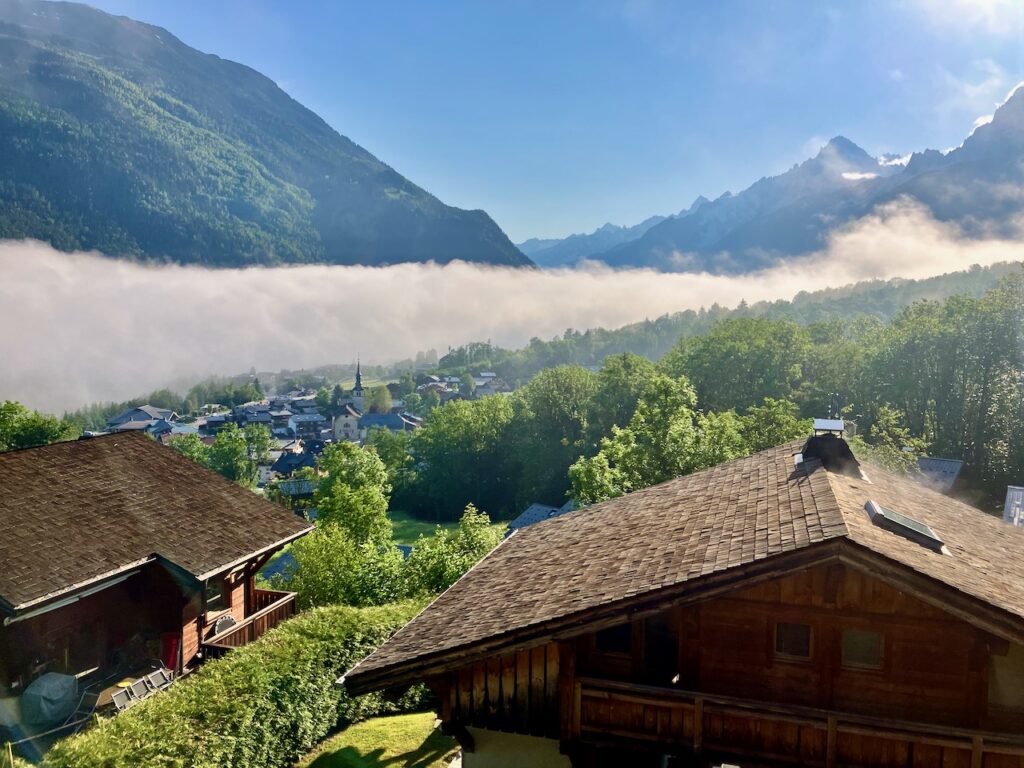 I'm hiking up a hill 200m over the town of Les Houches. It's steep and my breath is heavy, but I feel alive. The grass on both sides of the road looks greener than I can remember seeing in a while. The sky is bright blue, a stark contrast to the rainy skies of the past two days.
I turn around and look down. The houses and churches of the town below me are partly hidden behind a trail of clouds resting in the valley. In the distance I can hear church bells, even though it's a Monday morning.
Suddenly I'm aware that I feel something I haven't felt in a while: I feel happy.
I've been planning this trip for months, and now I'm actually here, on the Tour du Mont Blanc. It might as well be the Camino the Santiago: this is a spiritual experience, to know that many before me walked the exact same route that I'm walking, and many will follow.
Even though I've prepared, I don't know exactly what lies ahead; I don't even know if I'll complete the 170km journey around the Mont Blanc massif. But I'm getting closer with every step.
Day 1: Chamonix to Refuge Nant Borrant (Les Contamines)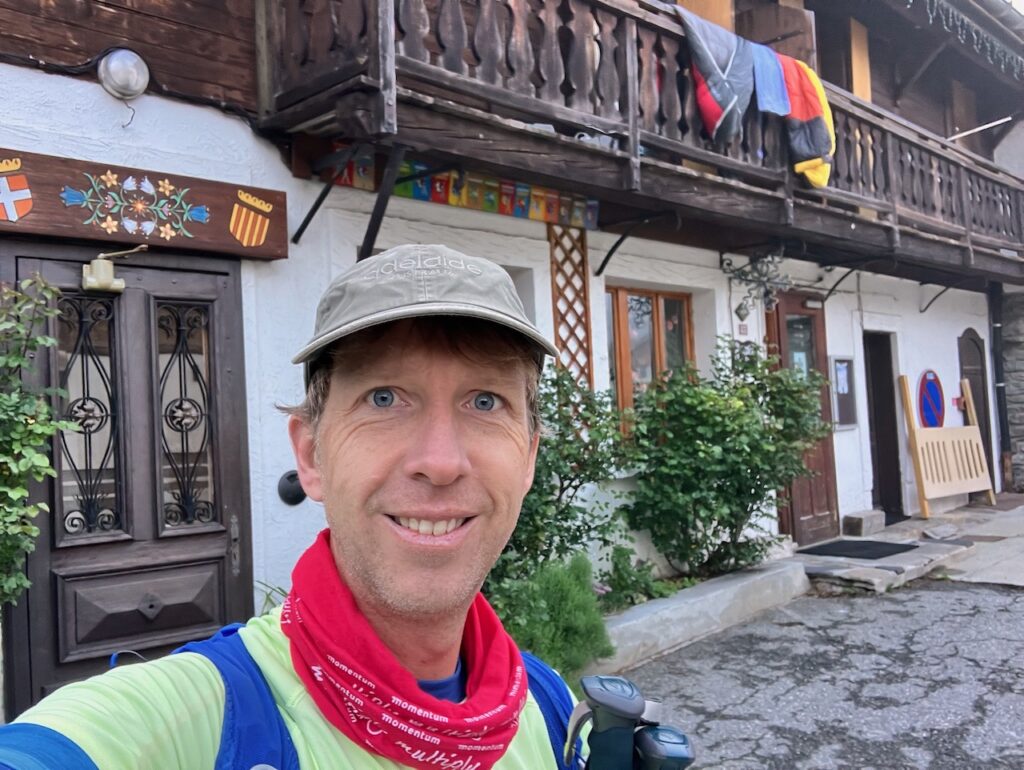 Chamonix – Les Houches
I left my accommodation – Le Chamoniard Volant, on the northern outskirts of Chamonix – early in the morning at 6:30 and made my way south-west, through the center of Chamonix – still quiet at this hour –, past the rock face at Les Bossons where aspiring rock climbers learn to climb, and onto a forest trail that I followed to the town of Les Houches, the official start of the Tour du Mont Blanc.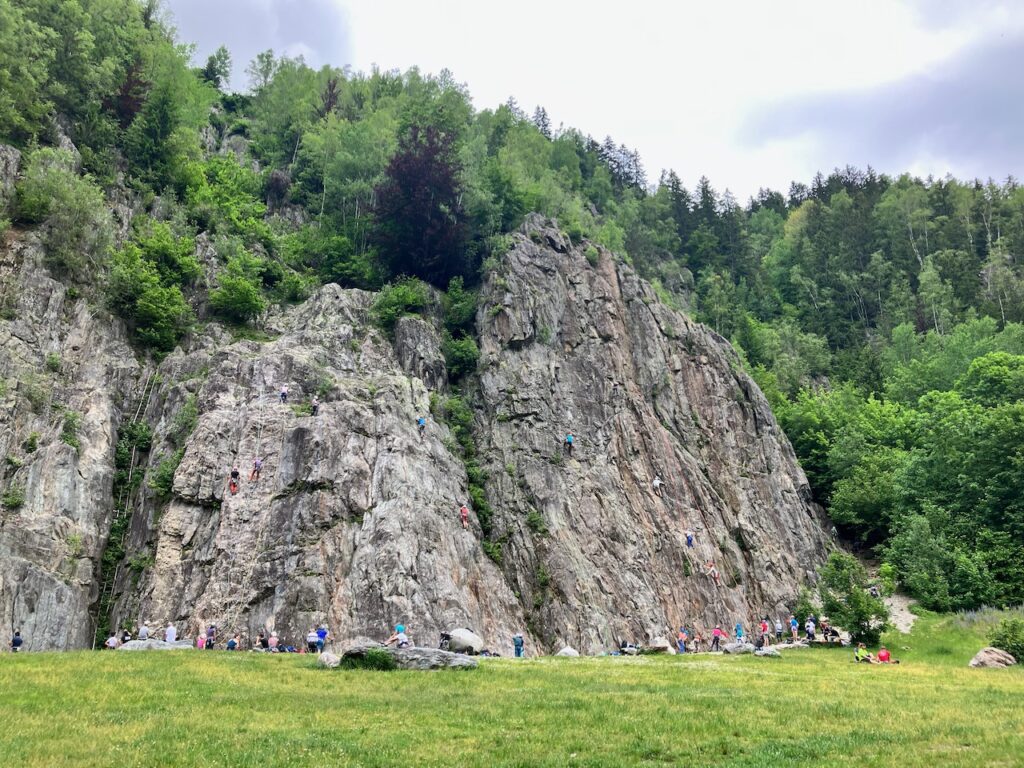 The route I had followed until here is actually the first few kilometers of the Ultra Trail du Mont Blanc, and I imagine myself, possibly, one day participating in that yearly race that takes runners around the Mont Blanc massif in a continuous 24 to 40 hour journey.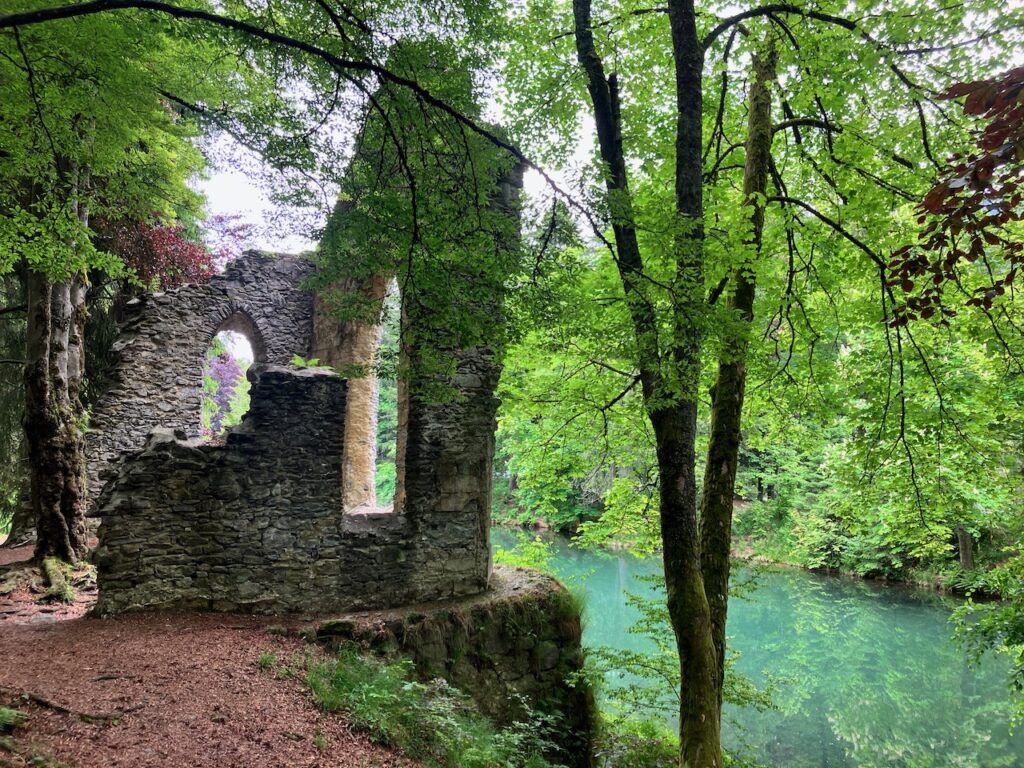 But now, I would be doing it in six days, staying at refuges overnight and being able to enjoy all the views during the day.
This first section is very runnable and the less-than-an-hour that it took me to cover the 8-odd kilometers to Les Houches would be some of the fastest kilometers I would travel all week.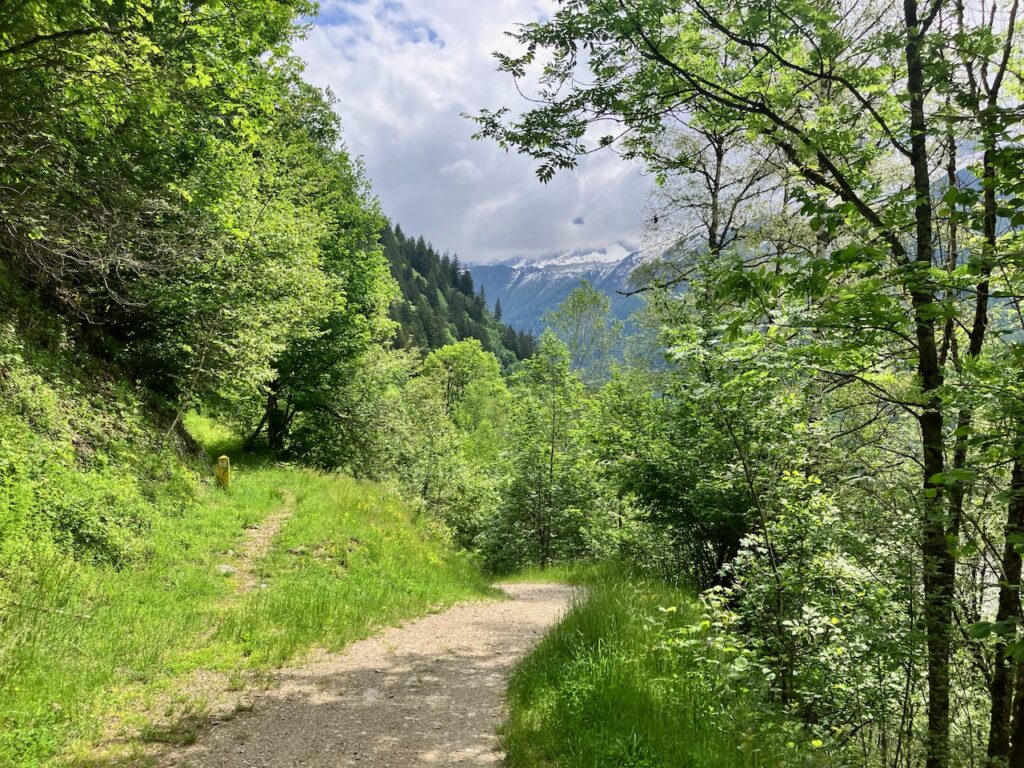 After the obligatory selfie at the sign that marks the official start of the Tour du Mont Blanc, it was off to the mountains.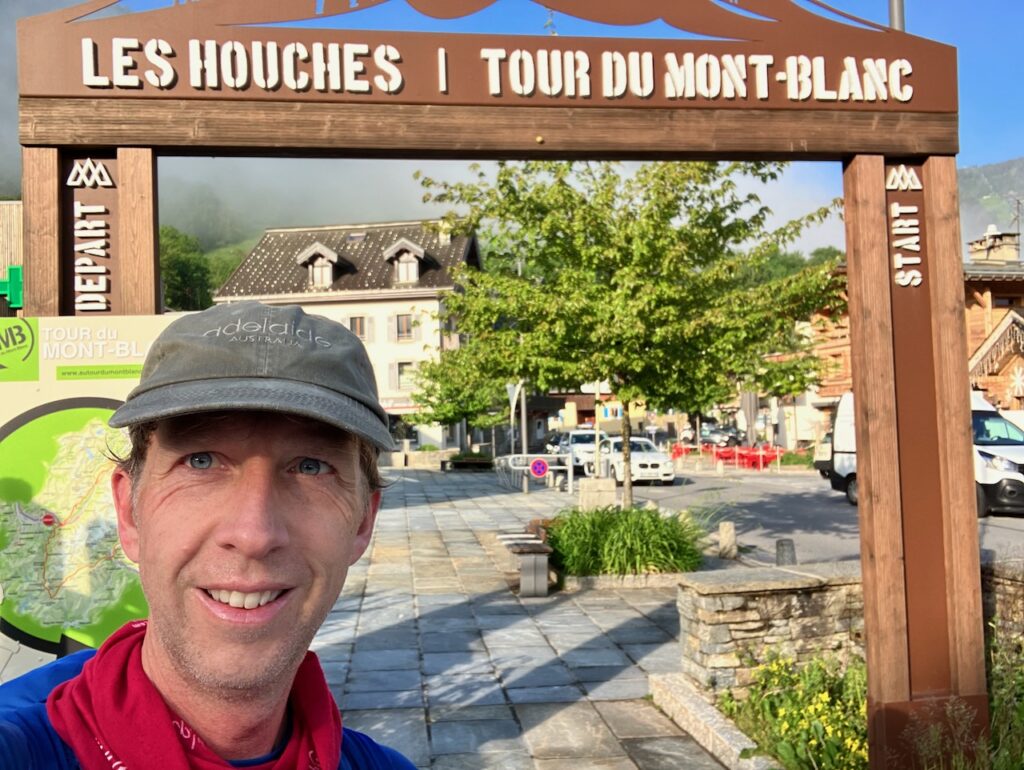 Les Houches – Bionnassay
The official TMB route to Les Contamines-Montjoie doesn't go much higher than the roughly 1,700m elevation at Col de Voza. However, I'd heard from several accounts that the route over the much higher Col de Tricot has much better views. I'd decided that if weather allowed it – no point in climbing to 2,100m altitude if the clouds then completely obstruct your view – I would take this route.
The weather was better than I could have hoped, so I turned left off of the official TMB route up the Route de Bellevarde.
After a 200m climb, I was met with a sign telling me to turn back because the trail was closed due to avalanche risk. I was quite disappointed about having to give up Col de Tricot, but a sign like this is there for a reason, and I wasn't ready to risk my life for a view. So back down the mountain I went to rejoin the official TMB trail.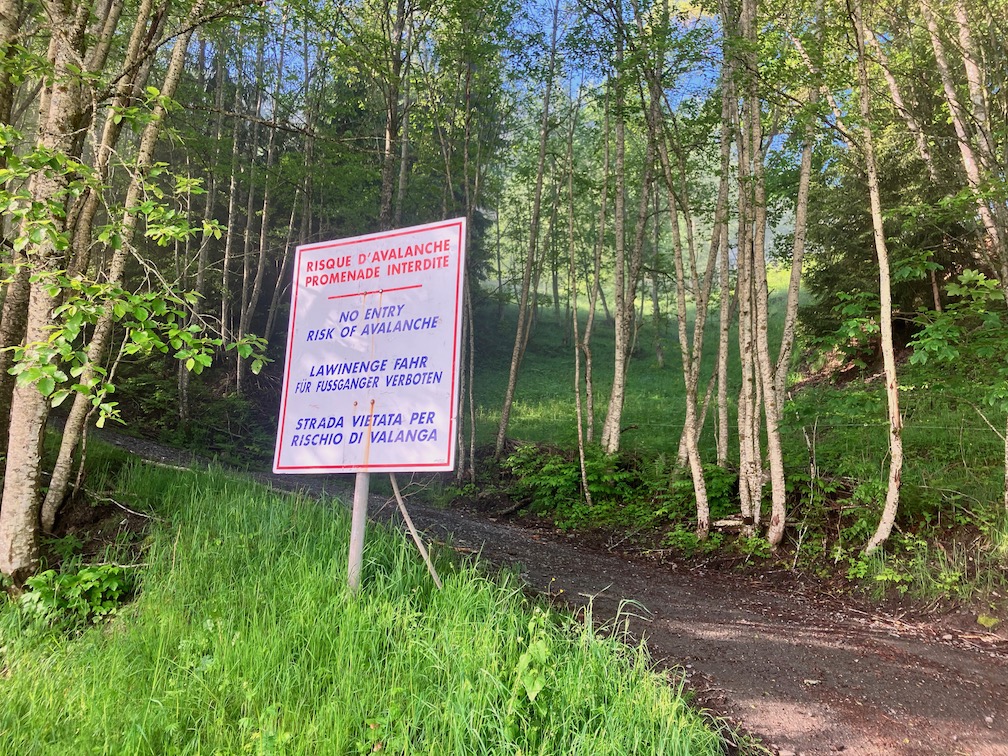 The TMB route took me through a ski area with cables from non-operational ski lifts hanging overhead – not yet the pittoresque views I had hoped for. As I passed through the small town of Bionnassay I noticed a sign pointing to Col de Tricot but it was also marked as Fermé – Closed.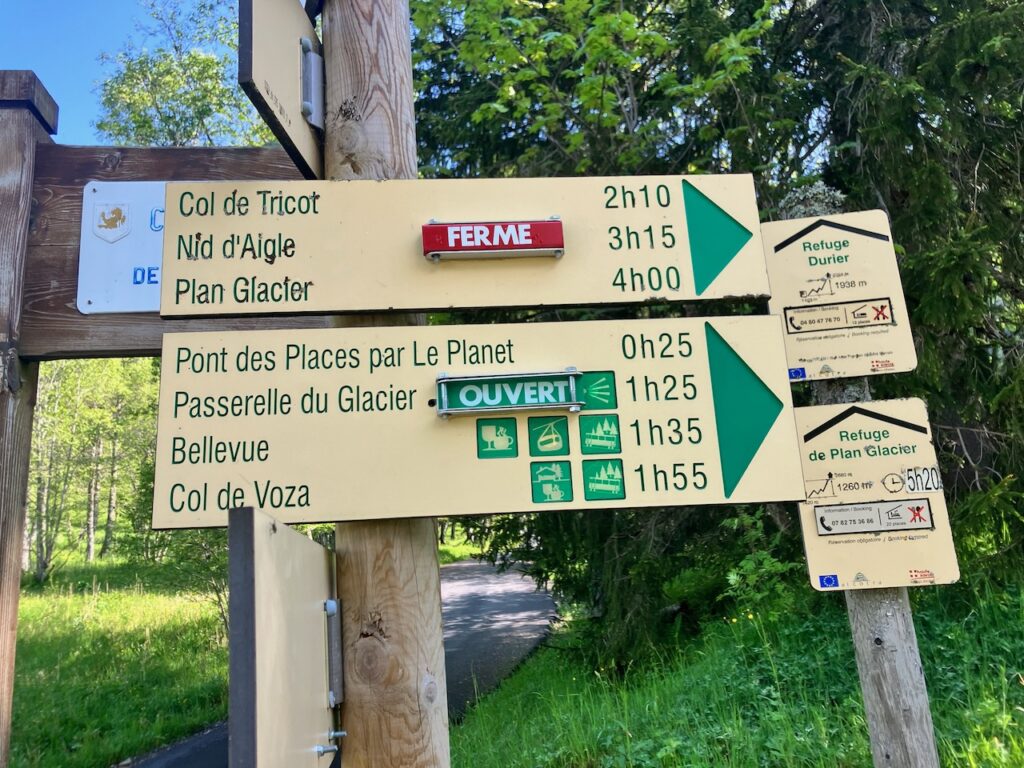 But a following sign, a kilometer or so further down the road, indicating a different route to Col de Tricot had no such markings so I decided to risk it and once again turned off the official TMB route on my second attempt to reach Col de Tricot.
Bionnassay – Col de Tricot
The route involved some steep climbs through forest, across rivers, past a waterfall, until at one point it rejoined the path I had been meaning to take from Les Houches to Col de Tricot.
With the climbs to higher altitudes came increasingly better views.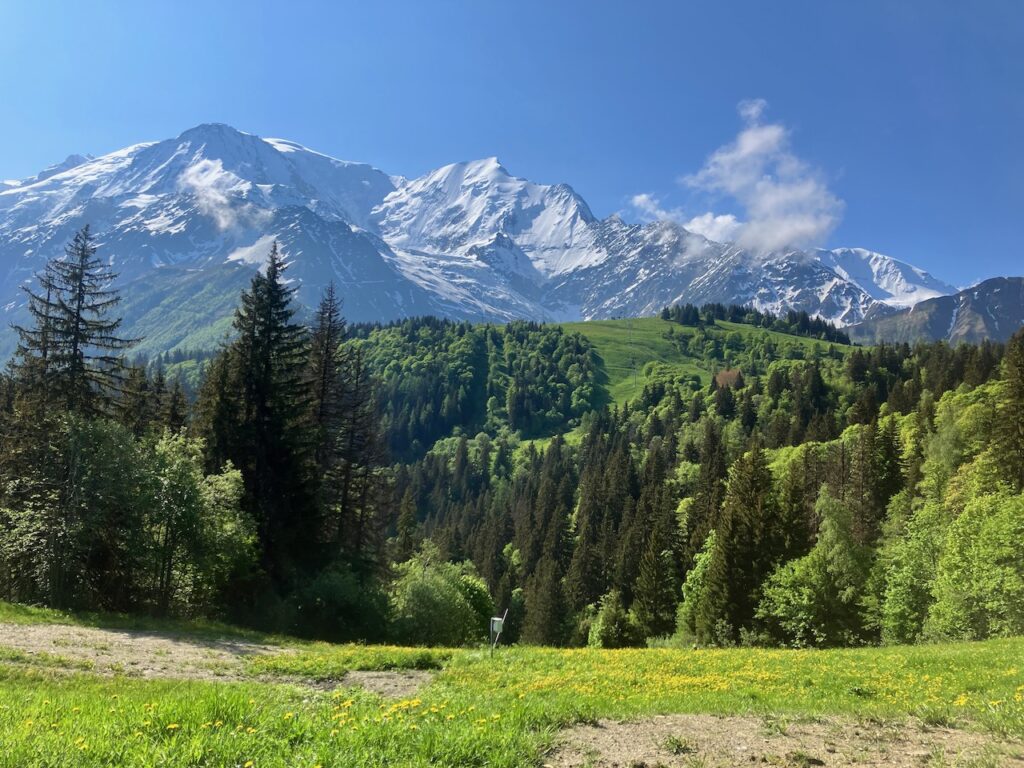 And as I approached Col de Tricot, I also encountered the first traces of snow. Unbeknownst to me at the time, I'd be having many more encounters with a lot more snowing in the coming days!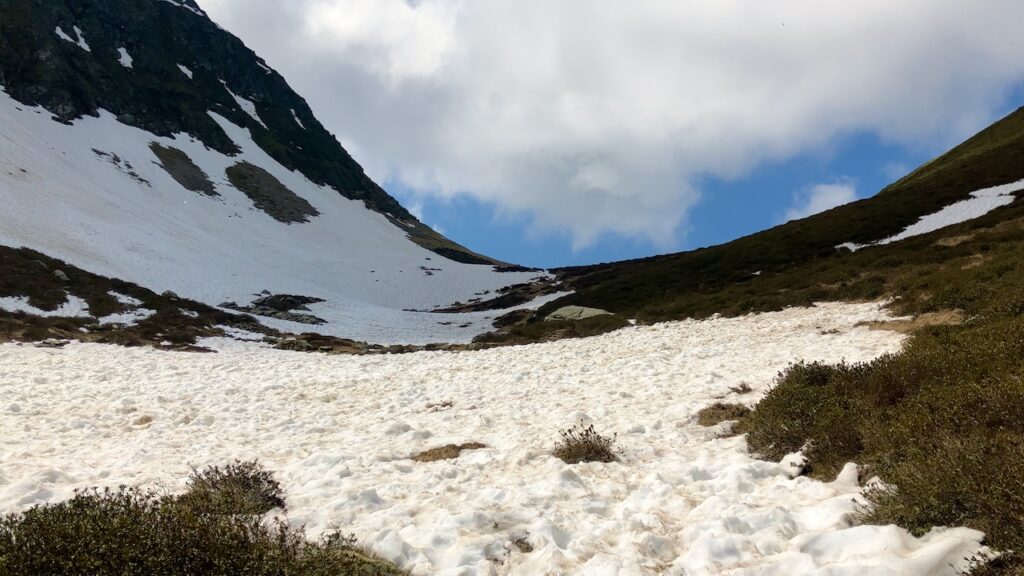 When I reached Col de Tricot, the views most definitely proved worth the effort!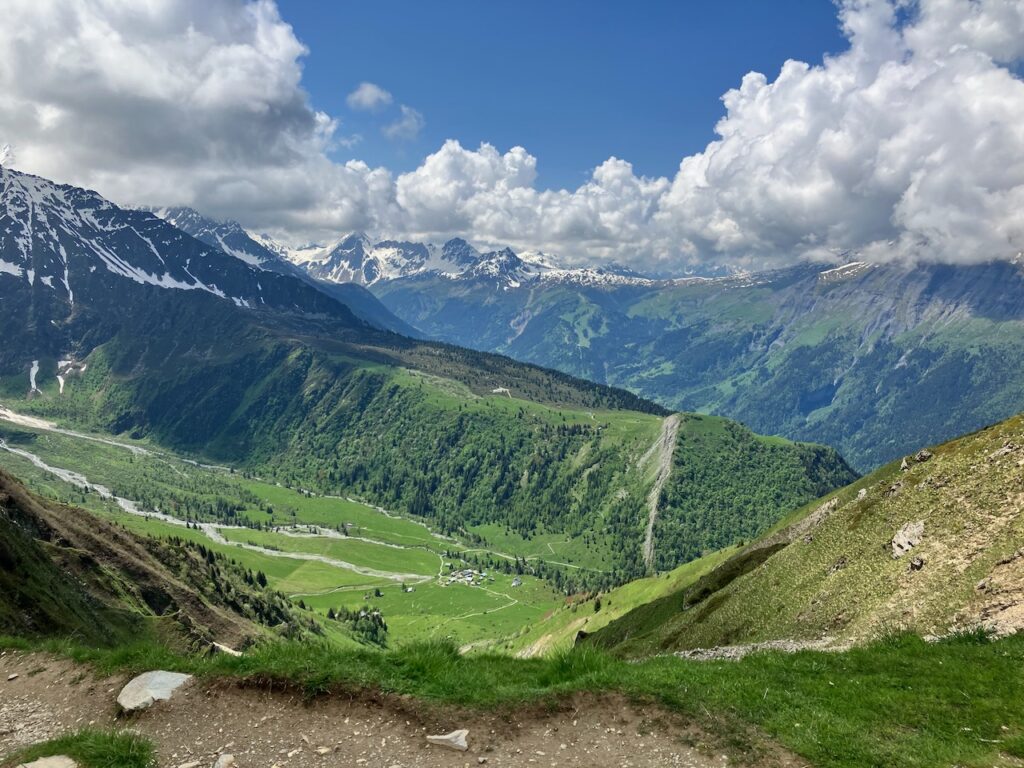 Col de Tricot – Miage
And then followed the first proper downhill run! All the hard-gained elevation over hours of climbing was lost in a matter of 30 minutes as I descended to the hamlet of Miage.
My unexpected detours that morning meant it was close to 2pm now and I was ready for a proper lunch, which the Refuge de Miage fortunately was able to provide.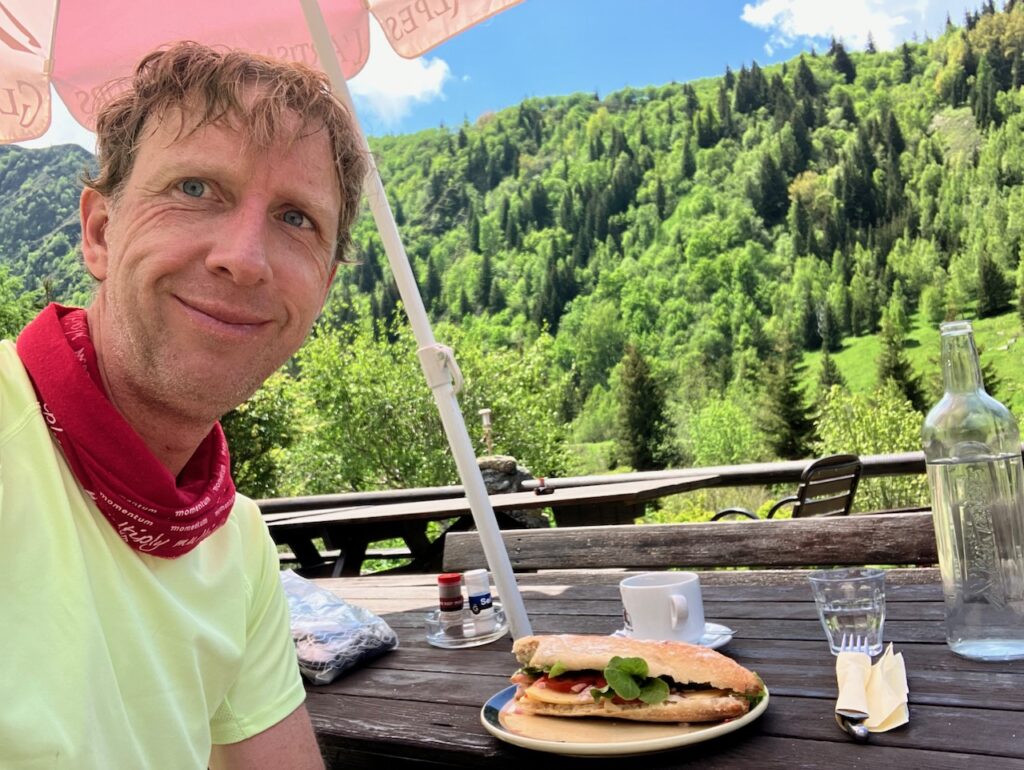 Miage – Les Contamines-Montjoie
I refilled my water bottles and continued down the mountain towards Les Contamines.
Just past Miage is a short out-and-back detour that's definitely worth it: Mont Truc. From the top of "Le Truc" you get 360º panoramic views.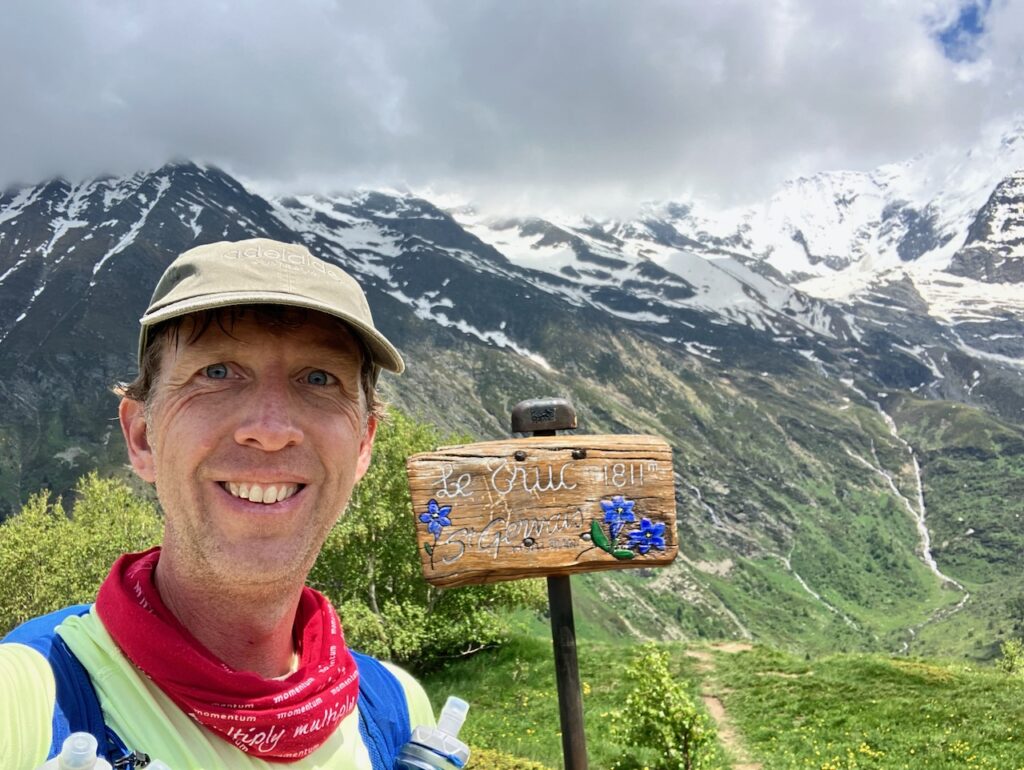 From here it was a – at some places steep – downhill run to Les Contamine-Montjoie, a small city.
The experience of emerging from the mountains into a town or city is something you get to have several times on the TMB, and it really feels like returning from the wild to civilization.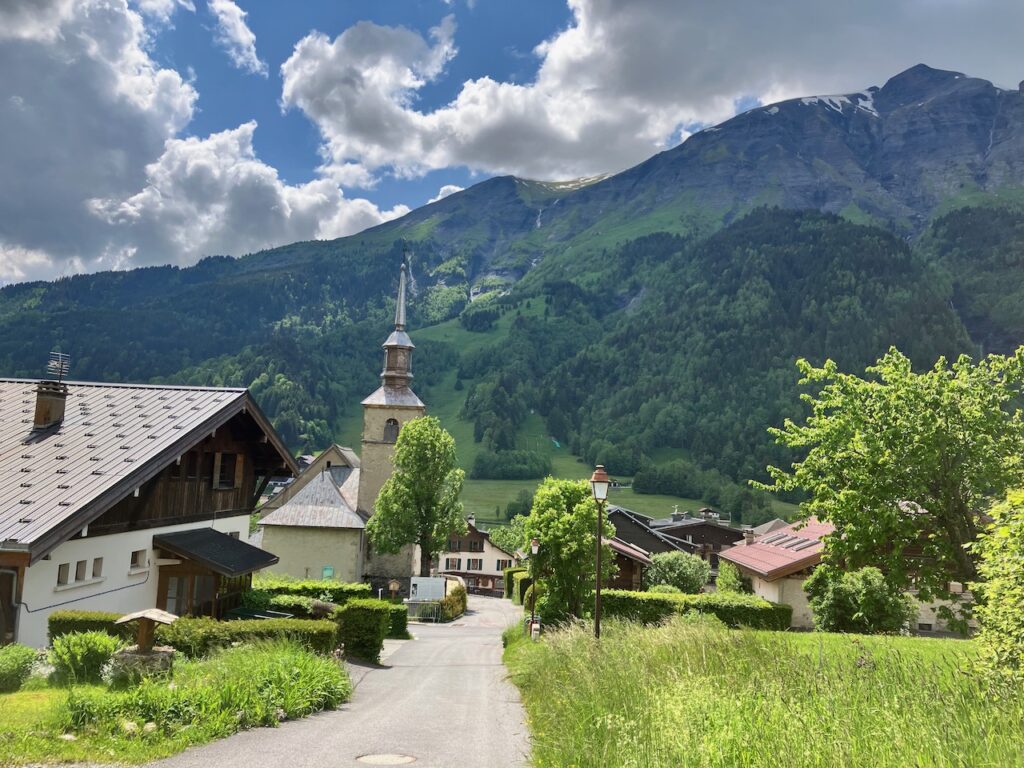 I realized I was starting to get sunburnt as I had not been expecting the weather to be this great and had foolishly not packed any sunscreen. So luckily I was able to make a quick stop at a pharmacy in Les Contamines for a small tube of sunscreen. Other than the pharmacy, most shops were closed, as they are in most French towns from lunch time to about 4pm. So I continued with the final 8km towards my refuge for the night, Refuge Nant Borrant.
Les Contamines – Refuge Nant Borrant
From the center of Les Contamines, you just follow the mostly flat main road south through some parky areas towards La Gorge. This was perfectly runnable, but I was really starting to feel my legs by now, so it was more of a run-walk for me.
At La Gorge is a church – Notre Dame de La Gorge – which is worth a stop. More so, though (if I'm honest), because of the ice cream truck across from the church, which has amazing frozen yoghurt mixed with fruit.
After that sugar injection it was up the hill towards my refuge.
There's a Roman-era bridge on this section; worth a quick stop.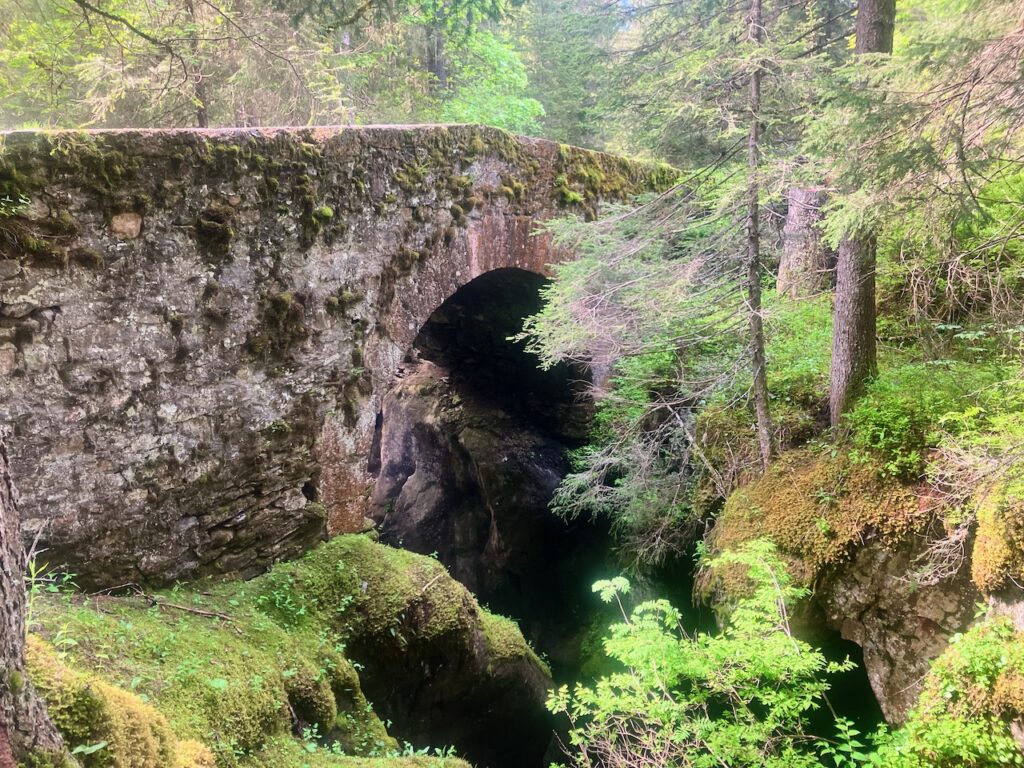 And then I was at my refuge. Nearly 40km done in a day, tired but happy.
And the tap beer I had to celebrate a successful first day tasted as good as you would expect.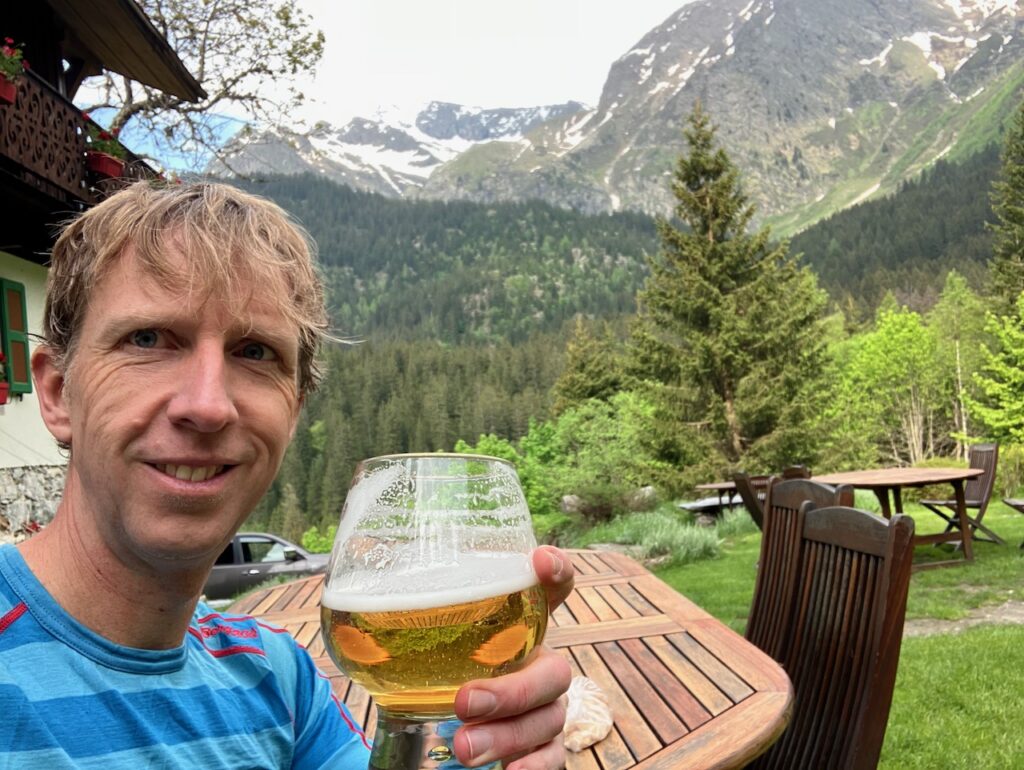 Day 2: Nant Borrant to Rifugio Elisabetta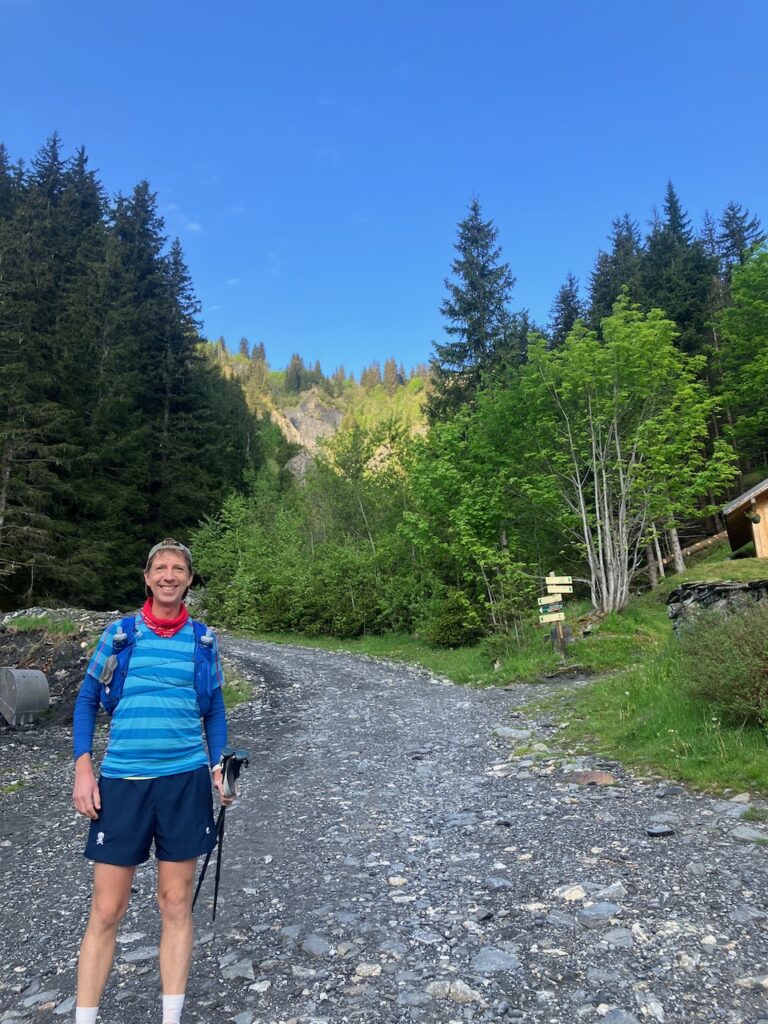 Nant Borrant – Col du Bonhomme
I wasn't the first to leave the refuge in the morning, but I was on the road again well before 8:00, which is considered early in these parts.
My first highlight of the day would be the Col du Bonhomme. This section started with some beautiful, runnable trail, undulating but eventually it started to climb more and with that the amount of snow also increased from a few patches here and there to just continuous snow.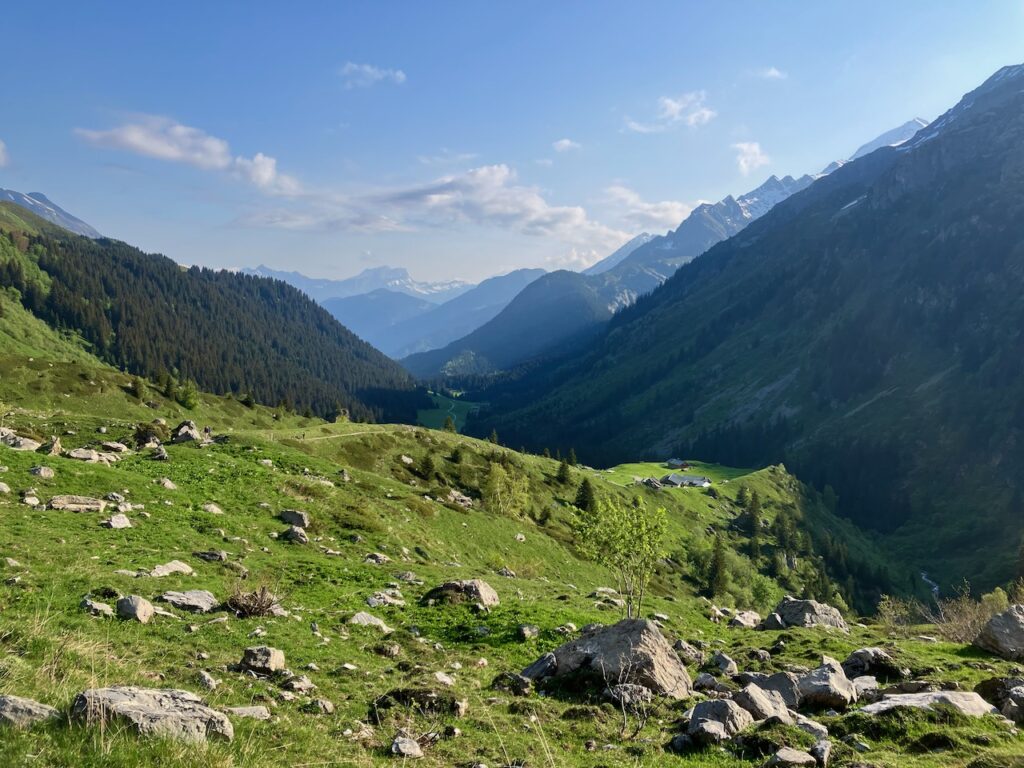 I'd heard about snow bridges that are created when melting snow water starts to run underneath a section of snow and starts to erode it from the bottom up until one unlucky person steps on it and the bridge collapses, dropping the unexpecting victim down a meter or more. So I was a bit insecure at first on the snow. But the further I went, the more it was obvious that this snow was still very solid. I also figured that if it could carry the weight of hikers bigger than me and with much heavier backpacks on their backs, I probably didn't have much to worry about.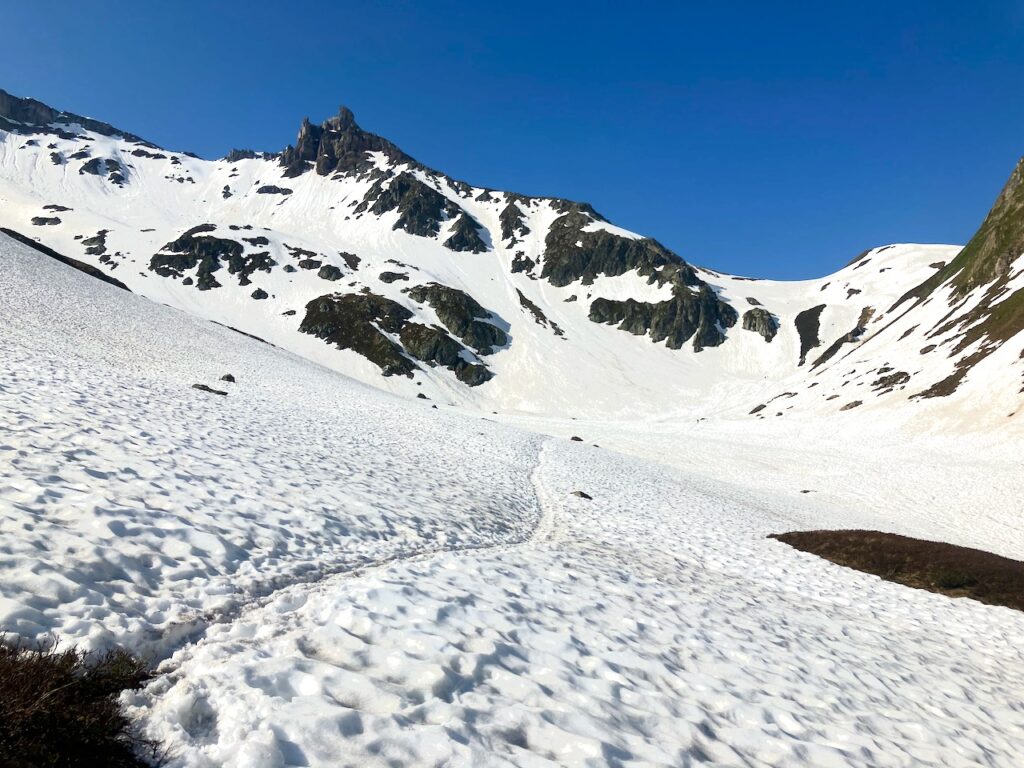 The snow did make the going a lot slower – running wasn't really an option, and the occasional slip meant I had to tread carefully and was relying a lot on my trekking poles.
Some sections where you traverse a steep slope were quite scary as one wrong step could mean losing your footing and sliding down the slope. Luckily my shoes had good grip and my poles helped distribute my weight.
After a last, steep climb, I reached the Col du Bonhomme. The views were amazing.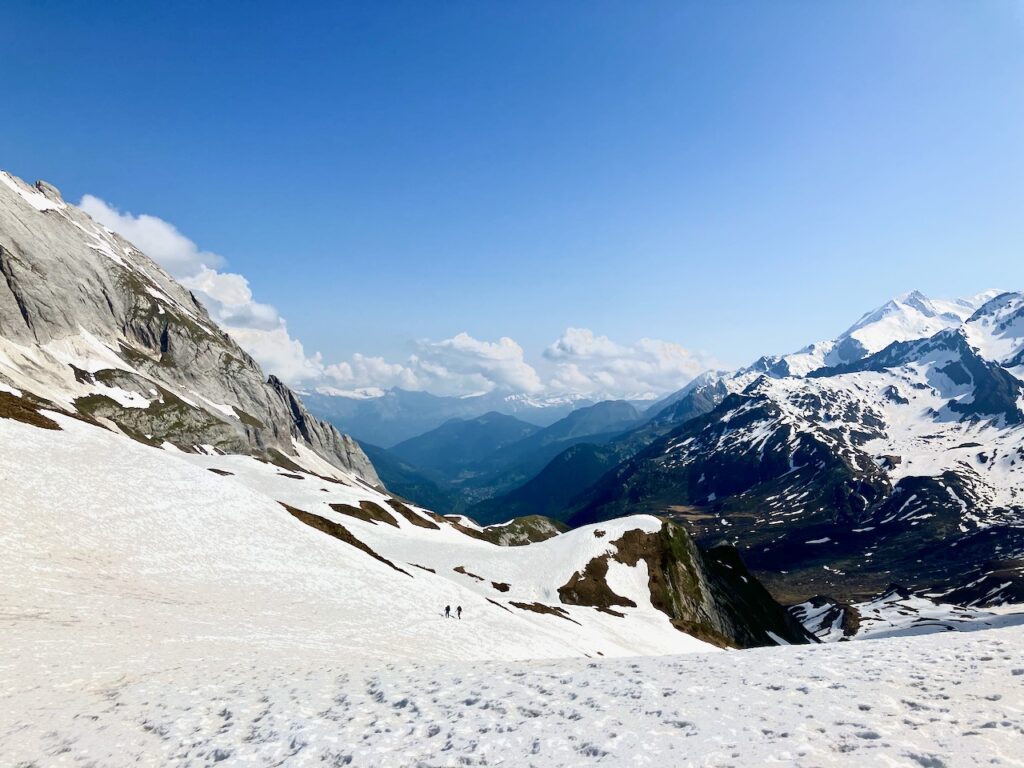 From here it was a relatively short hike to the next Col, Col de la Croix du Bonhomme.
This Col was slightly higher than the previous one, with equally impressive, snow-filled views.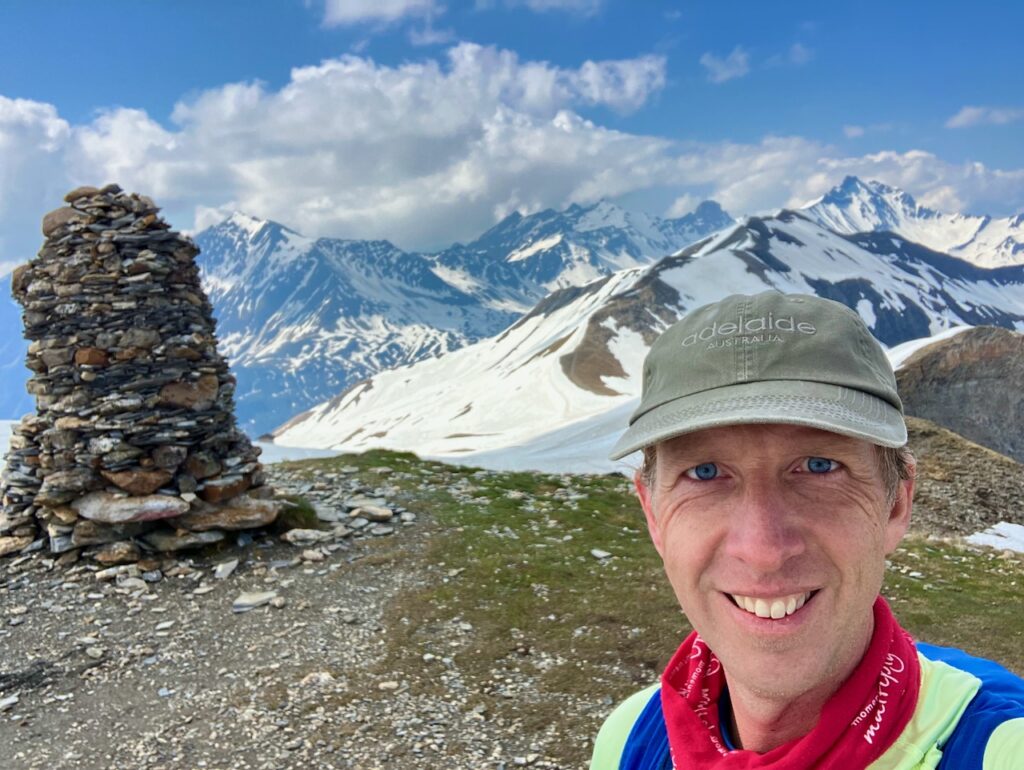 There's a refuge here, but it wasn't going to open for another couple of weeks, so although I would have loved a warm cup of coffee, I would have to descend all the way to Les Chapieux in the valley for that.
Col du Bonhomme – Les Chapieux
Since this was a south-facing hill, the snow wasn't as bad as the climb up, and I was able to get a bit of downhill running in.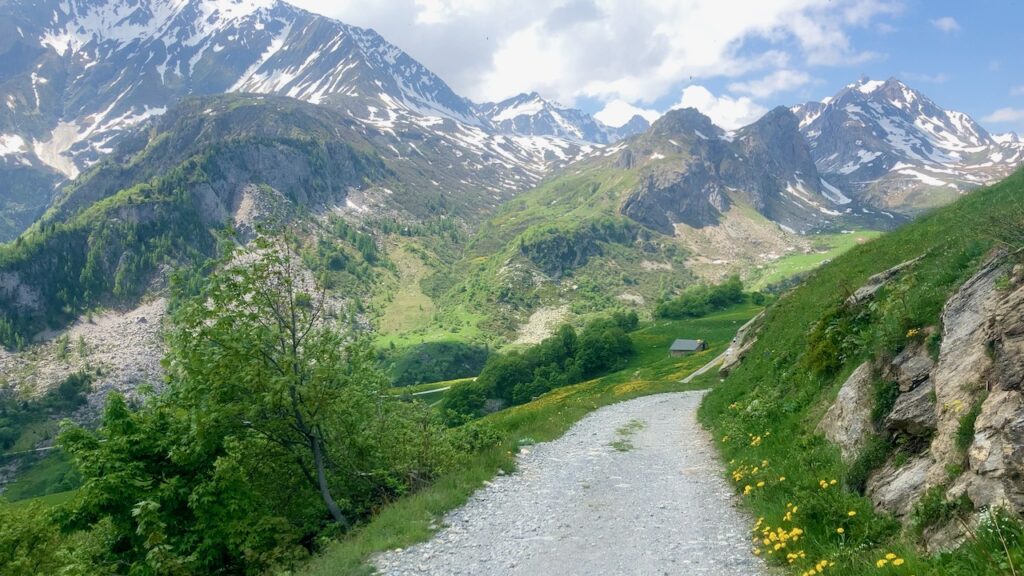 The arrival at Les Chapieux is like running through The Sound of Music: you zig-zag down the hill through a field of green grass and yellow dandelions. After hours of looking at snow and rock, that was a sight for sore eyes.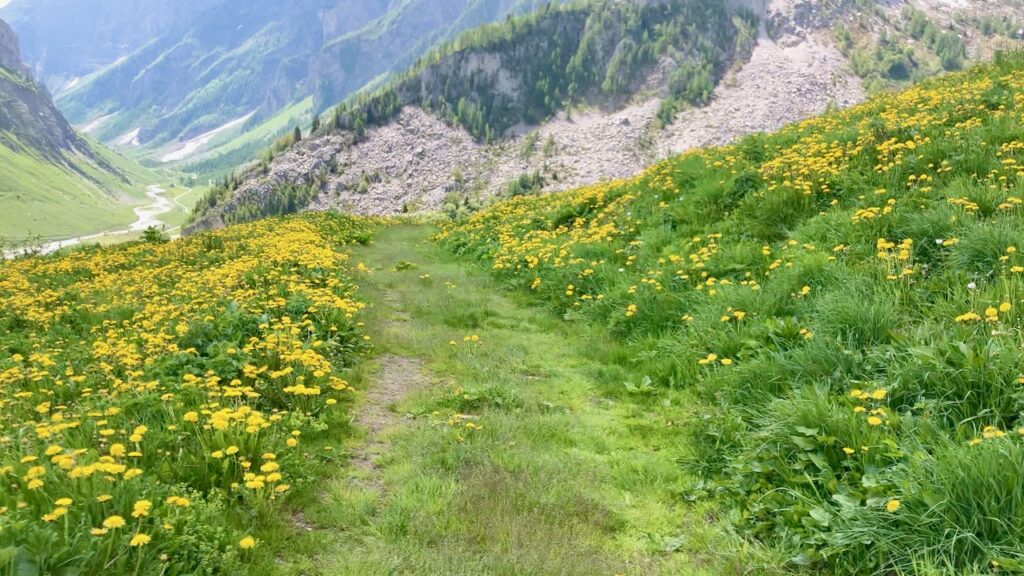 Les Chapieux is a small town but has a small hotel/restaurant called Les Chambres du Soleil where I had a very welcome lunch. A bit further down the road, close to the campground, is an épicerie where you can stock up on cheese and candy bars; it seems to stay open during afternoon hours, a notable exception to the French afternoon closures. There's a pizza place connected to it as well.
Les Chapieux – Col de la Seigne
After lunch I knew I still had a tough journey ahead of me: the climb up to Col de la Seigne, the border with Italy. And I knew I'd be encountering snow again.
From Les Chapieux, the route of the TMB turns to the north-east, after having run mostly south for the past 60-odd kilometers since Les Houches.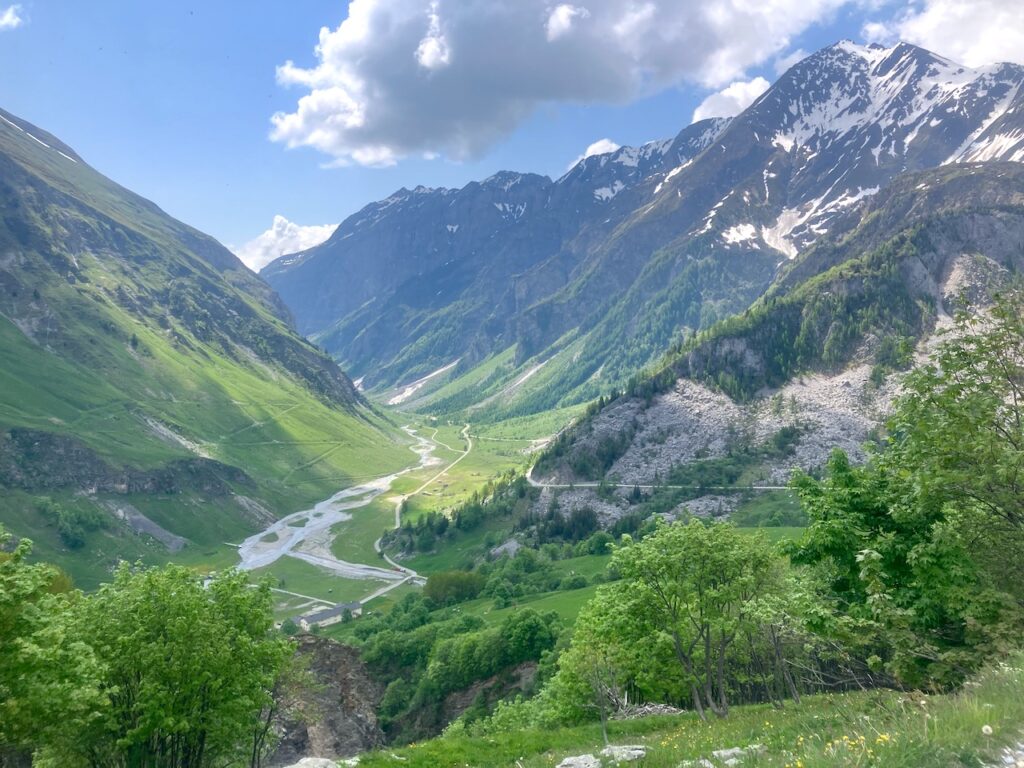 At this point you have two options: keep following the road, which stays to the left of the Torrent des Glaciers river, or take the trail that forks off from the road to the right and crosses the river, and follow that. I decided I wasn't doing a trail run so I could walk on a road, so I picked the second option.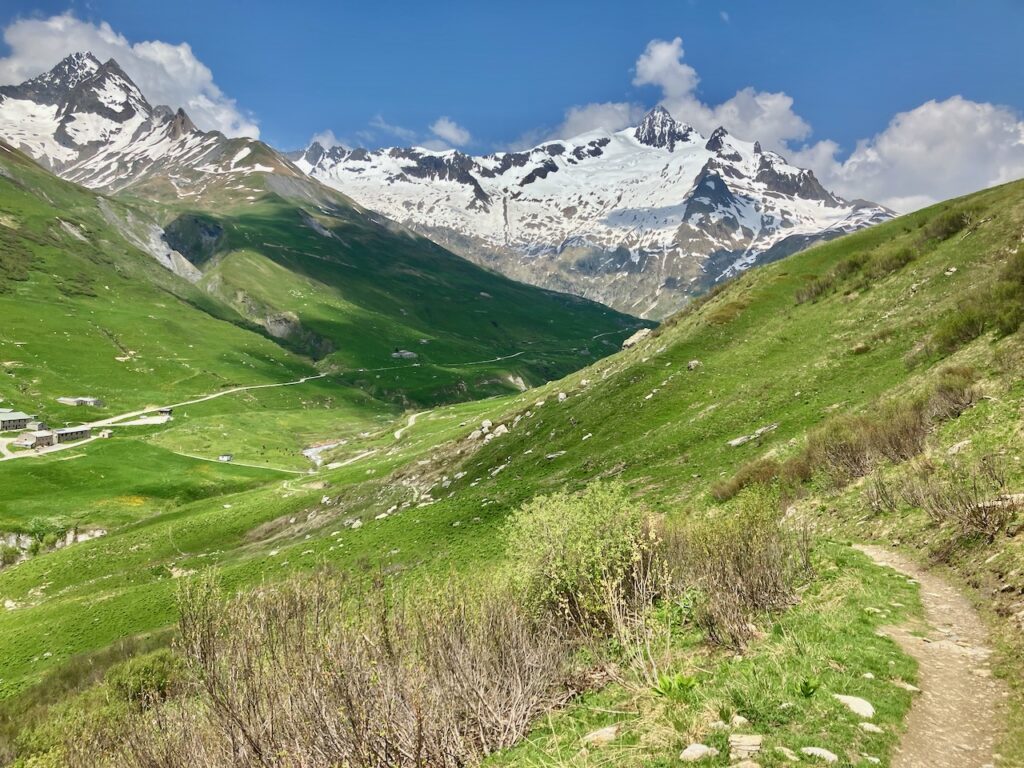 Where the road carries you gradually up, the trail on the right side of the river leads quite high up, with some ascents and descents, so you pay a price in effort for choosing the trail over the road! Down in the valley on your left, you can see cows grazing and hear their cowbells.
Finally, the trail drops down to a dam. This was a very tricky part because I basically got stuck between the river on my left and a steep wall of snow-ice on my right. I eventually (some choice words may have escaped my mouth) managed to climb up onto that wall and find the trail again, emerging out from under the snow.
From here it was a gentle section to Refuge des Mottets which from the pictures looks very spartan, but if you wanted to keep the climb to Col de la Seigne for the next morning, it might make for a logical place to stay the night.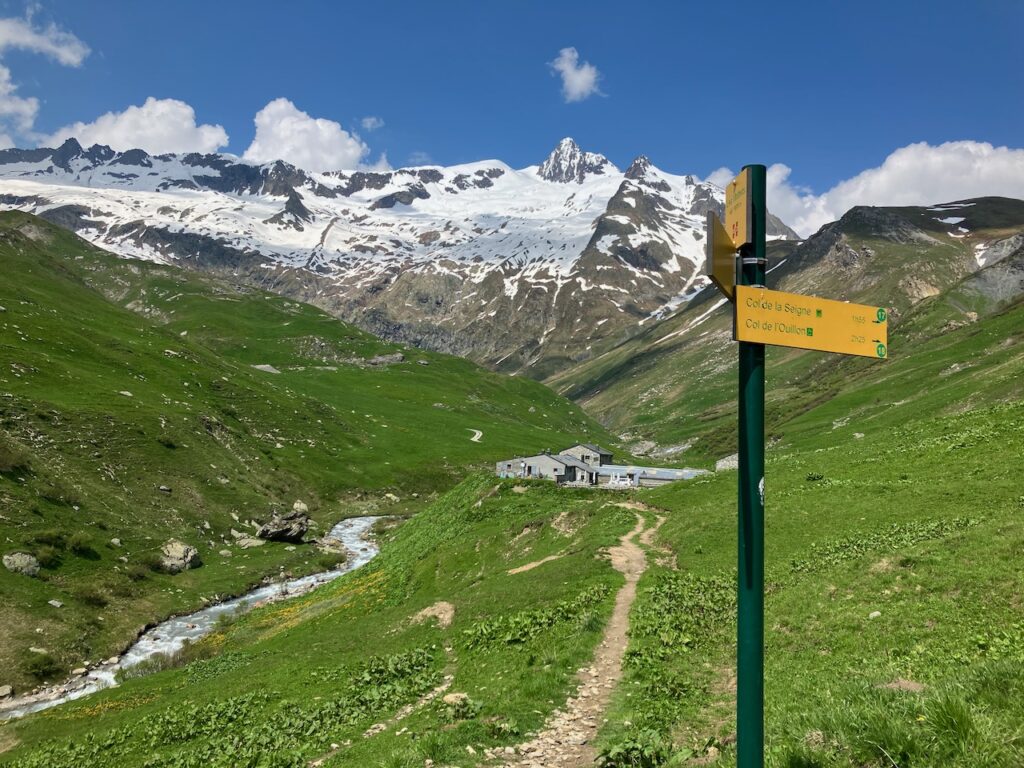 I had booked my stay at Rifugio Elisabetta on the Italian side of Col de la Seigne, so had no choice but to carry on.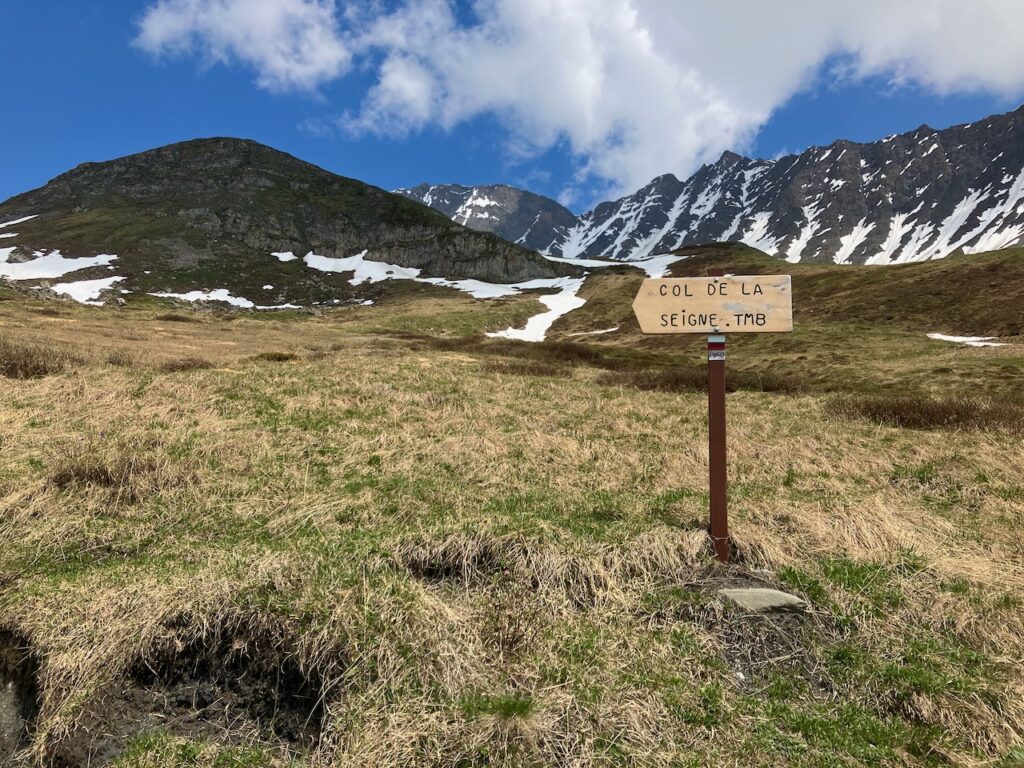 What followed was a seemingly never-ending climb. The clouds had also started to close in a bit, and I really remember the effect the disappearing sun and the eerie light that was around had on my emotions, combined with my fatigue from what was already a long and tiring day. I also encountered not a single person on this stage, and it really felt like I was alone on the world. I worried what would happen if I slipped on the snow and broke a leg or something, how long it would take for someone to find me. If I had to pick a "low point" of this trip, this would probably be it.
I plodded on, reminding myself every now and then to look back and actually enjoy the views. As I got higher, the snow reappeared, which made the going tougher again and had me worrying about slipping and falling.
But finally, after a full hour of climbing, I reached Col de la Seigne.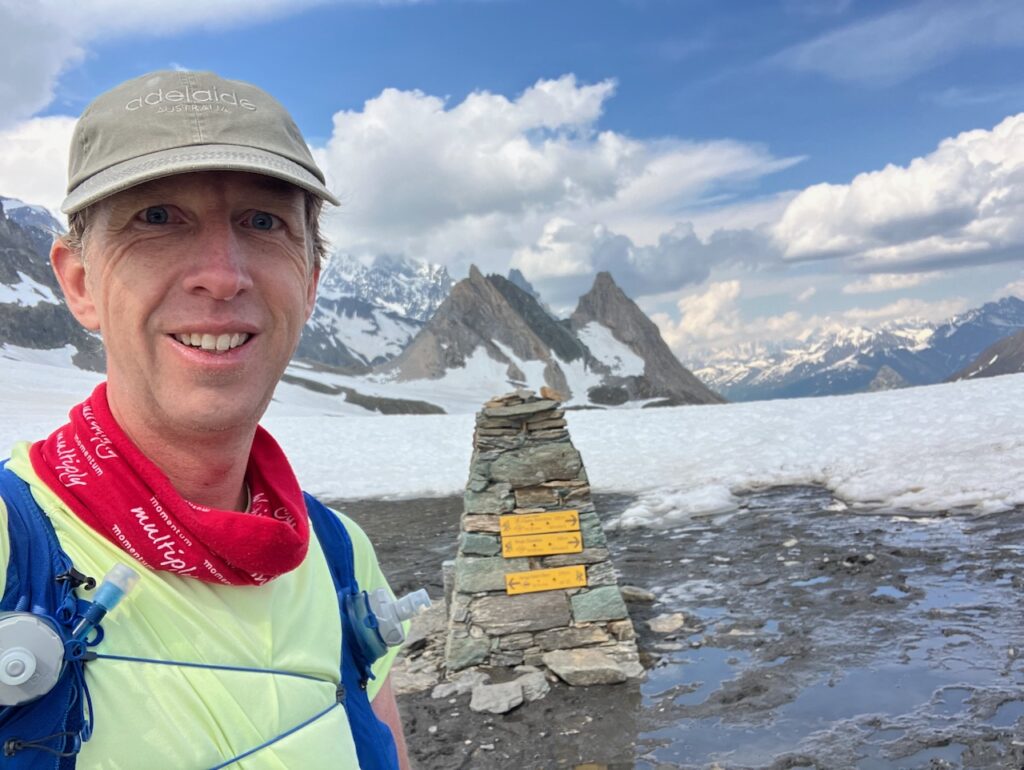 As tired as I was, I was excited to be crossing my first border! One of the cool things about TMB is passing through three countries by foot, so the first border crossing was definitely something to celebrate.
Col de la Seigne – Rifugio Elisabetta
The sign told me it was 50 minutes to Elisabetta, and I was generally able to move at about twice the pace that the signs indicated, so I was looking forward to reaching the refuge in about half an hour and enjoying a well-deserved beer.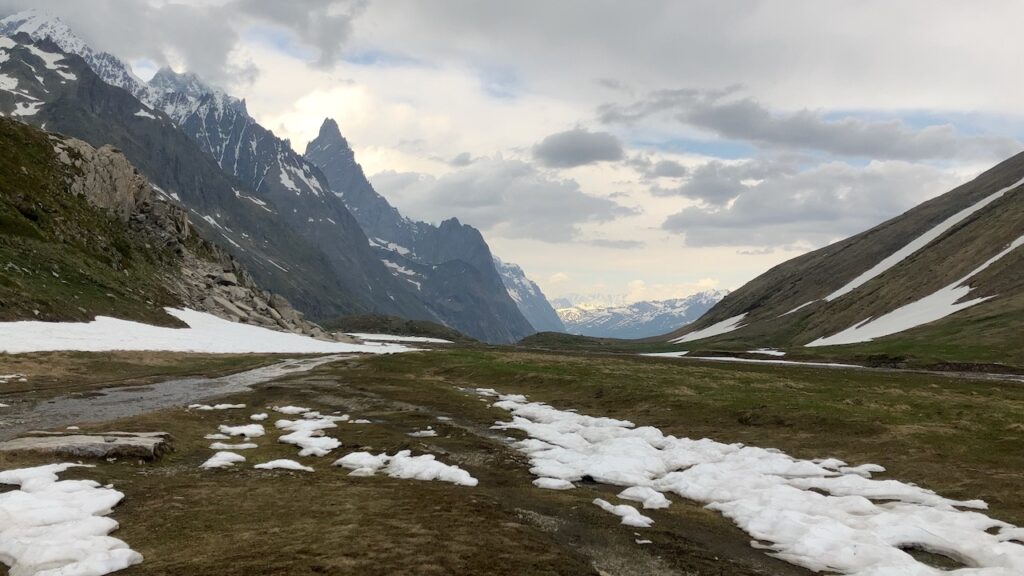 By now, I was so tired that, even with the mostly downhill route, I was still moving at a very slow pace. I managed to get myself to run a few sections, but I just didn't have it in me anymore. The barren landscape and the grey sky didn't help either.
Eventually, nearly an hour after I'd started from Col de la Seigne, Rifugio Elisabetta appeared on my left. A short but steep climb led me into the warmth of the refuge, just as it started to rain. It had been a long and exhausting day, but I'd made it, and not a minute too soon.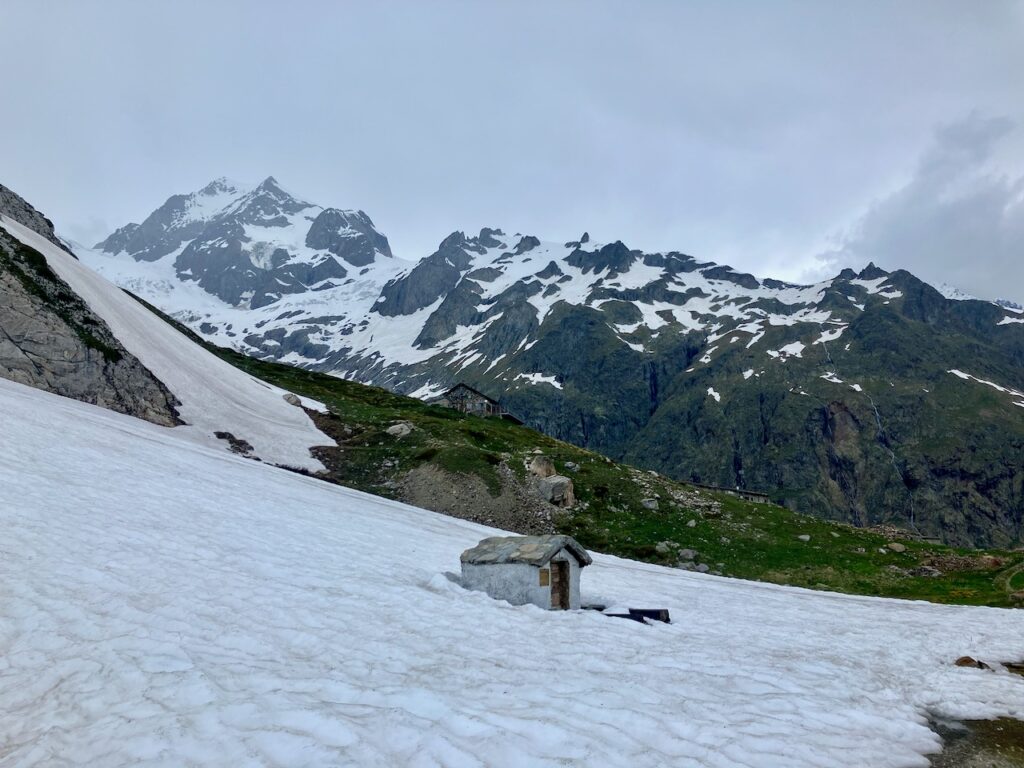 Day 3: Rifugio Elisabetta to Rifugio Bonnatti

Rifugio Elisabetta – Courmayeur
After a great night's sleep, surely helped by the fact that the folks at Elisabetta offered to upgrade me from a dorm to a 4-bed room that I would have to myself, and a nice breakfast with Italian coffee, I started on my third day.
The first stretch was going to be a lovely, largely runnable, downhill to Rifugio Combal.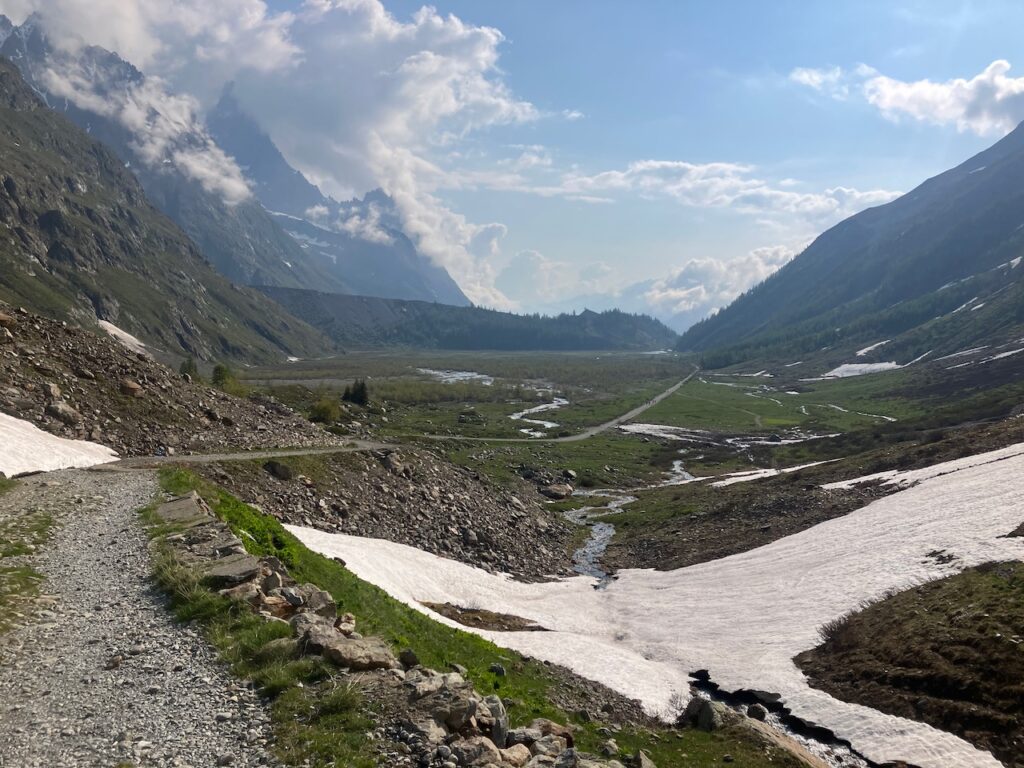 From there, more climbing was ahead and some more snow crossings. My attempts to keep my feet dry soon failed and I resigned myself to walking with wet feet. The views down into the valley were beautiful, though.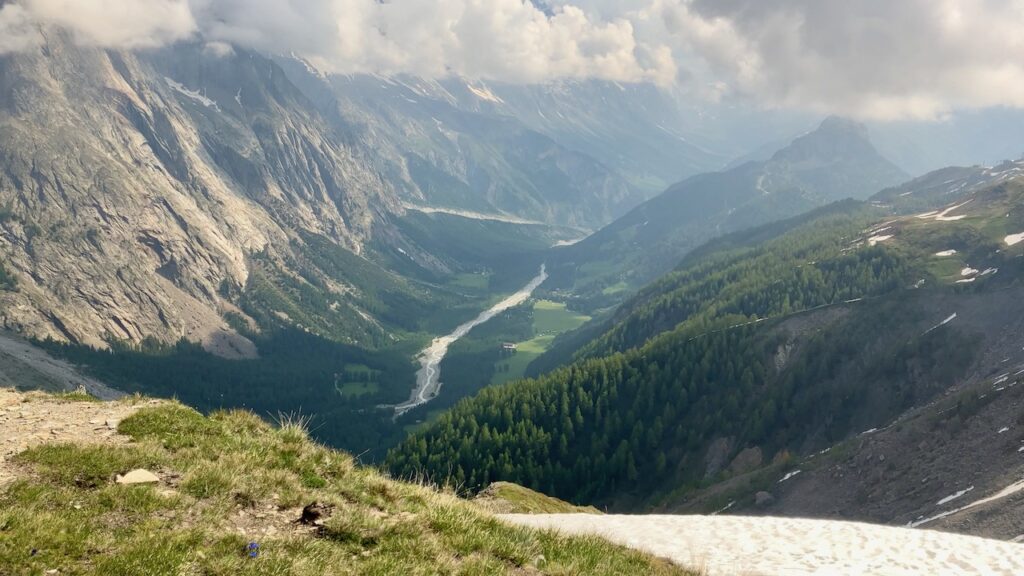 I passed by the Maison Vieille at Chécrouit which proudly displays the sign marking it as an aid station for UTMB. People were around getting the place ready for the summer season and I asked if they were open yet. They said no, but they could make me an espresso. Couldn't say no to that! I asked how much and they guy said "Just give me a euro". Most definitely the cheapest coffee I had all week!
The area here, and up to the final steep descent to Courmayeur isn't very picturesque. It's used for skiing in winter, so there are ski lifts and guard rails and not much grows here.
And then comes the descent to Courmayeur: you drop from 1,900m to 1,250m in what seems like switchbacks that go on forever.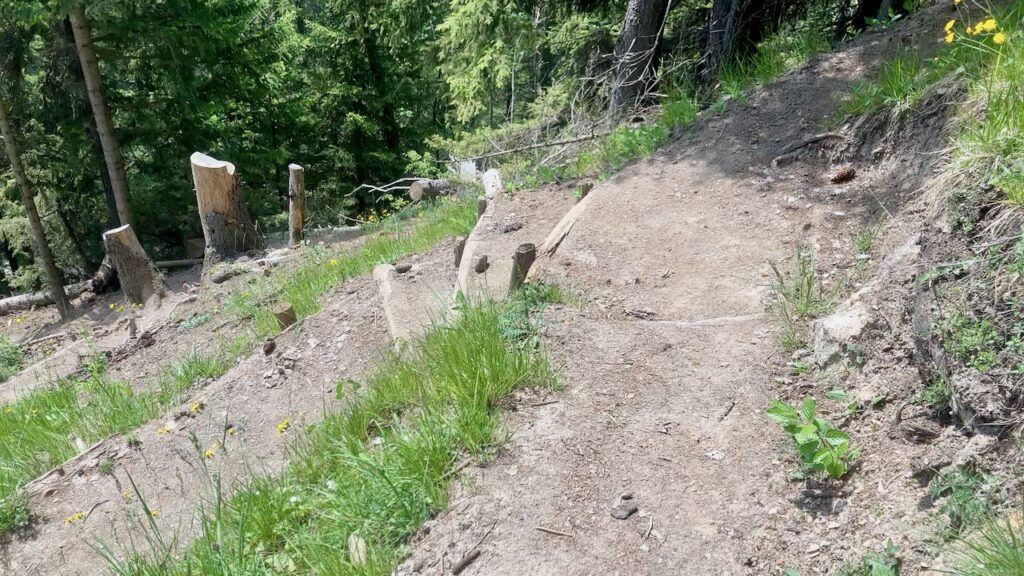 But then just when you think your quads can't take anymore, you emerge out of the forest into a flower-filled field with the city in the background.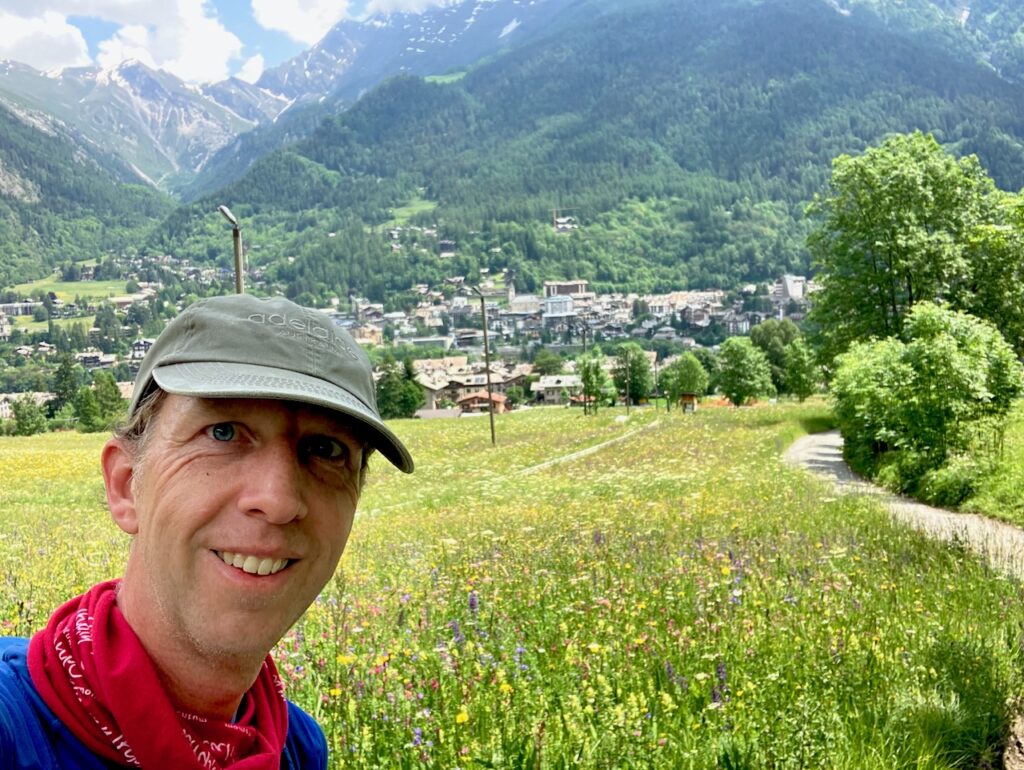 Before you cross the river and enter Courmayeur proper, there's the cutest little Italian village with narrow streets and quirky houses. Don't rush through here but just take a few minutes to enjoy it!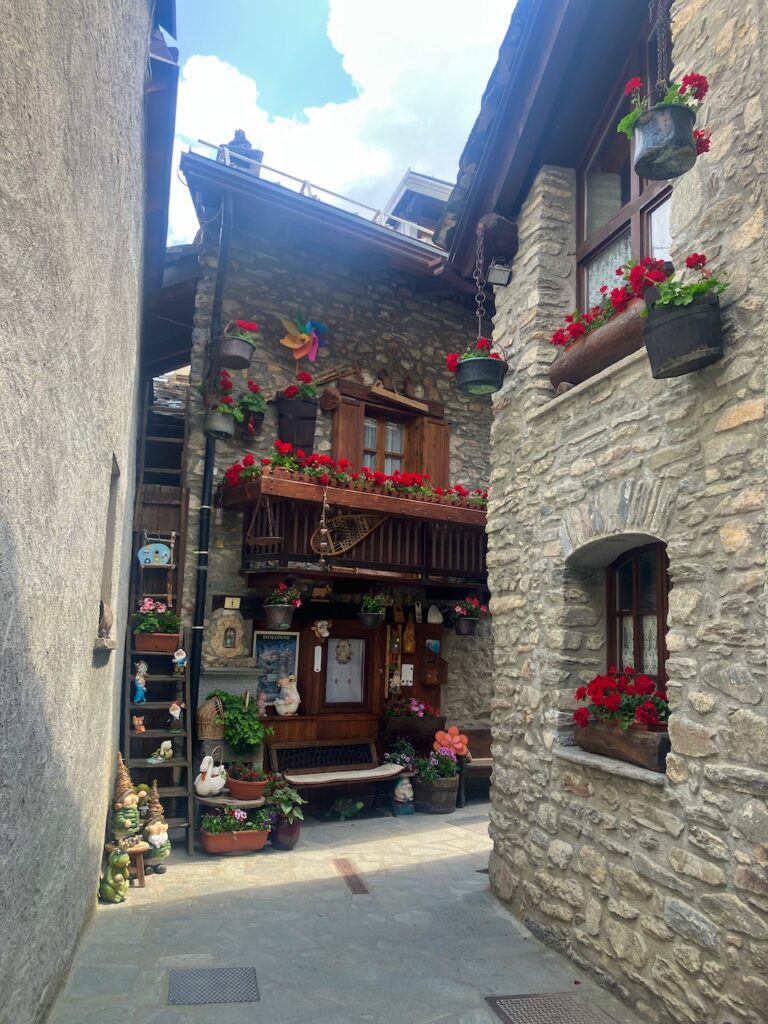 When you get to Courmayeur, don't do what I did and walk into the first pizzeria you see. If I'd just had a quick look on Google Maps, I would have found a place with better service than the one I ended up having lunch at. Still, the pizza was good.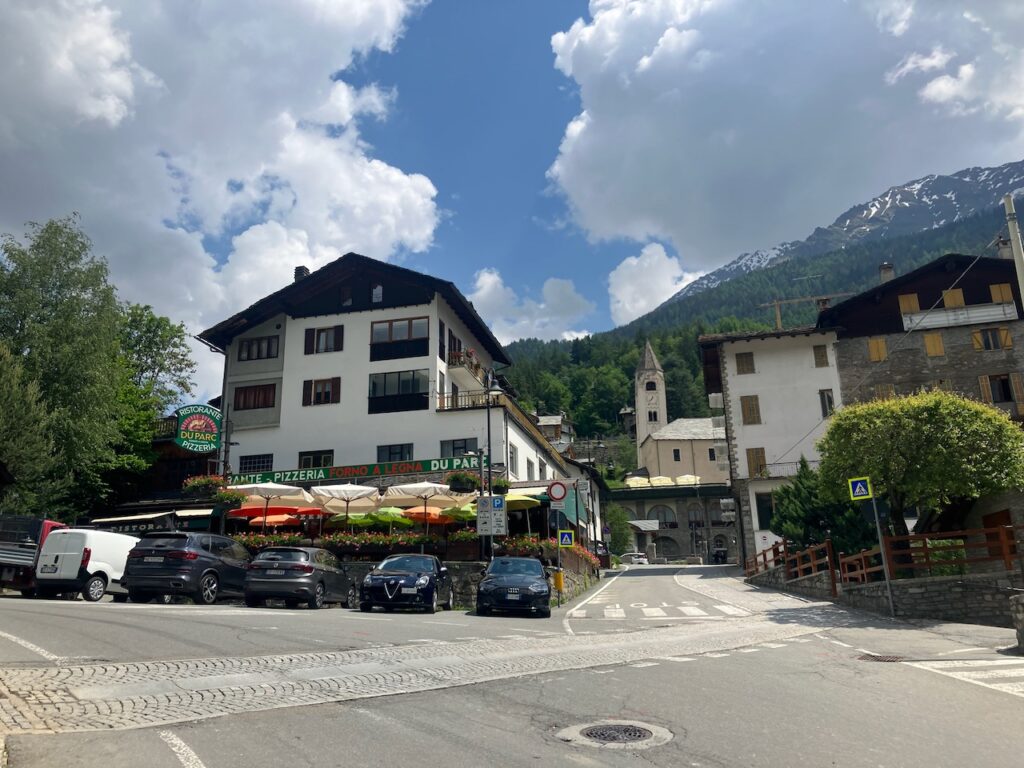 Courmayeur also marked the halfway point of my TMB: I'd covered about 90km of the 170km total, and also climbed about half of the 10,000m total ascent. Although I was starting to feel it in my body, I was enjoying the experience enormously and was excited for what laid ahead.
Courmayeur – Rifugio Bonatti
After my pizza stop, it was off to climb back into the mountains at the north side of Courmayeur. All the elevation I'd lost before lunch I now had to gain again, and more: from 1,250m to over 2,000m. So more switchbacks, but also some nice views over Courmayeur and Val Ferret down below.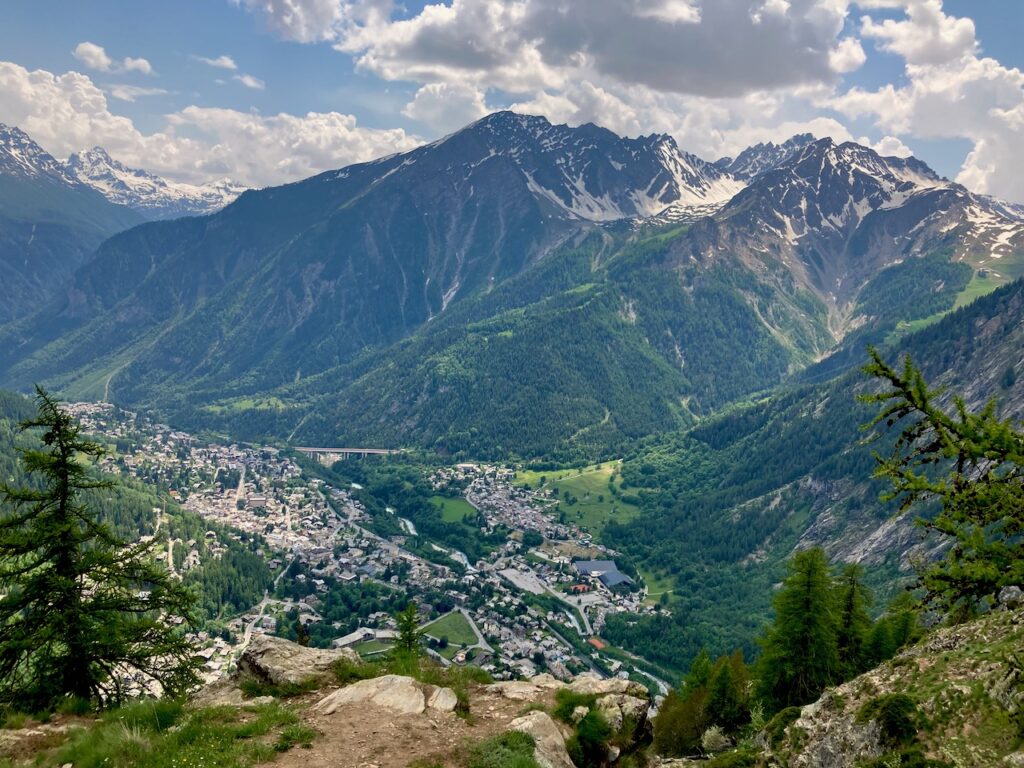 Once that climb was behind me, it was actually quite a pleasant, relatively flat stretch to Rifugio Bonatti, where I'd be staying the night.
I had a nice chat at dinner with an American family that was hiking the TMB. Actually the vibe at every refuge dinner table I had been at so far had been great. It's nice that you're all doing something similar but you meet people from all over the world, so plenty of conversation to fill a dinner (or a pre-dinner beer) with.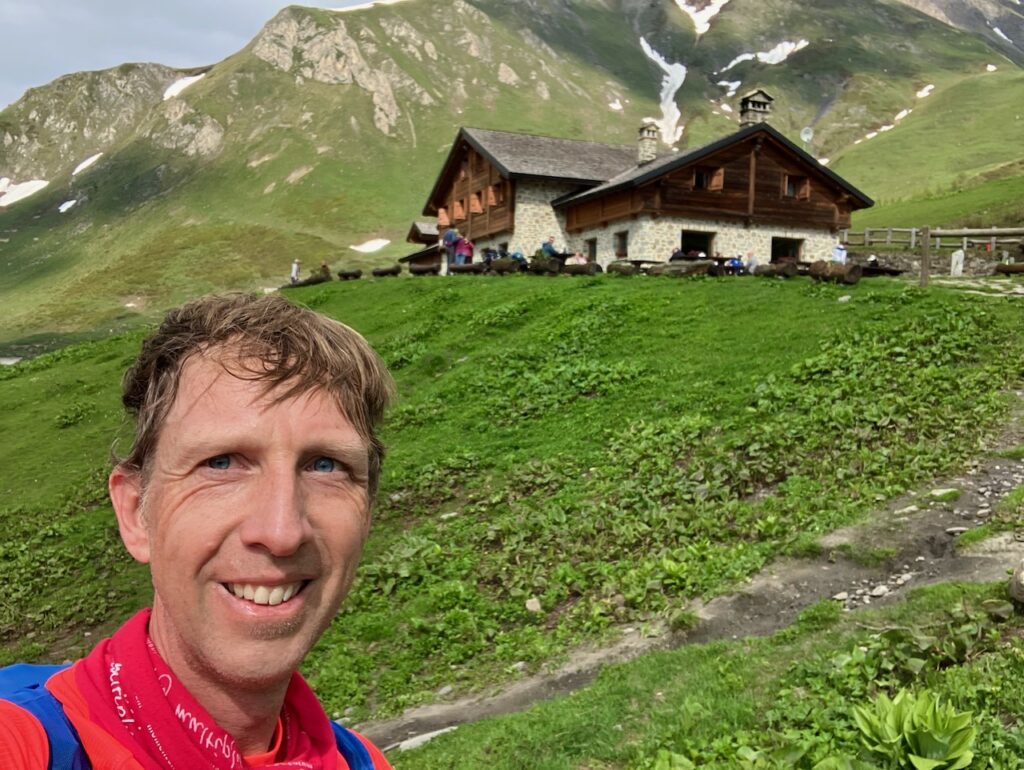 Bonatti is a well-run rifugio, but it's massive. This time, I did have a bed in the dorm, and it turned out to be a big attic floor with at least 50 beds, if not more. I probably had the least good night of sleep here, but the previous nights of good sleep meant I had a bit of reserve and it didn't affect me too much once I was back on the road the next day.
Day 4: Rifugio Bonatti to Champex-Lac
Rifugio Bonatti – Grand Col Ferret
After breakfast at the refuge (which, sadly, featured instant coffee instead of espresso, a bit of a let-down from the Italians, to be honest) I headed out again. Today I would be crossing into Switzerland, with my stop for the night just outside Champex-Lac, which is also a major checkpoint on the UTMB.
From Bonatti there's a perfect view on the Mont Blanc, and the clouds were clearing in the morning which means the peak was visible on several occasions throughout the morning as I headed towards the Swiss border.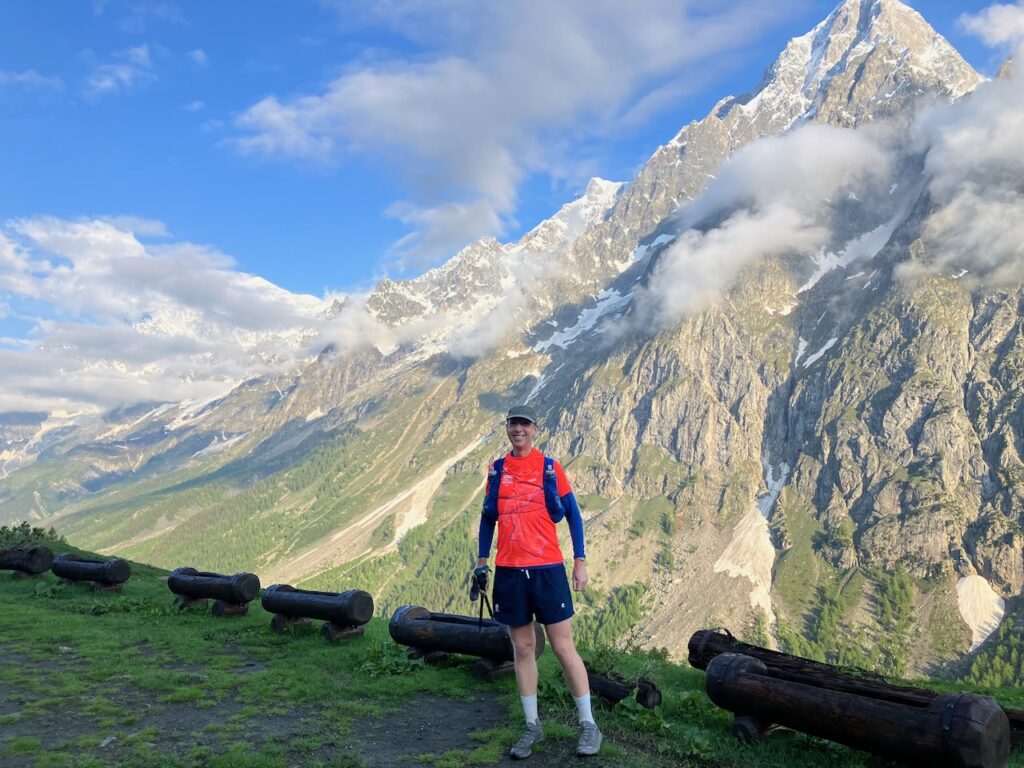 The route from Bonatti runs fairly flat for about 8km, then drops down into Val Ferret, a roughly 200m descent, where it runs for a bit along the main road through the valley.
After crossing a tributary to the main Dora di Ferret river (that runs through the valley down towards Courmayeur), the route takes you back into the into the mountains for a serious climb back up to 2,530m at Grand Col Ferret, where you cross into Switzerland. This meant making my way through a lot of snow again.
By now I'd gotten used to it, but it still made for slower going than I'd have liked.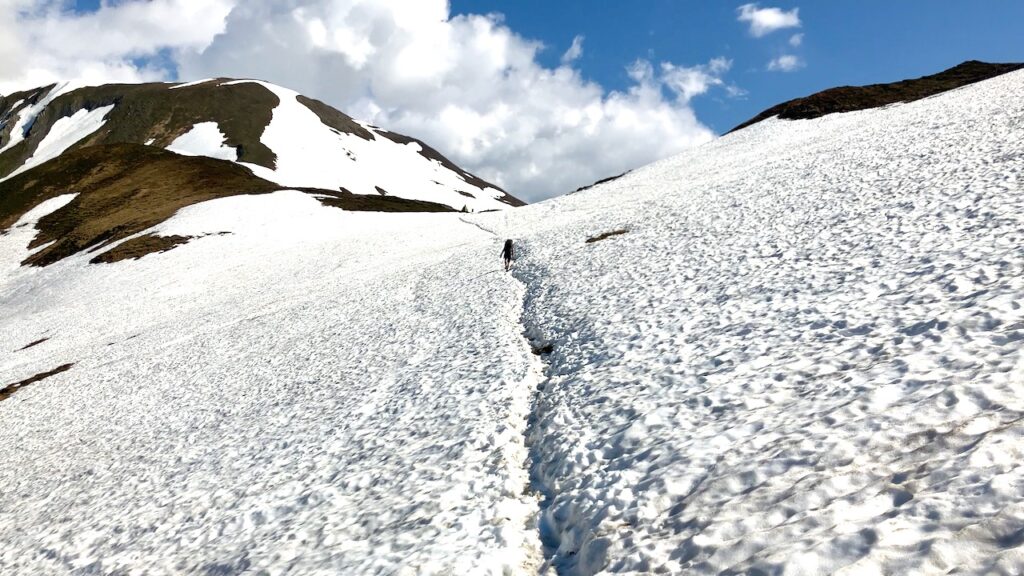 Grand Col Ferret – La Fouly
A group of hikers from different countries was resting and enjoying the views at the top of the Col and, as I left to head down the mountain, they wished me a safe journey. Just then, my first step turned out to be into very sparse snow, and I found my leg dropping down knee-deep into snow. We all had a laugh – but you also realize that safe as you try to be, no journey like this is 100% "safe".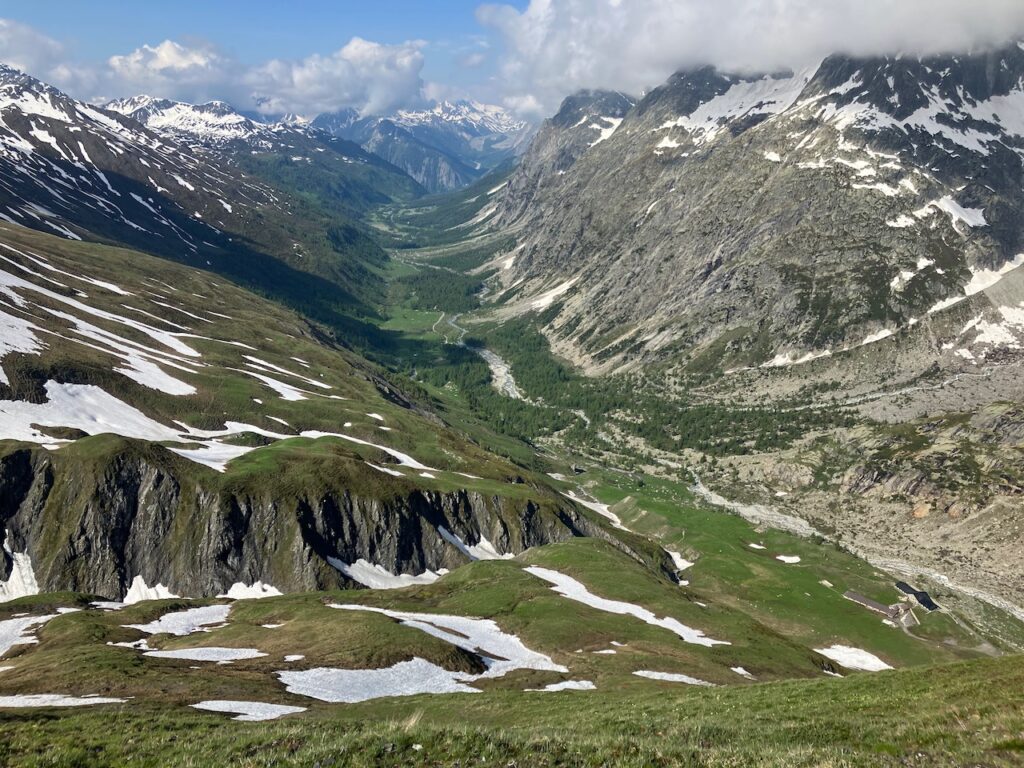 From the top of the col it's a gradual descent down into the valley, where you follow the Dranse de Ferret river to the town of La Fouly, where I stopped for lunch at the Grand Hôtel.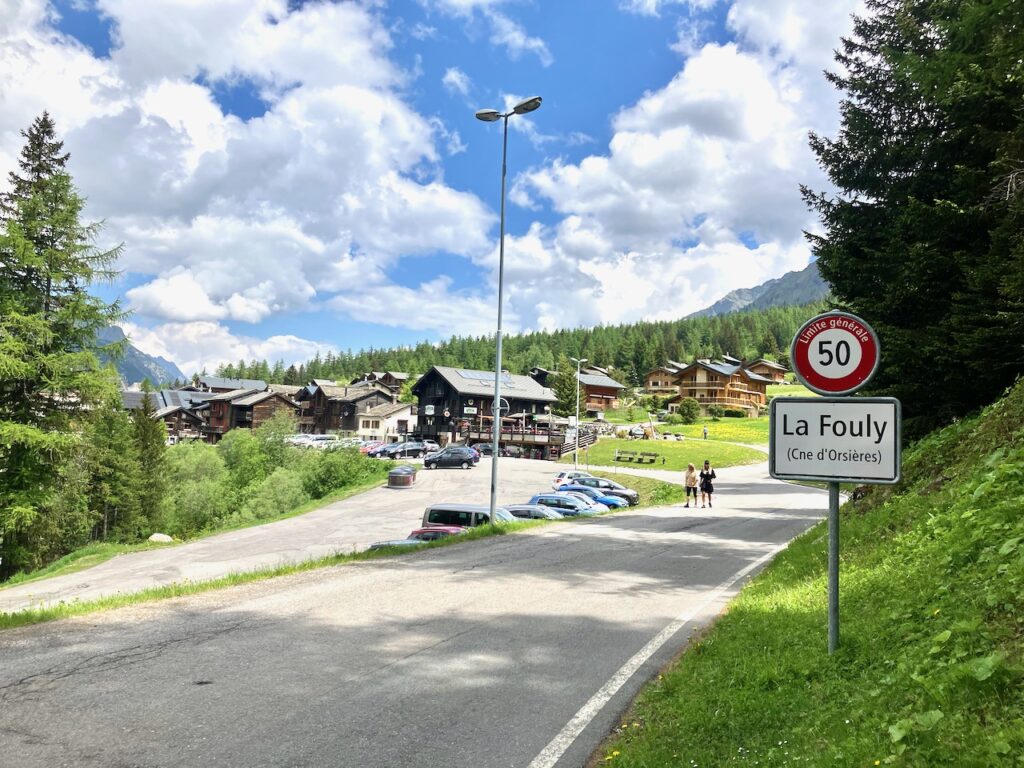 La Fouly – Champex-Lac
From La Fouly, the route is reasonably flat, following valley through some small towns that all look like they were taken straight off a postcard.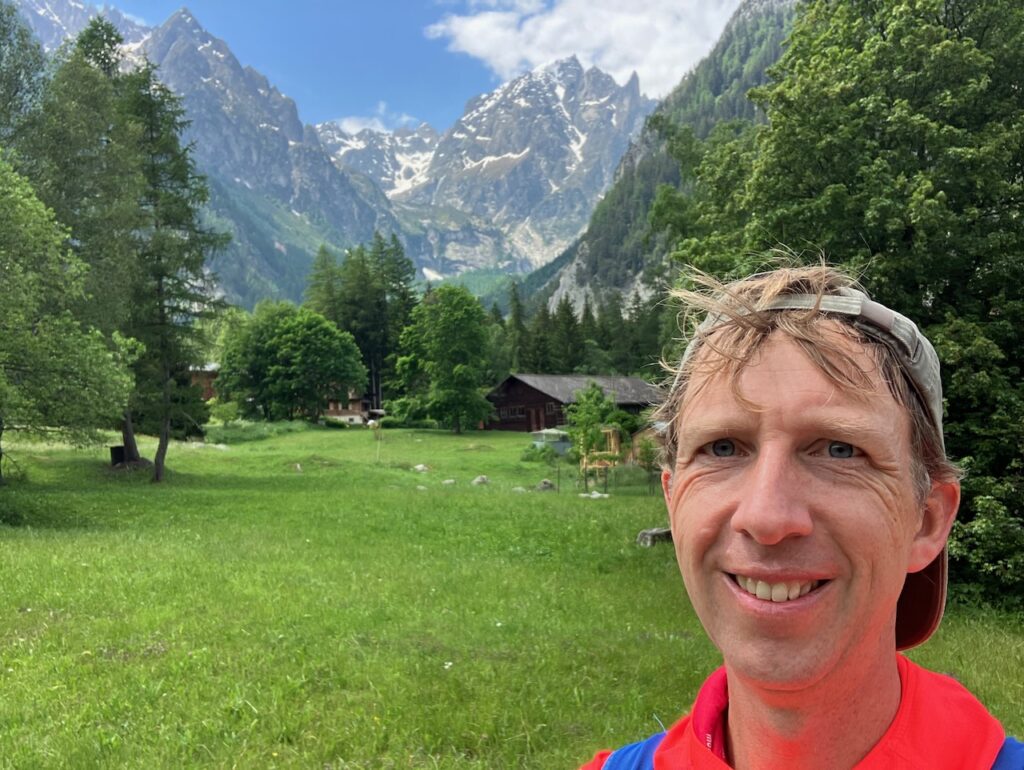 If you need to refill your bottles and take a sanitary stop, the public bathrooms just before Praz-de-Fort are probably the cleanest and most luxurious I've ever seen.
I'd assumed that Champex-Lac, situated by a big lake, would be the lowest point in the area and that I'd have a nice descent ahead. But as it turned out, this is a mountain lake at 1,500m altitude, and by now I'd dropped to 1,100m, so instead of a descent, I had some serious climbing ahead.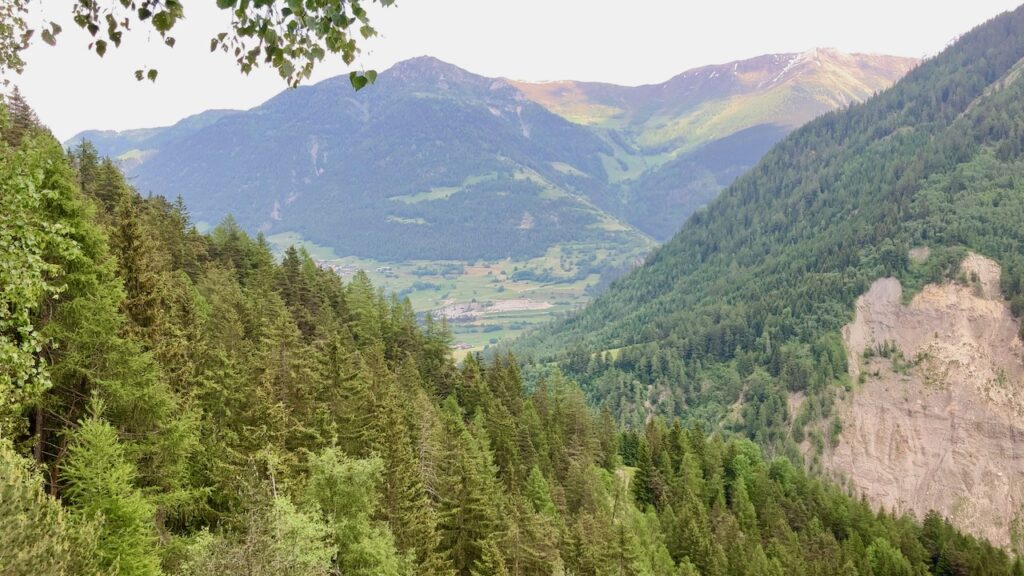 Signs all along this route were warning of detours because of logging, but I kind of ignored them and just followed the TMB route until I got to a big sign that says the road was blocked. No alternative was presented, so I picked the only other trail I could follow from here, but after a kilometer or two realized I would never get back onto the TMB route this way. After some attempts to follow a trail that was on my map but didn't seem to exist in reality (by now I was muttering curses to the Swiss under my breath), I decided to backtrack, ignore the roadblock sign, and just follow the TMB trail. I didn't get hit by falling trees or killed by Swiss lumberjacks with chainsaws, so I'm not sure what the ominous-looking sign had been for.
I ran into a South African guy here – who had just ignored the sign right off the cuff (I guess that's the difference between a South African and a European 😂). He was doing TMB in three days and had started from Les Chapieux this morning (I'd had lunch there on my day 2 and I was now on day 4 😳). Turned out we were staying at the same refuge so we had a beer later that afternoon. He was obviously more fit than I was so I let him run ahead.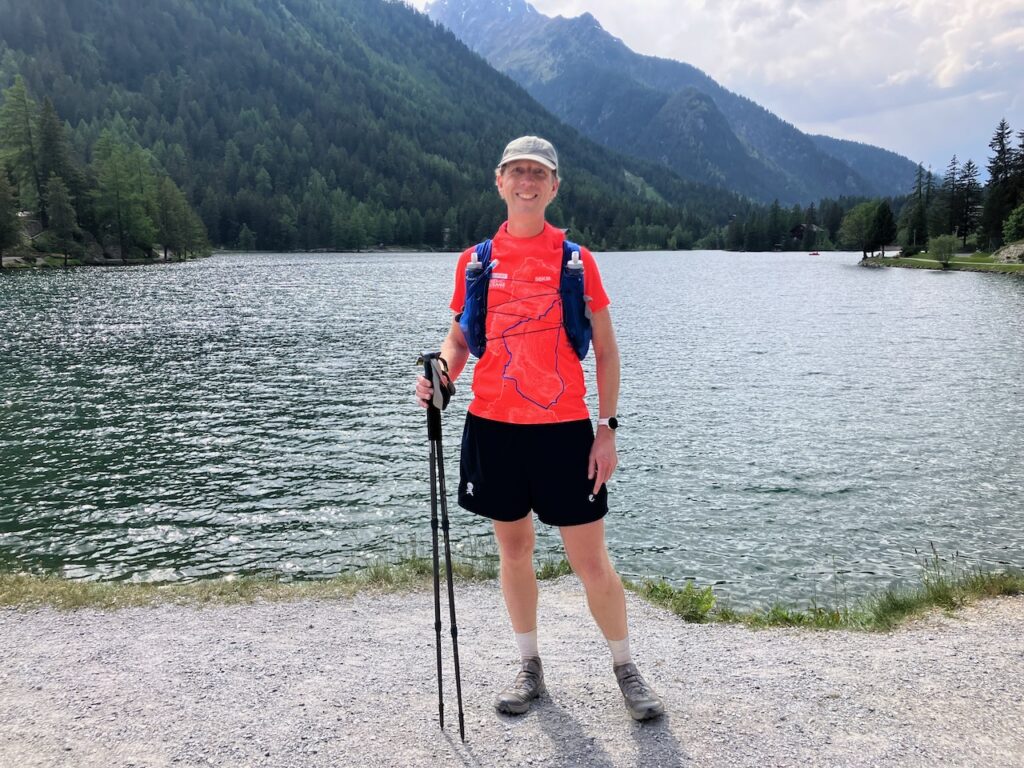 At Champex-Lac I got some pictures of the lake – it's very pretty and I can imagine you could easily spend a few days here (assuming you have the budget for the Swiss prices!). I passed a local épicerie and took advantage of it being open (one of the few times I passed through a town after 4pm!) to stock up on my raisins, nuts, and candy bars. Then I continued on to Relais d'Arpette, a few kilometers outside of town (uphill, I discovered to the dismay of my tired legs). Turned out my South African friend was checked into the same room I was.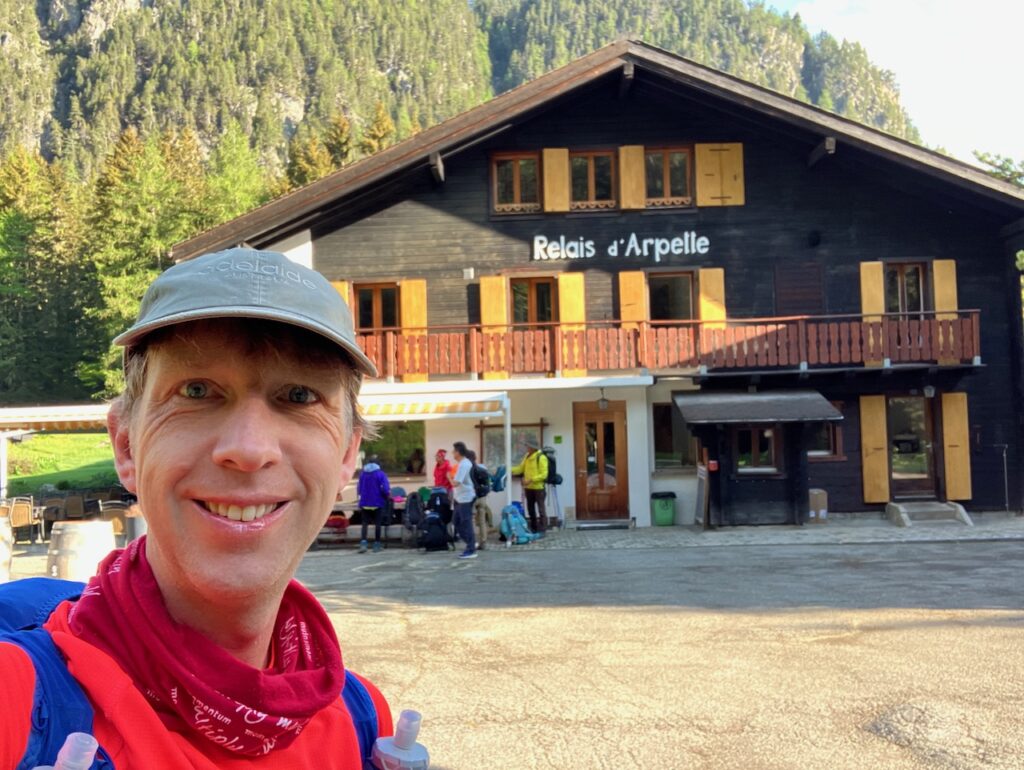 Day 5: Champex-Lac to Tré-le-Champ

Champex-Lac – Col de Forclaz
My penultimate and last full day of hiking would take me back into France.
First up was quite a steep climb through Alpine forest up to Bovine at just below 2,000m elevation. I was glad to do this on fresh legs – well, as fresh as they can be after 4 days of trailrunning! There is a restaurant here, but unfortunately it wasn't open yet. Otherwise, it would be a great place for coffee with a view.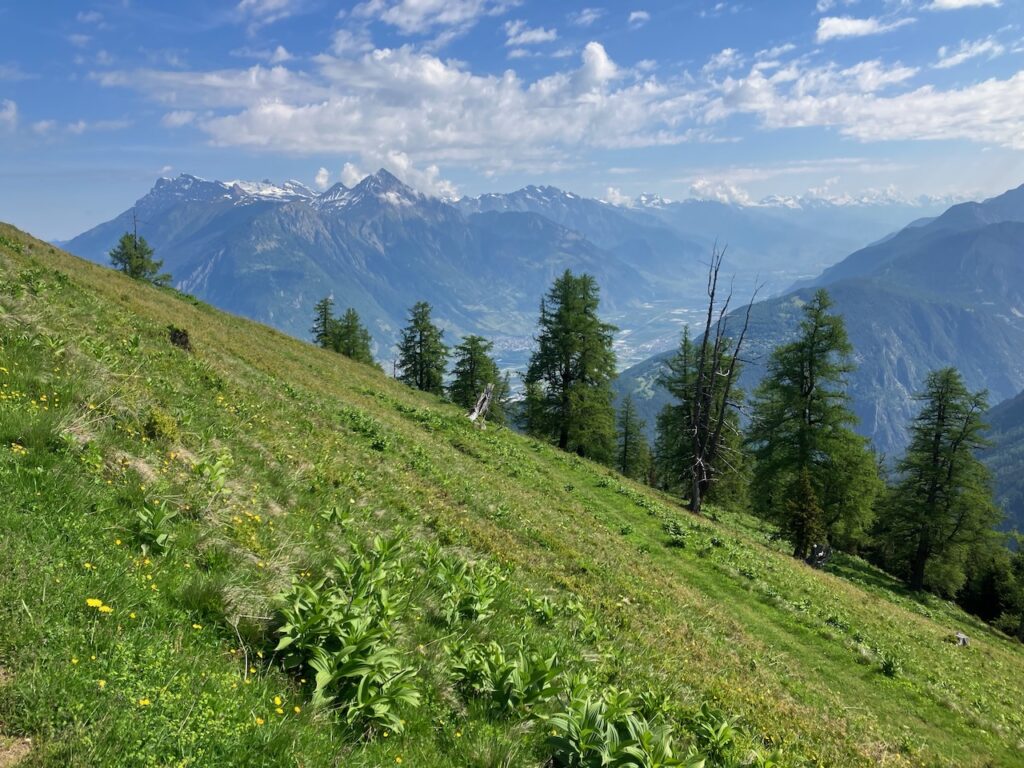 From here it's a gradual descent to Col de Forclaz at 1527m. This is a major point at UTMB, when crowds of people will be cheering on the athletes with music and crazy attire. Now, it was just a sleepy mountain village.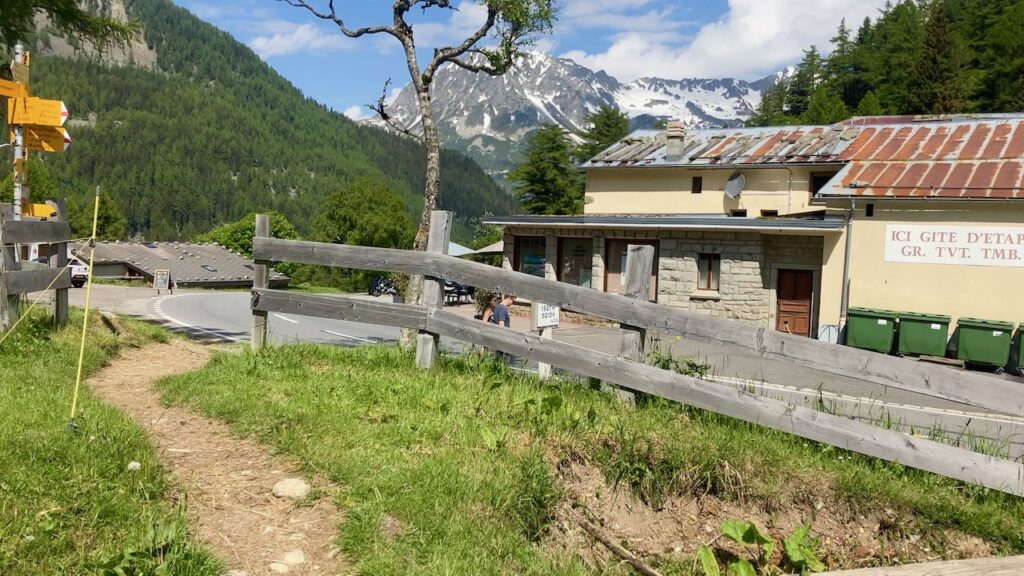 I made the mistake have having an espresso here without checking the prices. As I was sitting and drinking my coffee, several middle-aged men with botoxed girlfriends arrived in Ferraris. It wasn't that surprising, then, that when my bill came, I ended up paying €7 for my caffeine fix.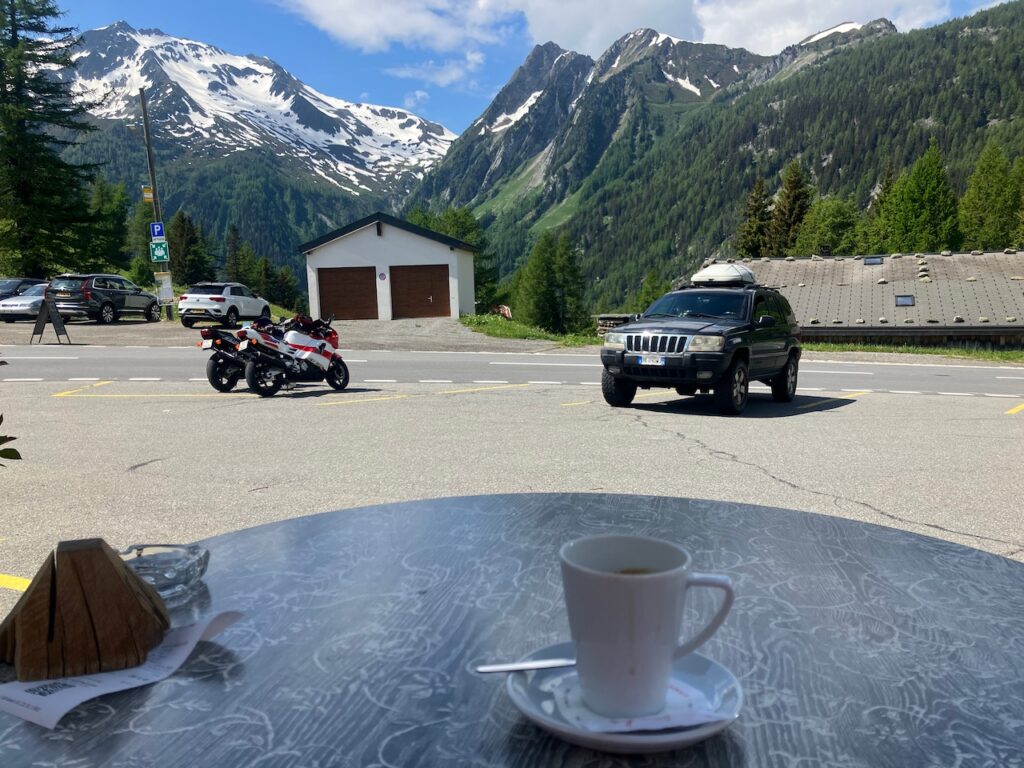 Col de Forclaz – Col de Balme
Just past Forclaz, there's a metal bridge hanging from the mountainside that you use to avoid a very steep climb and descent. Just don't look down!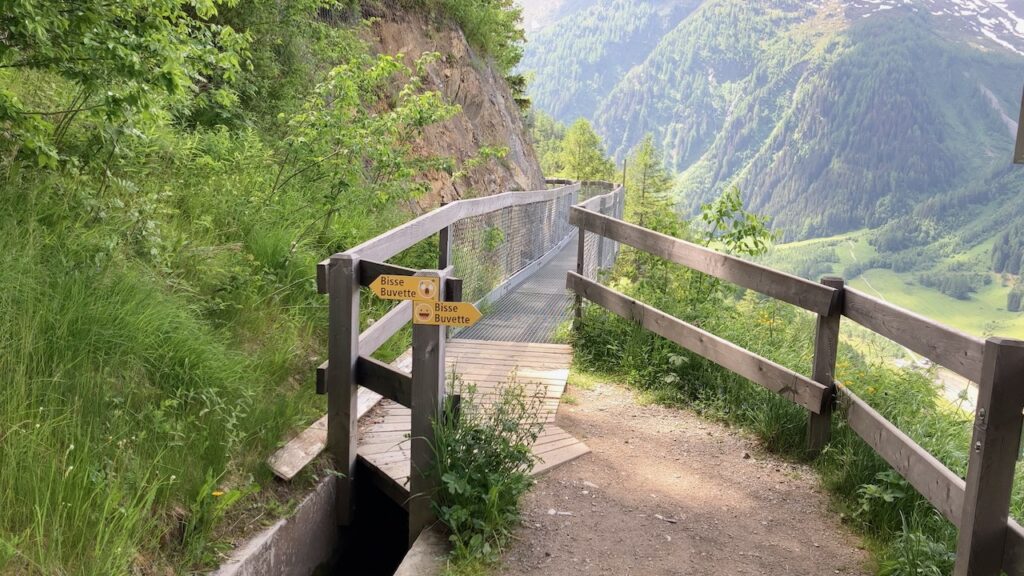 From here it's a further descent down to Trient at roughly 1,300m.
The TMB and UTMB routes diverge here, with the UTMB route passing through Trient proper and the TMB route skirting it to the south. UTMB climbs up to Les Tseppes at over 2,000m and then descends back down to Vallorcine. TMB climbs up to Col de Balme and then descends to Tré-le-Champ just north of Argentière, avoiding Vallorcine entirely.
The section of Trient that the TMB route passes through has little noteworthy, so I just continued. I'd hoped to be able to get a sandwich here, but I decided I'd have to make do with the nuts and candy bars I had on me.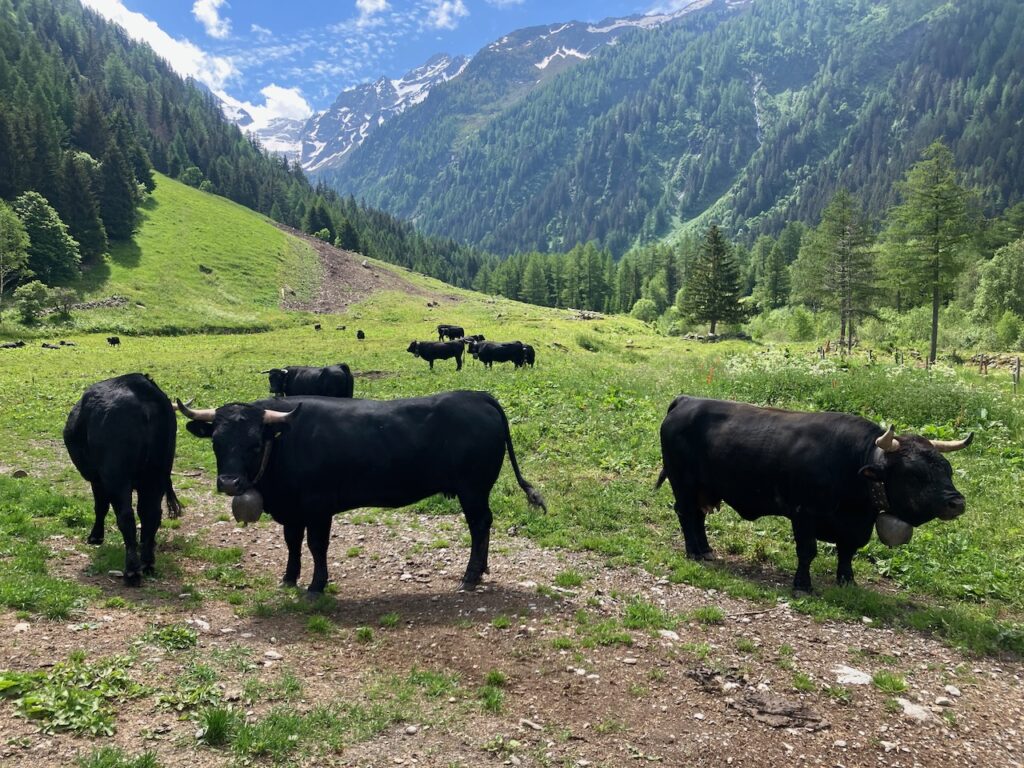 The climb up to Col de Balme is another serious one, with over 800m of elevation gain, achieved (again) by lots of switchbacks. It was very windy at the top so I hid in the shelter of the refuge there while enjoying a candy bar lunch.
Still, this was a momentous occasion, because after three days I was now back in France!
Col de Balme – Tré-le-Champ
From Col de Balme, the route stays high, passing a peak of 2,200m at Aiguillette des Posettes.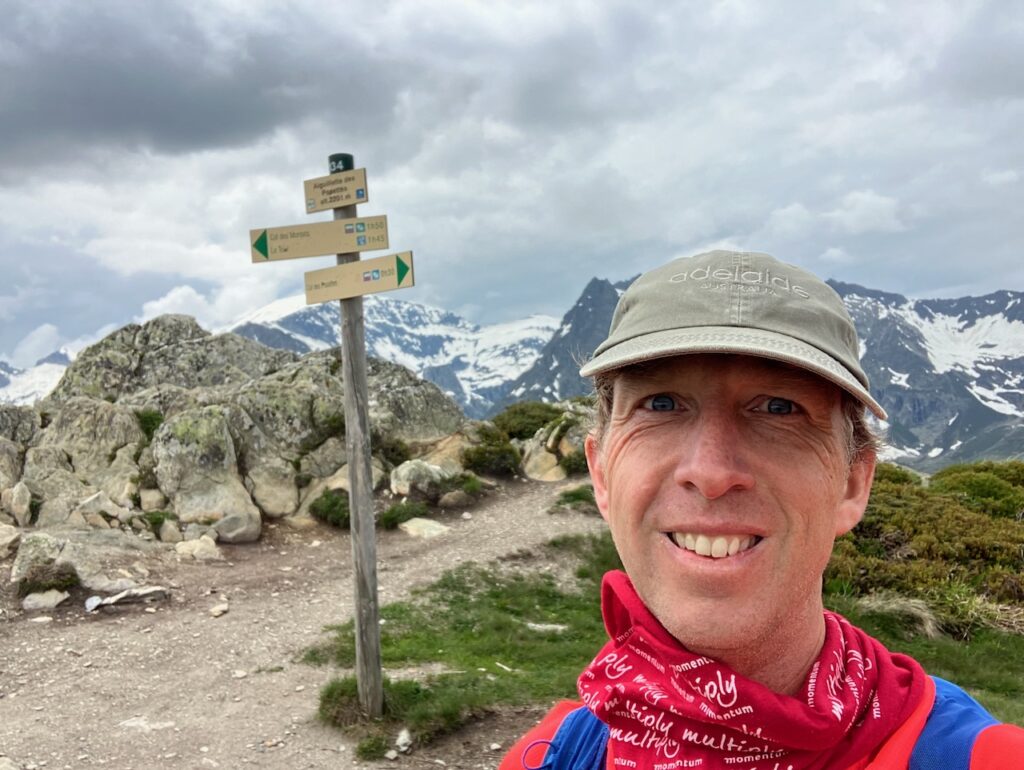 Then it descends down to Tré-le-Champ, where I stayed the night at Gîte le Moulin. I was the only guest!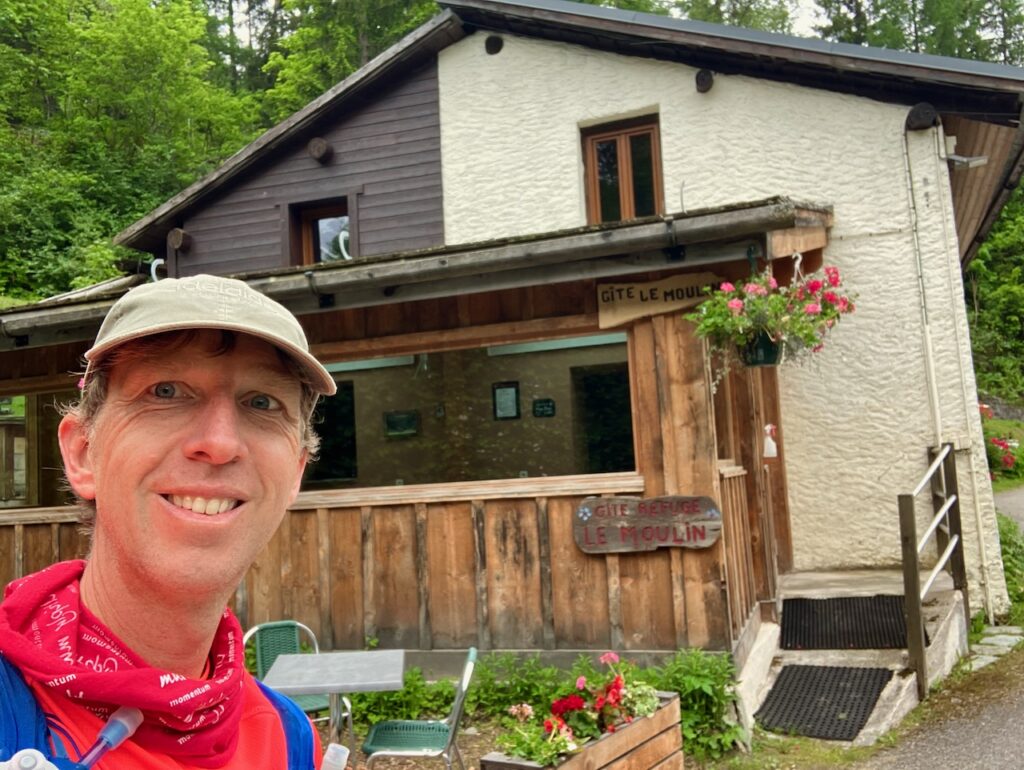 Day 6: Tré-le-Champ to Chamonix

Tré-le-Champ – La Flégère
My last day on the TMB was a cloudy one.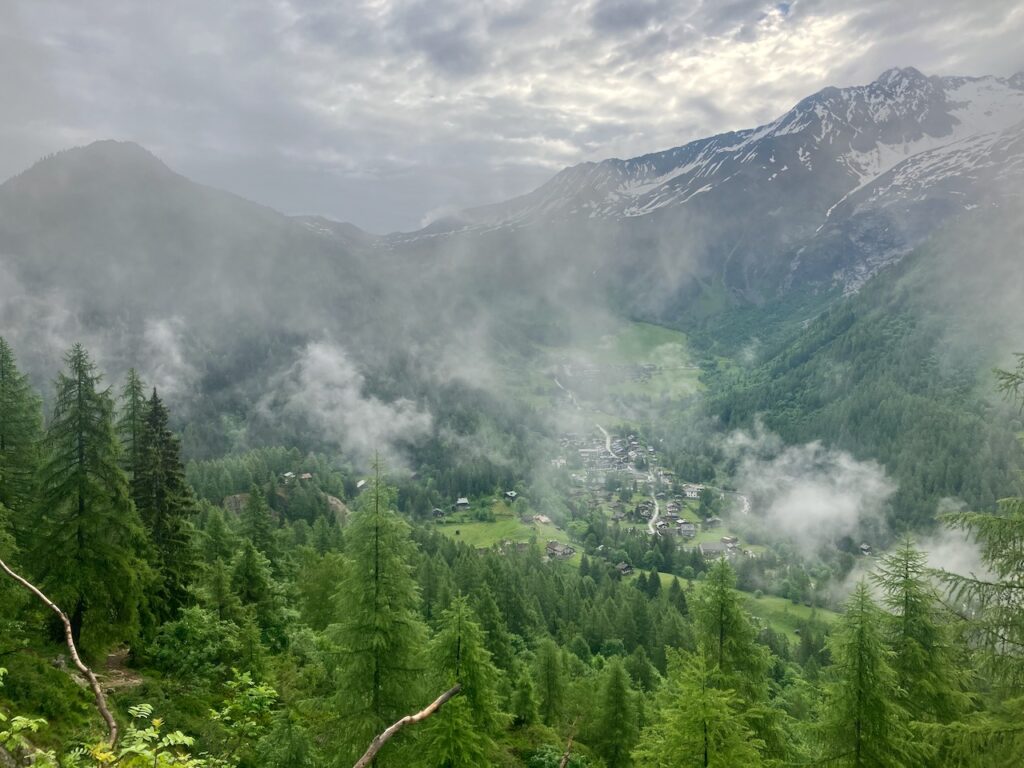 After rejoining the trail, it was straight into a serious climb, from the ±1,400m altitude where I'd stayed the night, via Dalle de Chézerys at 1,800m, to Tête aux Vents at 2,120m, where the UTMB route rejoins TMB for a little while.
Part of the climb, however, is done via a series of ladders. This is just past the Aiguillette d'Argentière.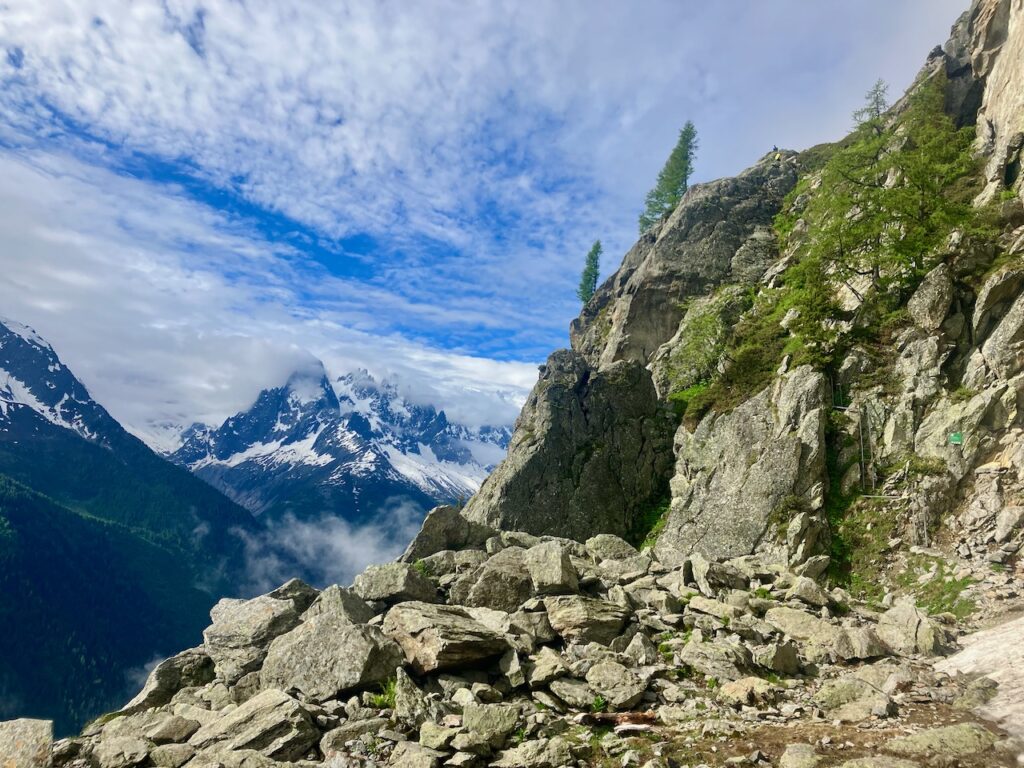 In my (admittedly limited) research, I had not come across any mention of these. When I saw them, my first instinct was to look for an alternative route. I wouldn't say I suffer from vertigo, but I'm no lover of heights, either.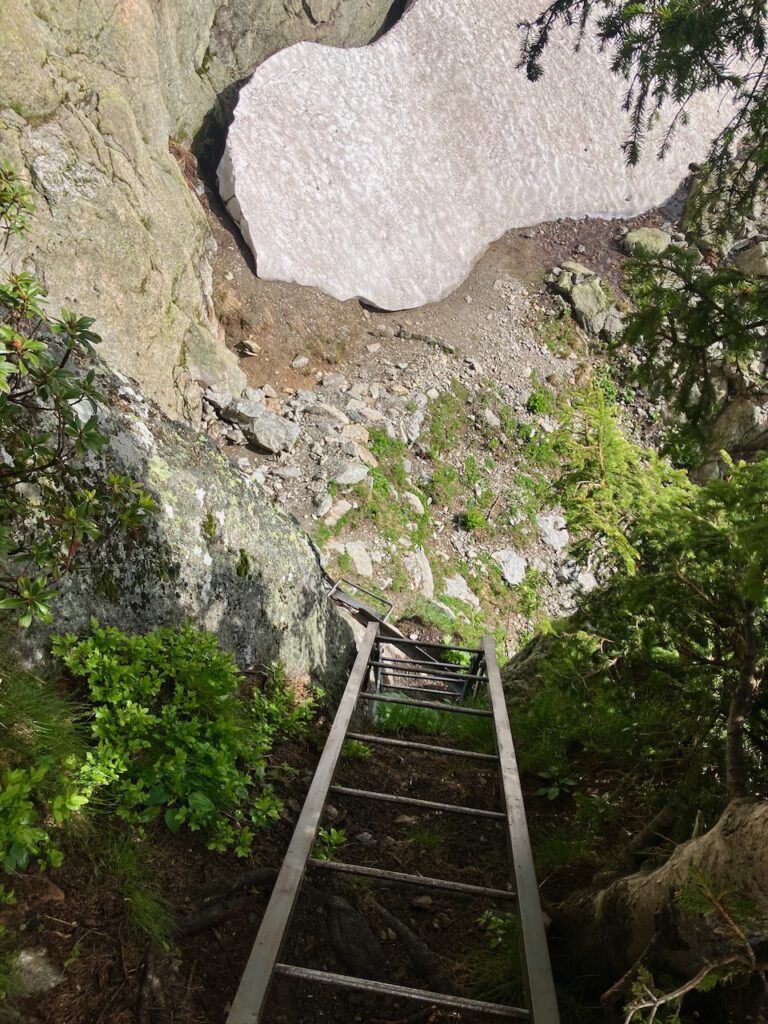 But there was no alternative. In fact, the most feasible alternative would have been to follow the road (or trail) north from Tré-le-Champ to Col de Montets, and then taking the UTMB route from there to Tête aux Vents and La Flégère. So with no way but up, I stashed my trekking poles and braved the ladders.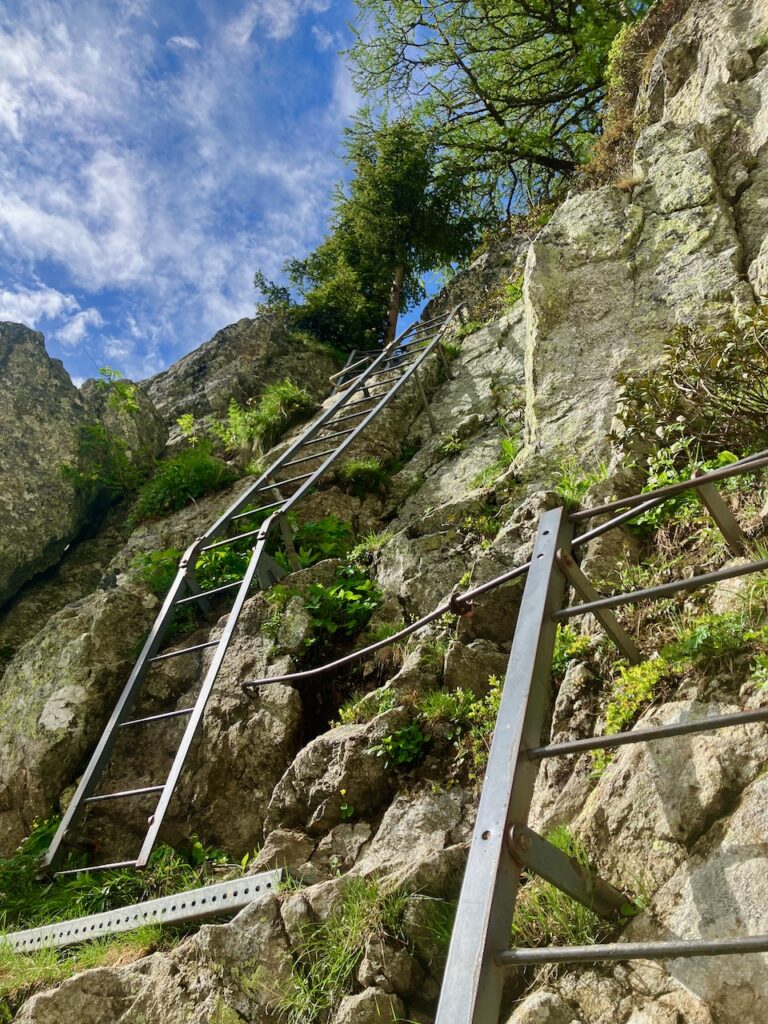 In the end, it was actually very doable.
And with that out of the way, it was on to Tête aux Vents and La Flégère.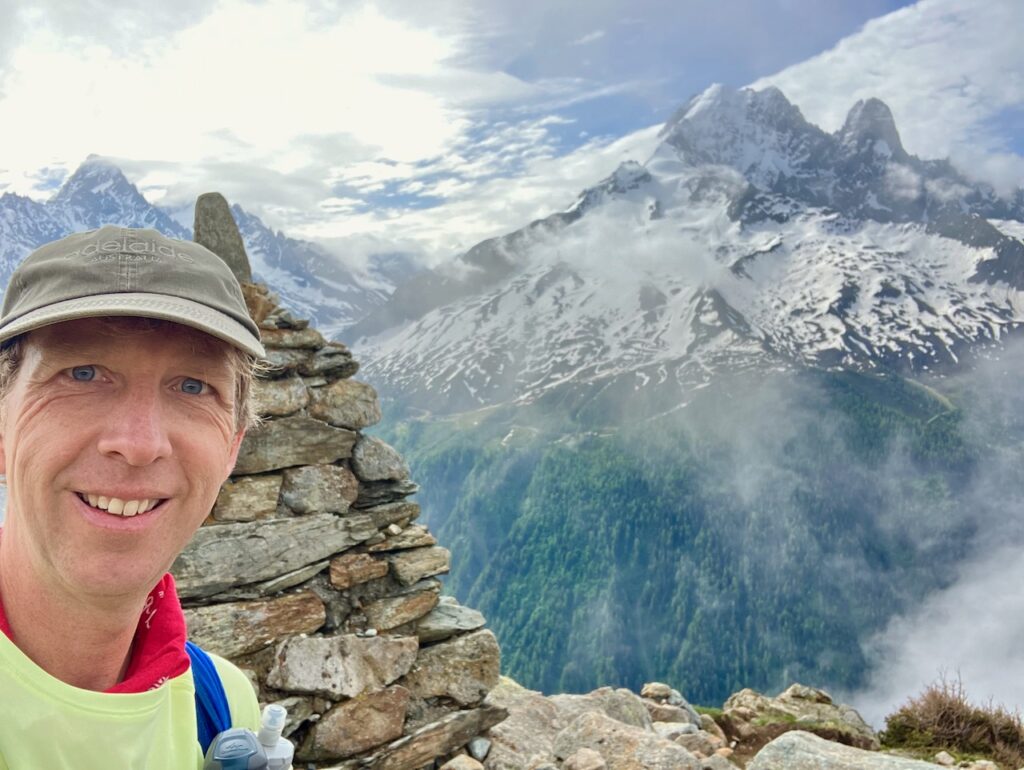 From Tête aux Vents it's a nice descent down to La Flégère. The trail is rocky in places which makes for slightly slower going.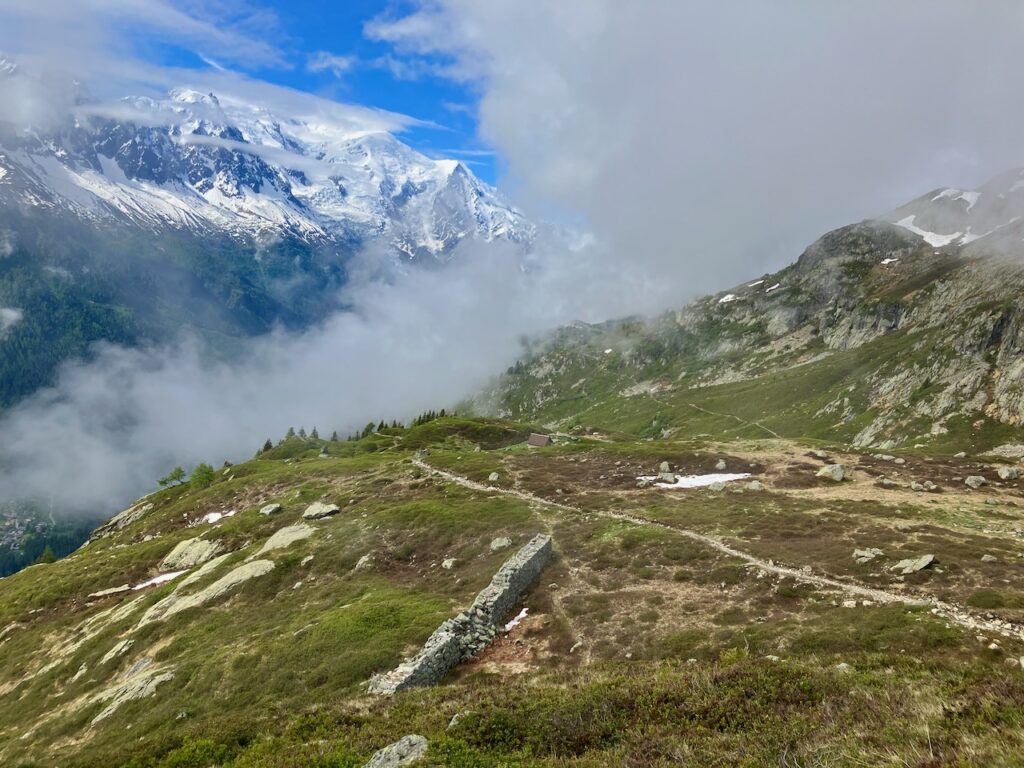 La Flégère – Chamonix
From La Flégère, the UTMB route heads down the mountain to Chamonix. The TMB route stays in the mountains, climbing up to Col du Brévent at 2,368m before beginning its descent down to Les Houches, the official end of the TMB.
Although I'd initially decided I'd head down to Chamonix from here, at this point I was actually keen to finish the whole TMB route, so I continued on towards Brévent.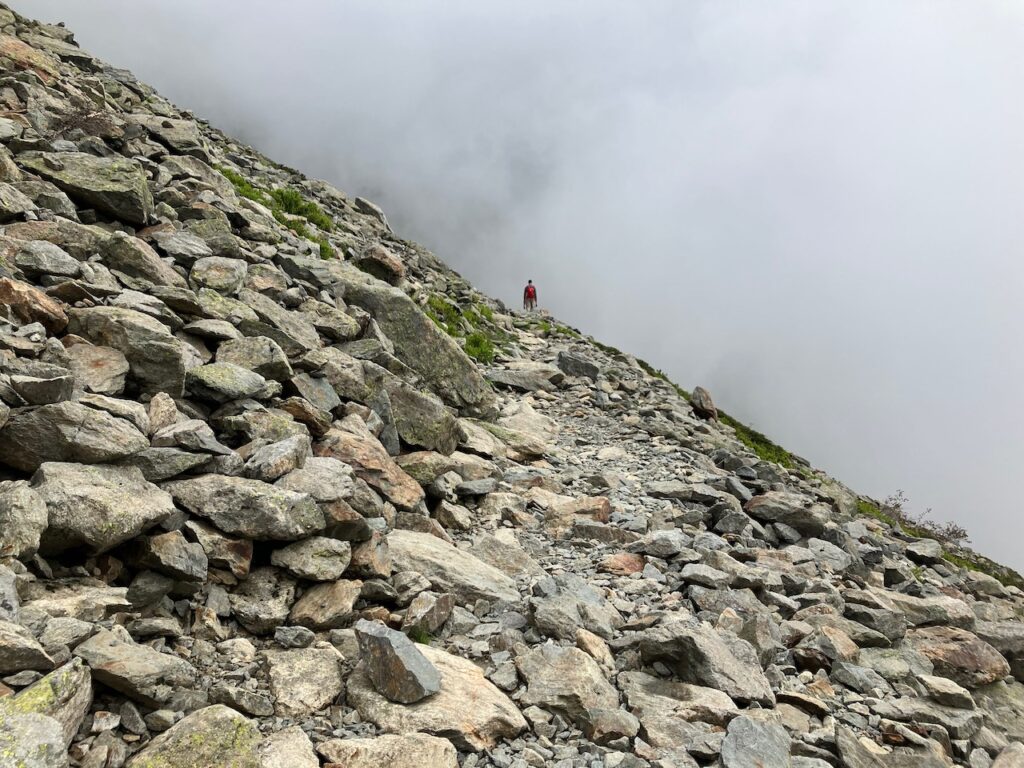 However, the clouds now started to get thicker, there was some occasional rain, and with the trail now heading up again, I really felt the fatigue of more than 5 days of being on the trails. So I stopped at Planpraz, where several gondolas come and go, and which had a restaurant, and decided I'd go inside for a warm cup of coffee and some lunch. I had half a mind to just take a gondola down to Chamonix if the weather got really bad. If it magically cleared up, part of me still wanted to continue on the official TMB trail to Brévent and Les Houches, but with the clouds as thick as they were now and no views to be seen, that didn't make any sense. The most sensible part of me said that just following the trail down to Chamonix from here would probably be the wisest option to take.
After my lunch break, the weather wasn't getting any better, so continuing on to Brévent was definitely not happening. I made the call and headed down, towards Chamonix.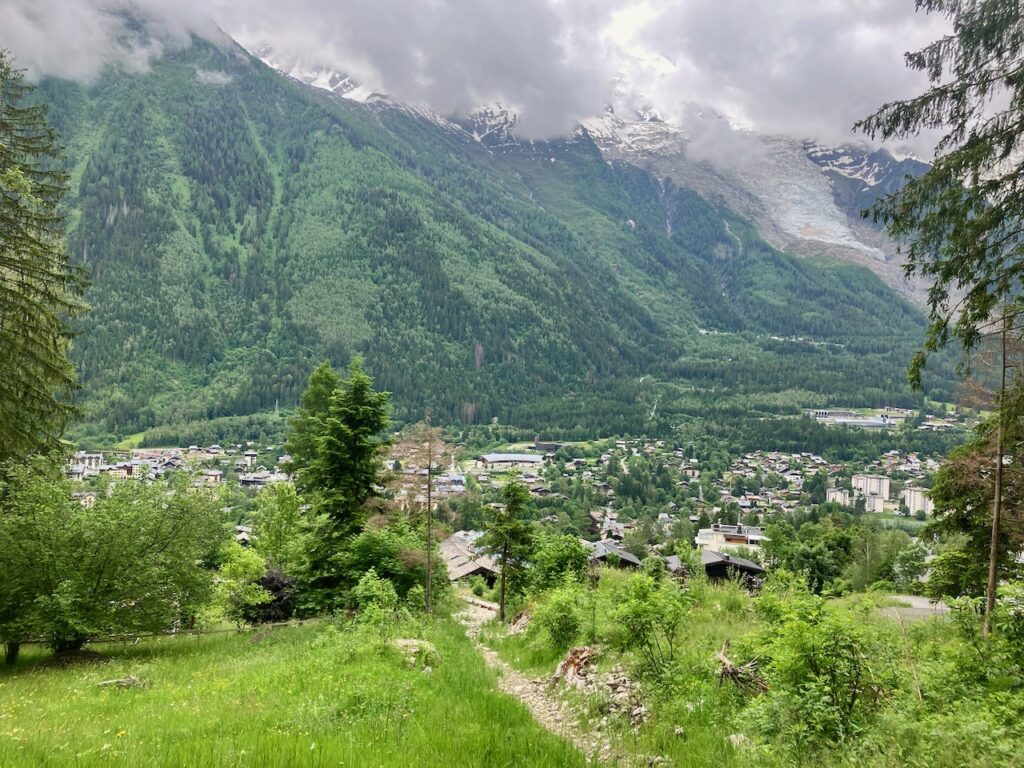 As soon as I started getting to lower altitudes, the mist cleared and I could see Chamonix below me. The descent to Chamonix consisted of a lot of switchbacks, and my tired legs could only just manage. But then the path emerged from the forest, just south of Chamonix's center. Imagining myself a UTMB participant within sight of the finish line, I ran the last kilometers, finishing at the Office du Tourisme, the start and finish of UTMB.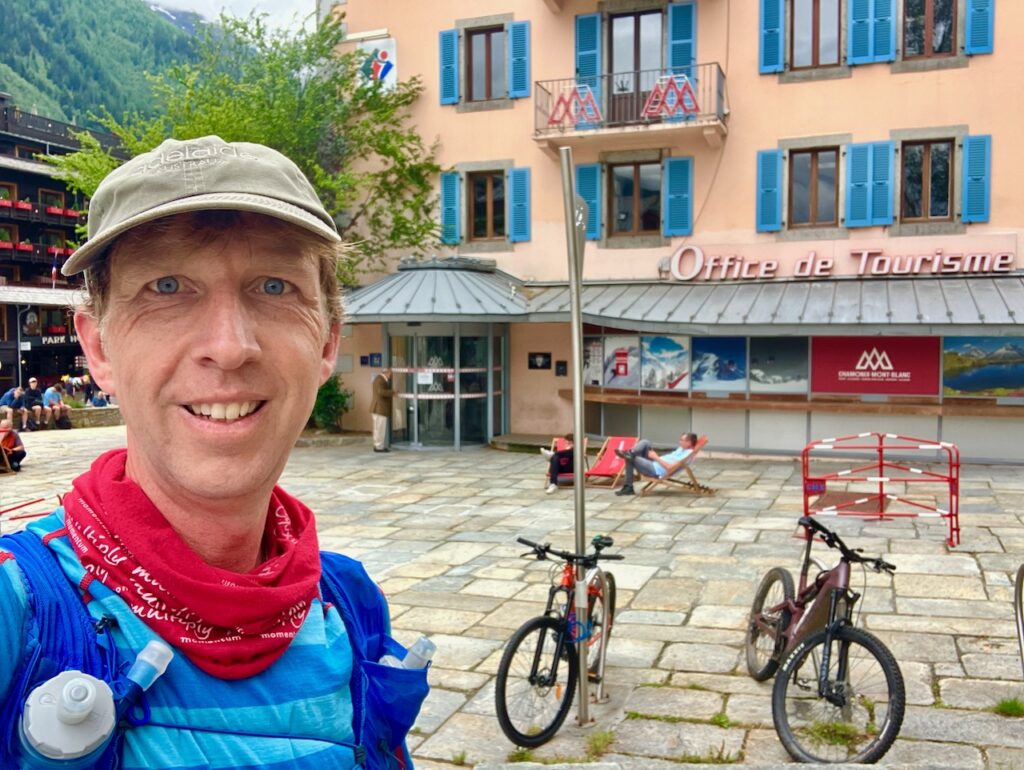 I'd done it! 180km around the Mont Blanc massif, with more than 10,000 meters of ascent. It had been a journey, and now it was over.
But this had me wanting for more.
I will definitely be back, perhaps one day to participate in UTMB. Either way, I will surely do many more trail runs and trail races in the years to follow. The mountain trails have got me hooked.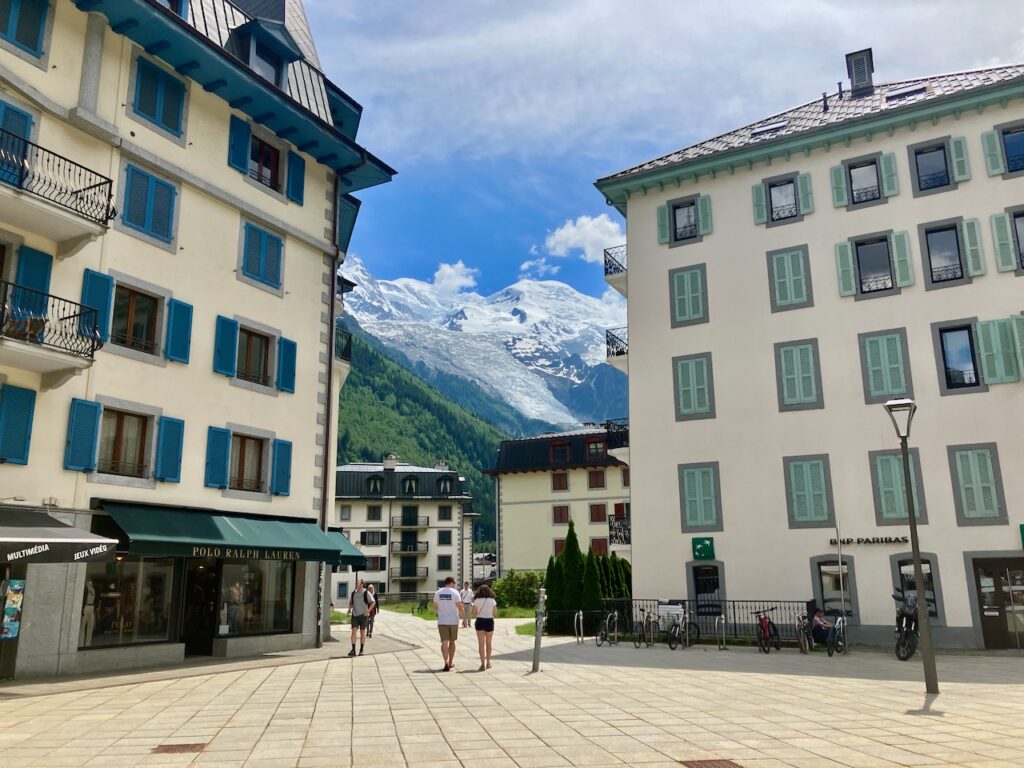 ---
Did you run TMB? What were your experiences? Share them in the comments below!