This post has absolutely nothing to do with software or IT. I'm just posting it here so that I don't have to set up a separate blog for it 🙂
In June 2023, I fast-packed the Tour du Mont Blanc (TMB) route through France, Italy, and Switzerland. In this series of posts I'll share a bit about my preparation, getting there, my experiences, and, of course, some eye-watering pictures 🙂.
I've split this into separate parts to make it easier to navigate:
Getting there
Before you can start TMB, you have to get there. I'll explain here what your options are, but mostly focus on public transportation.
I'm going to share what I did. The part about getting from South Africa to Switzerland might not be very relevant for people coming from other parts of the world.
In general, though, if you're starting TMB from Chamonix, the two obvious ways of getting there are:
From Paris, via high speed train (TGV) and connecting local train
From Geneva, via a combination of trains
Although you can hire private transport, I would recommend against it because
it'll probably be more expensive
it's a greater burden on the environment compared to public transportation.
Johannesburg to Geneva
I booked my flight fairly late, which means the only affordable options left were multi-leg flights. I ended up booking the following flight through Kenya Airways:
17:10 Johannesburg –(KQ 763)– Nairobi 22:05
23:50 Nairobi –(KQ 112)– Paris 07:30 (next day)
10:00 Paris –(KQ 3104)– Geneva 11:10 (operated by Air France)
The last flight ended up having a delay of several hours. Luckily I'd downloaded timetables for the trains I'd be taking and could see that I would still be able to make it to Chamonix by 5pm.
Geneva airport, while in Switzerland, borders France and has an exit to the French side as well. Stay on the Swiss side of the airport or you might waste some time having to go through passport control again!
Geneva Airport to Geneva Central Station (Cornavin)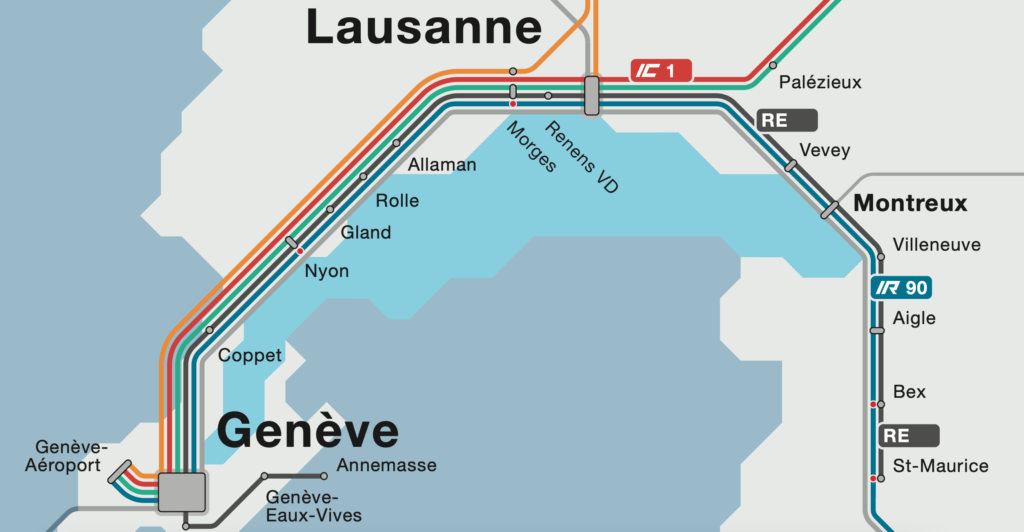 All long-distance rail transport in Switzerland is run by the SBB (Schweizerische Bundesbahnen), also called CFF or FFS for the equivalent French and Italian acronyms (Switzerland has three official languages).
You'll first need to get from the airport train station Genève-Aéroport to the main train station Genève (also called Genève Cornavin) in the city. Several intercity (IC) trains will stop at the airport and at the main train station on their way to their destinations elsewhere in Switzerland, and you can take any of these.
A ticket is just a few francs. There are ticket machines in the airport's train station hall.
I do recall it being tricky to buy tickets with a credit card. Luckily I still had some Swiss Franc coins from previous travels to Switzerland. If you have friends that have travelled to Switzerland recently and have some cash left over, it might be a good idea to see if you can buy it off them. Otherwise, consider getting cash from an ATM at the airport and then buying something small to break up a bill into coins.
Once you have a ticket, you can get onto any train to Genève gare Cornavin (check the signs to find out which platform you need to be on). The trip will take just 7 minutes and it's only one stop from the Airport to Cornavin.
Geneva to Saint Gervais-Les Bains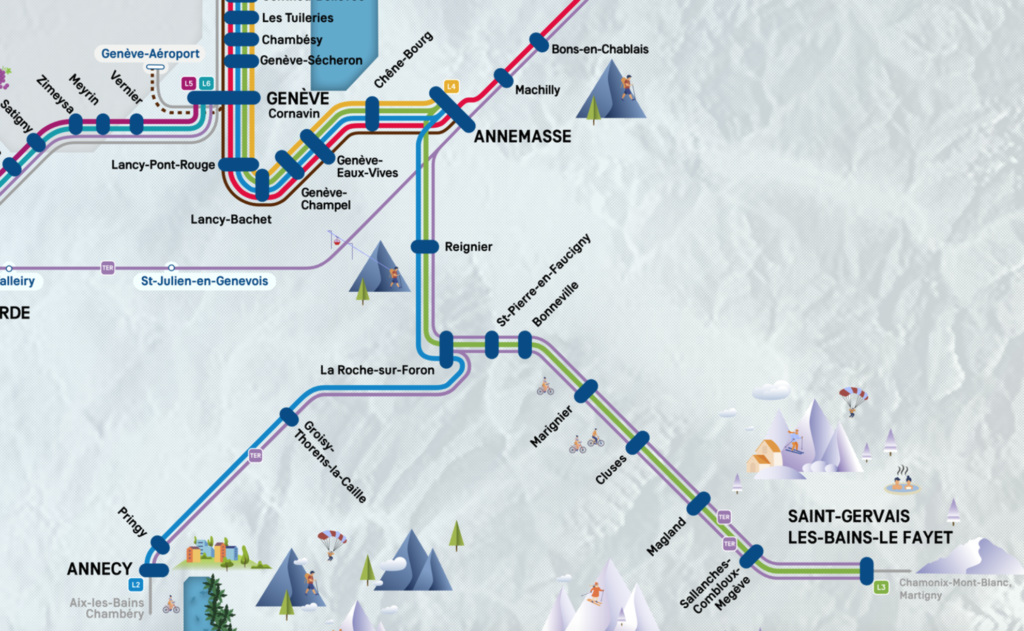 To promote tourism in the region and make trans-frontier travel easier, the French and Swiss railways have collaborated to create the Léman Express, a cross-border train network that connects various tourist destinations in the region. This is the quickest and most affordable way to go from Geneva to Saint-Gervais-Les-Bains, from where you'll take a local train to Chamonix.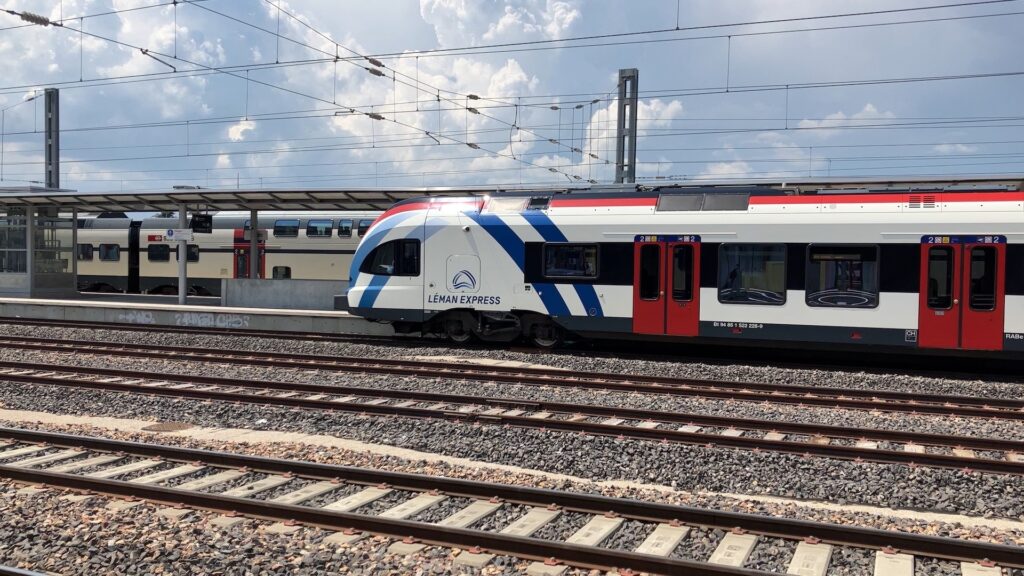 Once at Geneva Cornavin, you can buy a Léman Pass ticket to the Le Fayet train station in Saint-Gervais-les-Bains, which costs €21 for a 2nd class adult ticket at the time of writing.
Alternatively, you can buy the ticket online at the websites one of the participating train companies, such as the French Railways SNCF. Make sure to select the ticket type that is valid for 3h and enter your departure (Geneva) and destination (Saint Gervais-Les Bains). Note that the ticket is valid for 3 hours from moment of purchase, so you'll want to do this on your phone when you're almost ready to board the train, and not before.
At Geneva train station, board any express train that calls at Annemasse. Depending on the final destination of the train, you may have to transfer to a different train at Annemasse, or you can stay seated if the train continues on to Saint Gervais-Les Bains.
The trip takes 1h44m from Geneva to Saint Gervais-Les Bains.
A timetable of the route is available on the Chamonix website. Note that times are different on weekdays, Saturdays, and Sundays, so make sure to look at the timetable for the day you will travel on when planning your trip.
Saint Gervais-Les Bains to Chamonix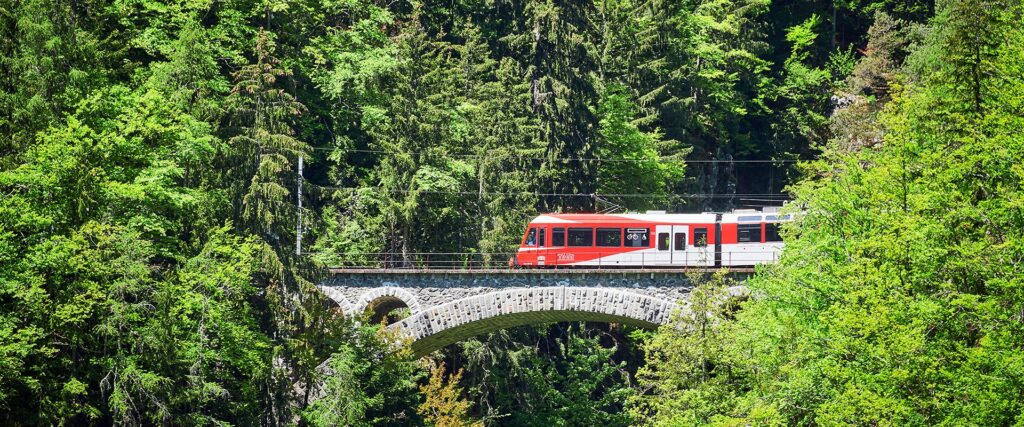 From the Le Fayet station at Saint Gervais-Les Bains, you will take the Mont Blanc Express, a tourist train that travels through the valley from Saint Gervais-Les Bains in France all the way north to Martigny in Switzerland, stopping at Les Houches, Chamonix, Vallorcine, and several other places.
The easiest way to get a ticket it to just buy one from a cashier at the Le Fayet train station. Tickets cost around €12 and are half price on Saturday.
The trip from Saint Gervais-Les Bains to Chamonix takes 45 minutes.
This is the most critical part of your journey: this train doesn't go that often, and it stops running fairly early, so you'll want to plan your trip so that you get to Saint Gervais-Les Bains with plenty of time to spare.
The 2023 timetable is available on the Chamonix website. (Oddly enough, the official Mont-Blanc Express website just refers to the main SBB and SNCF websites for timetables – which isn't very useful – and doesn't publish the timetables themselves; however I received the above timetable for 2024 after an inquiry to Voyages@tmrsa.ch.)
Chamonix train station to your accommodation
If you haven't brought too much luggage, most places in town are walking distance (max. 15 minutes) from the Chamonix main train station. Alternatively, you can get on a bus or hail a taxi.
💡 Tip
If you're staying in Chamonix, ask your hotel or gîte for a Mont Blanc Express tourist pass – most accommodations will supply you with a free pass valid between Les Houches and Vallorcine for the duration of your stay – a great way to scope out the area a bit before you start your trailrun!
---
Do you have any tips for getting to Chamonix or other stops on the TMB route? Leave them in the comments below!